Demand for Apple iPhone outweighs supply in Q1 according to Morgan Stanley report
43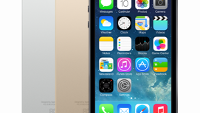 The latest data from the AlphaWise Smartphone Tracker survey cited in a new Morgan Stanley report, suggests that the Apple iPhone is seeing better than expected demand for the first quarter. The survey shows that the handset is on pace to sell 42 million units in the current quarter, up from the 38 million units that analysts had been expecting.
Morgan Stanley analyst analyst Katy Huberty said that carrier promotions carried out during the first three months of the year were responsible for the stronger than expected Q1 sales. Huberty said that she counted nine major promotions put in place by the top four U.S. mobile carriers. Another Morgan Stanley analyst, Jasmine Lu expects Apple to produce 38 to 39 million units for the first quarter which would fall short of the estimated Q1 sales figures. That could make the
Apple iPhone 5s
harder to find in the upcoming quarter.
According to the Morgan Stanley analyst, the AlphaWise Smartphone Tracker did a good job forecasting iPhone sales each quarter in 2013, which means we should put some faith in the first quarter forecast.
source:
AppleInsider