Defragmentation – iOS 9 is now on 84% of Apple mobile devices out there
70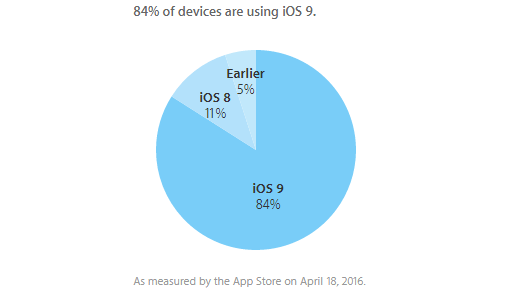 On its Developer page, Apple announced that iOS 9 has reached an 84% adoption across all supported iPhones, iPads, and iPods in operation today. This marks a 7% increase since February, and despite the solid growth percentage, the number isn't remarkable considering it took two months to achieve it. If iOS 9 keeps at or below the same rate of growth, its prospect of breaking through 90% adoption by the next version's announcement at the WWDC event in the middle of June seems unlikely.
It is possible that the slowdown in adoption is caused, in part, by the various bugs that plagued the initial release and the updates that followed. iOS 9.3, in particular, crashed newer iPhones and older iPads before Apple released a quick patch to eradicate the problem. There's also the user segment that still holds on to older devices and iOS versions out of various considerations, preventing iOS 9 from reaching all active Apple handsets and tablets out there.
Android's level of fragmentation means very few users are privileged to a recent and secure operating system version. iOS doesn't have that problem, but bugs can get the best of it at times.
By virtue of its "walled garden" nature and Apple's commitment to supporting aging devices, iOS 9 is doing much better in the numbers game than Android 6.0 Marshmallow, which ran on a measly 4.6% of active devices by April 4, 2016. The issue of fragmentation gets in the way of app developers that struggle with making their applications behave consistently on the sheer variety of Android devices out there. It also reserves the latest security updates and technological additions to a very small segment of Android device users.
Although Samsung and LG are reasonably up to speed with bringing Google's monthly security patches on their newer devices, not all device makers have the resources to pick up after them. Currently, the only way to get an Android update experience close to Apple's is to get a Google-branded Nexus device, which is a great option, but not the best for everyone.
source:
Apple
via
Ubergizmo