Deal: Need a running-centric smartwatch? The Moto 360 Sport is just $124.99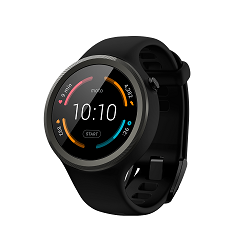 Today, Apple officially announced that the Nike+
Apple Watch
that they announced at their keynote event last month would finally be up for purchase
starting on October 28
. The Nike+ version of the Apple Watch Series 2 has a starting price tag of $369, and if you want to the model with a bigger casing, that price will be bumped all the way up to $399. The Nike+ Apple Watch comes equipped with a lot of solid features that make it a great pick for runners, but if you're looking for something a bit more affordable that will still do a solid job at tracking all of your runs,
MobilePros1
on eBay is currently offering a new Moto 360 Sport for 37% off its regular retail price.
The Moto 360 Sport, which normally sells for $199, can currently be had for just $124.99 with this latest deal. There's sometimes a bit of a stigma surrounding the idea of purchasing tech from eBay, but with the seller reporting a positive feedback rating of 97.9% and a total review count of 131,908, you can rest easy knowing that you're buying the watch from a reputable seller.
For a quick recap, the Moto 360 Sport features a lot of the same features that the normal Moto 360 2nd generation has, but with some subtle differences that make it the perfect companion for taking on runs. For example, rather than using an AMOLED panel for the display, the Moto 360 Sport uses Motorola's own AnyLight Hybrid tech that allows the screen to be easily seen both indoors and out in direct sunlight. And, thanks to the inclusion of built-in GPS, you'll be able to track all of your runs without having to lug your phone along with you.
However, just like the normal 360, the Sport runs Android Wear, is IP67 certified for dust and water-resistance, and its display measures in at 1.37-inches with a resolution of 360 x 325. The Moto 360 Sport is compatible with both iOS and Android-powered smartphones, and
MobilePros1
is selling both the White and Orange/Flame models of the watch. However, with more than 57% of the watches sold at the time of this writing, you'll want to act fast to make sure you don't miss out.