Nike+ version of the Apple Watch will officially be launching on October 28
5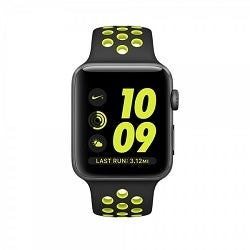 While the
iPhone 7
and
7 Plus
were easily the two stars of the show at Apple's press event that took place last month, the
Apple Watch
Series 2 also debuted with some pretty compelling improvements over the first iteration of Apple's take on the smartwatch. Similar to Series 1, Series 2 of the Apple Watch comes in a few different collections to help separate the different variations of the watch, and one of the new inclusions with the Series 2 is the Nike+ edition.
The Nike+ Apple Watch features all of the same features that the normal Apple Watch Series 2 comes equipped with, but also bundles in an exclusive Nike Sport Band that's rated to be breathable and durable for all of your workouts, Nike-made watch faces that display info about your runs, and the Nike+ Run Club that comes pre-installed out of the box to help you get as much detail as possible with all of your running activity. The Nike+ Apple Watch is quit clearly targeted towards runners, and neither Apple or Nike held back any punches in regards to making sure that they've got all the necessary features to keep tabs on all of your running activities.
While the Nike+ Apple Watch certainly does look quite enticing, up until now we haven't had any idea as to when it would actually be available for purchase. Apple officially announced today that the Nike+ version of the Apple Watch Series 2 would be available for order on October 28, and it will cost $369 with a 38mm case and $399 for a 42mm case - the same pricing as the normal version of the Apple Watch Series 2.