Case Mate releases a $300 titanium case for the iPhone 4
3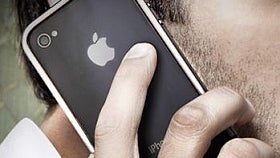 Call us confused, but what is with the rash of
titanium cases
coming out for the iPhone 4? We get that titanium carries a lot of positive connotations (i.e. lightweight, scratch-resistant), but it is also known to hamper wireless signal.
Case Mate is the most recent in a line of case-makers to debut their own titanium case. And the case will set you back a whopping
US$300
. While we have our issues with the materials, we will say that this is a beautiful case. It is machined from a single piece of titanium, and the
fit and finish are impeccable
. The individual buttons and two sides of the case are screwed together, making a seamless design.
Back to the complaint department. While the case guards the external antenna of the iPhone 4, it
leaves the back glass exposed
, so scratch protection isn't really ideal. While we love the idea of high-quality materials in our iPhone accessories, maybe it's time to look for another, more wireless-friendly, candidate.
source:
Case-Mate
via
L.A. Times Tech Blog
Recommended Stories