Canopy is a stylish case/stand for your Apple Magic Keyboard and iOS device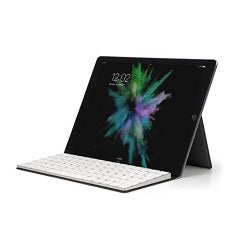 As large as smartphone and tablet screens get and as much progress we've made when it comes to virtual keyboards, there's no getting around the fact that nothing compares to the feeling you get when typing on a physical keyboard. Bluetooth keyboards help to alleviate this pain when typing out long emails or documents on your mobile device, but carrying around yet another gadget to have a comfortable typing experience is far from ideal. We've seen cases for tablets made with built-in keyboards, and while this does make everything much more portable, the actual keyboards included with those packages usually can't hold a candle to legitimate and honest full-sized ones.
Studio Neat is a company based out of Austin, Texas in the US, and the Apple accessory maker just announced their latest invention - Canopy.
Canopy is a keyboard stand/case for your iPhone, iPad Mini, iPad, or
iPad Pro
that aims to offer a comfortable typing experience on your iOS device while still keeping everything housed in a slim and sleek package. The Canopy itself features a synthetic canvas material on the outside, microfiber material inside, and a leather strap and stainless steel snap on the front to keep everything securely tucked away. When the Canopy is closed, it holds Apple's Magic Keyboard via micro-suction pads and keeps it safe in a slim and lightweight design.
Open up the case though, and you've got a sturdy place to rest your iOS device for all of your typing needs. Studio Neat claims that the Canopy can be used with ease anywhere, such as your desk, bed, lap, or even while in a train or plane.
Pre-orders for the Canopy are currently available through Studio Neat's website, and the keyboard stand/case features a price of $40. Studio Neat says that they'll do what they can to get deliveries made by Christmas, but this is not guaranteed.
PhoneArena is on Instagram
. Follow us to stay updated with fresh news and flashy media from the world of mobile!