Bluetooth swivel dock for the T-Mobile myTouch 4G is selling for $49.99 at some stores
1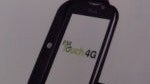 Now that T-Mobile myTouch 4G owners have been more than acquainted with their devices, it looks as though the complementing Bluetooth swivel dock is now being sold through some T-Mobile stores.
This Bluetooth enabled accessory is made especially to firmly hold the myTouch 4G in place and can be used for a variety of functions. Not only does it make for a great pedestal stand for your highly prized smartphone, bur you can simply swivel it to watch videos accordingly while you sit back as well. In addition, it features built-in Bluetooth with a 3.5mm headset jack to allow you to listen to music without any disruption to others. And of course, much like other docks, it'll charge and sync your device when it's connected.
Now if this is truly something you've been waiting for, your best route in getting one is to contact the closest T-Mobile retail store to see if they have it in stock. If they do, just be prepared to dish out
$49.99
for this one-of-a-kind dock.
source:
TmoNews