BlackBerry Z10 Transform Hard Shell Case hands-on
2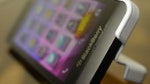 Even though we're still
waiting for it to launch stateside
, the
BlackBerry Z10
is one of those devices making plenty of noise in the smartphone space. Fittingly, BlackBerry is making sure to give customers plenty of choices when it comes to cases for its flagship device. With that in mind, we're checking out an interesting one in the ultra-thin
BlackBerry Z10 Transform Hard Shell Case
.
Available in three colors (black, white, & red), the Transform Hard Shell Case is one part protection and one part stand. Comprised out of lightweight and durable plastic, this easy to attach case adds some heft around the corners of the handset to give it some shock protection – though, the front of the phone remains vulnerable. Certainly, there's some style splashed onto this, since a narrow strip down the middle of the case gives it a
good contrast
, and on top of that, we appreciate that the size of the handset is maintained with the case on.
In order to access the stand portion of the case, it's simply done by unhinging the case on one side so that the middle strip folds over. Seeing that the case is still fresh out of the box, the fold in the case is a bit stiff and doesn't want to stay firmly in place – though, we'd imagine it'll be less problematic over time. Therefore, if you happen to love watching videos, this should no doubt be fit for the occasion. However, the case doesn't support portrait usage with its stand. If you're interested in this one, its price tag stands in at
$34.99
, which seems a bit steep, but then again, it's a two for one deal with its protection and stand aspects.