BlackBerry OS 7, 7.1 devices having problem with YouTube
9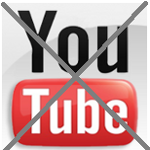 At first, it was feared that the problems that BlackBerry users were having with YouTube were widespread throughout the entire BlackBerry ecosystem. But as it turns out, only handsets running
BlackBerry OS 7
and
OS 7.1
are affected by this bug that allows users to see a video, but unable to play it. The problem seems to happen over Wi-Fi and when certain carriers are involved. Google is aware of the situation, which hopefully means a quick fix.
mobile YouTube
web page, where apparently the problem lies.
If anyone out there is having problems with their YouTube connection, regardless of which smartphone you use, you can send us a comment about the situation in the box below!
source:
Crackberry