BlackBerry 10 kindly informs all of your friends that you are watching porn
48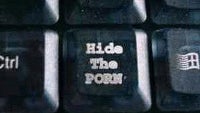 Your phone might be called a smartphone for the myriad of things it can do, but telling all your friends and possibly relatives whenever you watch porn definitely does not qualify for smart. Yet, this is exactly what BlackBerry 10 does.
BlackBerry Z10 users have the option to "Show What I'm Listening To" to all their friends on BBM. The service seems like a neat idea - it automatically grabs music or video that you play and shares it with your friends. It's not just the music you play, but videos as well and that's one important caveat.
You probably wouldn't mind sharing with the world whenever you watch a video on YouTube. But when your whole friendlist can see you are watching "pornhub.com" or "tube8.com" something had gone wrong. You'd better not have your spouse, kids, or parents on your BBM friendlist.
So to avoid this, you should disable the "Show What I'm Listening To" option in BBM settings. It is disabled by default, but you'd better doublecheck anyway.
source:
BlackBerry OS