Best Buy says it sold out of PlayBooks
9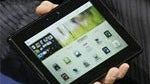 Yesterday we reported that
Best Buy was cancelling PlayBook orders without giving customers any reason as to why
. It appears Best Buy has responded to a request from CNET and has stated that they simply sold out.
Best Buy said that the $300 price drop caused the PlayBook to sell so fast that they were forced to cancel orders that they did not have the inventory to fill and, subsequently, pulled the PlayBook listing from the website. Best Buy has made it clear that it has every intention of continuing to stock the PlayBook and is in the process of replenishing its inventory. Best Buy said the BlackBerry PlayBook should be back in stock and available for purchase on Best Buy's website in the "
near future.
"
From the looks of the responses from consumers who had their order canceled, Best Buy probably should have just explained this when directly to consumers when their orders were cancelled. Hopefully Best Buy will continue to offer the PlayBook at this price point, at least for the customers who had their orders cancelled after the fact.
source:
CNET
via
Slash Gear