BLU Studio 7.0 LTE is a giant dual SIM smartphone priced at $199
5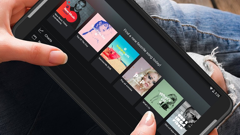 If you have a strange desire to buy a 7-inch LTE-capable smartphone, you can now do it thanks to BLU. The Miami-based company today released the Studio 7.0 LTE - which, of course, sports a 7-inch screen, while offering LTE connectivity.
The 7-inch display of the new BLU handset is a 720 x 1280 pixels one, this obviously meaning that we are not dealing with a high-end device here. Powered by a quad-core Qualcomm Snapdragon 410 processor, the giant smartphone also features an 8 MP rear camera, a 2 MP front-facing camera, dual SIM support, 1 GB of RAM, 16 GB of internal memory, and microSD card slot.
The BLU Studio 7.0 LTE costs $199, and is available to buy unlocked from Amazon in four color variants: blue, grey, gold, and white. At the moment, the device runs Android 5.1 Lollipop, and there's no word yet on any Marshmallow updates.
As you may know, this isn't BLU's first 7-inch smartphone. In late 2014, the company released a similar device simply called
Studio 7.0
. However, the old model doesn't have LTE, and is powered by a MediaTek processor. Would you buy the new BLU Studio 7.0 LTE to use it as your main smartphone?
sources:
Amazon
,
Press release