Asus introduces a $124 ZenFone 5 Lite version in the Philippines
7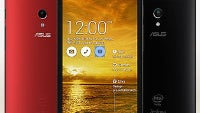 Back in January, Asus chose CES 2014 for the avenue that would see the official unveiling of its new line of ZenFone devices. The company introduced a total of 3 devices, with screens sizes that ranged from 4 to 6 inches – the
ZenFone 4
, the
ZenFone 5
, and the
ZenFone 6
.
Asus
recently
made it clear that it won't go to Intel for the line's upcoming generational update (announcement set for CES 2015 in January again), and will likely rely on either MediaTek or Qualcomm for their processors. While the ZenFone line seems to have been pretty successful overall, the company is now moving to fill the gap left between today and CES 2015 with a new, lighter version of the ZenFone 5 – the ZenFone 5 Lite.
As mentioned, the 5 Lite is a slightly stripped-down version of the standard ZenFone 5, with a 5-inch, qHD display (540 x 960, 220 ppi), a dual-core Intel Atom Z2520 processor clocked at 1.2GHz, 1GB of RAM, an 8-megapixel rear camera with f/2.8 lens, and 8GB of microSD-expandable internal storage. The device is of the dual SIM type, which is a popular feature in Asia, where it is being released next week (specifically, in the Philippines) for the equivalent of just $124. The only spec that has been bumped up from the regular version is the battery capacity – from 2110 to 2500 mAh. The handset runs on Android 4.4 KitKat with Asus' proprietary ZenUI slapped on top.
Availability outside of the Philippines is likely, but unconfirmed.