Asus announces LTE and dual-SIM Fonepad 7 variants
1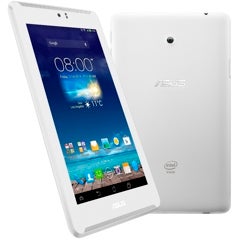 Asus' presence at MWC 2014 isn't as impressive as it was at CES last month, because the company doesn't have too many new products to announce. In fact, the only novelties seem to be two variants of the
Fonepad 7
, which was initially introduced in late 2013 running Android 4.2 Jelly Bean.
First, we have the Fonepad 7 LTE (model number ME372CL). As its name clearly suggests, the Asus Fonepad 7 LTE features 4G LTE connectivity. The rest of its specs remained unchanged, so they're identical with what you're getting on the original Fonepad 7: 7-inch IPS display with 800 x 1280 pixels, dual-core 1.6GHz Intel Atom Z2560 processor, 1.2MP front-facing camera, 5MP rear camera, 1GB of RAM, 8GB of expandable internal memory, and a 3,950 mAh battery.
The second new Fonepad 7, model number ME175CG, comes with dual SIM support, 3G connectivity, and an Intel Atom Z2520 processor clocked at 1.2GHz. Its other features are similar to the features of the LTE version.
Asus didn't say how much the new Fonepad 7 LTE and Fonepad 7 dual SIM cost, and neither where and when it's going to launch them.
source:
Asus