Asus ZenFone Max (M1) offers generous battery and dual camera for just $169
5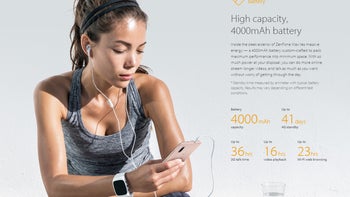 Are you looking for a new smartphone that doesn't cost more than $200 unlocked? Asus may have just what you need in the ZenFone Max (M1), an Android 8 Oreo handset that's coming soon to the US.
Sporting a 5.5-inch display with 720 x 1440 pixels and a modern 18:9 aspect ratio, the Asus ZenFone Max (M1) packs a large 4,000 mAh battery that can provide up to 16 hours of video playback, up to 23 hours of Wi-Fi web browsing, up to 36 hours of talk time, or up to 41 days of standby time. With normal usage, the phone likely lasts about two days on a single charge (speaking of that, fast charging is supported).
On the back, the new Asus phone has a fingerprint scanner and a dual camera (13 MP + wide-angle 8 MP), while the front hosts an 8 MP selfie camera. Other features include face unlock, dual SIM support, a Qualcomm Snapdragon 425 processor, 2 GB of RAM, and 16 GB of expandable storage space.
The ZenFone Max (M1) is priced at $169 and can be pre-ordered via B&H (see the first source link below) in three color variants: black, rose gold, and red. While the smartphone does not have a proper release date, it will start shipping "soon."
This is the second ZenFone Max model that Asus is releasing in the US in 2018, after the larger and slightly more expensive
ZenFone Max Plus (M1)
. Mind, you both handsets are fully compatible only with GSM/LTE carriers like T-Mobile and AT&T.