Apple announces over 500 million iPhones sold, throws a punch at Android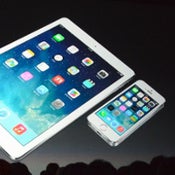 Apple has just dropped its latest stats on iOS devices, and it had some impressive numbers to brag about.
Apple has now sold a total of more than 800 million iOS devices. The iPhone is leading the way with a whopping more than half a billion (500 million) units sold. Just in the last year, Apple increased its iOS user base by 130 million users.
The iPad is the second best-selling iOS device with 200 million units sold, and then the iPod touch has over 100 million units.
Apple did not pass the chance to throw a punch in the direction of Google's Android operating system, of course.
"Nearly half of our customers in China switched from Android to iPhone,"
Tim Cook started what became a long tirade against Android. Cook shared satisfaction ratings of 97% for the iPhone, but not just that - the Apple CEO bragged about quick and widespread adoption of the current iOS 7. In fact, nearly 9 out of 10 people users run the latest version (in strike contrast to Android, Cook noticed).
True or not, Apple is now taking a very clear, aggressive stance towards Android. What do you think, is its criticism deserved or not?