Apple CEO Tim Cook talked to Jimmy Iovine about launching streaming music service
11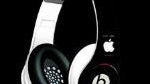 It looks like Apple has been seeing all of the press Google has been getting recently about rumors that the search giant is planning to launch a streaming music service (or
possibly two
), and Apple doesn't like when rival companies get too much press, so work has come out that Apple CEO Tim Cook has met with popular record producer Jimmy Iovine about launching an Apple streaming music service.
The report from
Reuters
says that Tim Cook, Eddie Cue, Apple's VP of Internet Software and Services and a leading figure in the development of Apple's iTunes Music Store met with Jimmy Iovine, record mogul and CEO of Beats audio, late last month. Multiple sources close to the action said that the discussion pertained to an upcoming music subscription service from Beats called "Project Daisy". Tim Cook was apparently very interested in the business model and rollout plans fro Daisy.
Beats announced Project Daisy in January, but there are no specifics on when the service will launch. Apple has also been rumored to be working on a music
streaming component to iTunes
, but those rumors have been few and far between since the original rush.