Android 5.0 Lollipop source hits AOSP, including all Nexus branches
17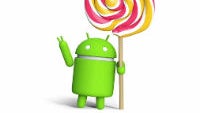 Today has been the official release date of Google's newest Android update, version 5.0 Lollipop. The Nexus 9 is on sale, and now the countdown begins to when we'll start seeing the update pushing out to other Nexus and Google Play edition devices. As is customary for Android, the release day is also when Google posts the source code on the Android Open Source Project (AOSP).
It's hard to say when the updates will push out, but we would note that along with the stock Lollipop source code, Google has posted the source for a bunch of Nexus device branches as well. The first Nexus branches posted are the Nexus 5, and all Nexus 7 variants, both Wi-Fi only and 3G. Only the Nexus 4 and Nexus 10 haven't been uploaded yet.
Of course, manufacturers have already had access to the update, and have been working on their updates as well. We've seen early builds of Android 5.0 for the Samsung Galaxy S5; and, Motorola sent out a mysterious soak test for the 2014 Moto X. We'll have to see if Motorola can beat a Nexus to market with the update, like it has before.
*Update* Overnight since this article was first published, Google has released the source code for both the Nexus 4 and Nexus 10. This means the source code for all Nexus branches have been published.