A refreshingly smart and elegant adventure – Prince of Persia: The Shadow and the Flame hits iOS and Android at the end of the month
13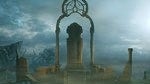 The prince is dead, long live the prince! If you like jumping around ledges and high edifices, fending waves of enemies with a cold weapon and an oriental atmosphere, then you are in for a treat! The Prince of Persia saga dates way back to the MS-DOS era, created by a little company named Broderbund. Since then a lot of water has flown under the bridge, Broderbund are now a part of Ubisoft and the latter has decided to revamp the series by putting several games with the Persian prince. Now it's the mobile gamers' turn to rejoice, as The Shadow and the Flame is a remake of the 1993 Prince of Persia game, and
will be available on iOS and Android
.
As it seems, the graphics are amazing. Even though The Shadow and the Flame is a 2D platformer, 3D graphics have been brought to the game, while new special effects have been implemented as well. Combat is fast-paced and players can perform different set of combos, and to sweeten the deal, Ubisoft has added numerous new weapons to be used against the Prince's foes.
But we are not done yet. Mobile gamers will be able to unlock various achievements throughout the game and brag about them in different leaderboards. Let's not stop there: the controls have been tweaked as well - the Prince can be moved around either via virtual joystick, or via gesture-based controls.
Mark
July 25th
on your calendar - Prince of Persia: The Shadow and the Flame rolls out on the App Store, Google Play and Amazon on that date and the price will be
$2.99 (£1.99)
. Hopefully, this one will be a true winner.
source:
Pocket Gamer