$99 Android tablets could come as soon as Q3
9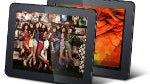 Get ready for an onslaught of super-cheap Android tablets, because word has it they will start hitting store shelves later this year. We already knew that the Asus MeMo Pad HD is on the way, but a new report from DigiTimes is saying that will be the first of many, including a number of 7" Android tablets that will cost just $99.
The
Asus MeMo Pad HD
8GB model is planned to launch at just $129. According to DigiTimes, "many brand vendors are interested in how Asustek was able to offer its tablet at US$129 and feel pressured by the price." As a result, there will likely be a number of brand $99 Android tablets coming by Q3. DigiTimes also says the price competition will impact white-box devices, and some chipmakers have dropped shipment forecasts from over 100 million chips to the white-box market to only 80-90 million in 2013.
Of course, there had been persistent rumors last year that Google was planning to offer a $99 Nexus 7 model, but that never came to pass. The component costs have come down though, so we can't help but wonder if Google will be part of the $99 push.