Apple 14-inch iPad 2024: release date expectations and news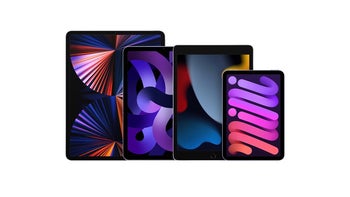 Update (September 8, 2023):
The rumored 14-inch iPad is not materializing. At least for the moment and the near future. In his September 3 newsletter, Bloomberg's Mark Gurman states explicitly that "there is no such model in the imminent product pipeline", putting a full stop on the topic for a (much) bigger iPad for 2023 and for 2024, quite possibly.
According to the insider information, there was a moment in 2023 when Apple was "close to releasing a 14-inch iPad". There were several drawbacks to a potential "giant iPad release" in the present situation, as specified by Gurman: first, such a device (blurring the line between tablet and laptop) "could get in the way of continued momentum for the Mac"; then there's the "OLED screen limitation and the higher cost it would bring".
However reputable his intel may be, there's no official statement from Cupertino, so let's keep the hope alive and speculate what could the 14-inch iPad look like and pack.
For many months, numerous prominent leakers talked about how
Apple
is working on a larger-than-life 14-inch iPad. When the Cupertino company first introduced the
12.9" iPad Pro
, the transition of the lineup towards becoming a viable laptop alternative finally began. Since then, iPadOS, despite its many limitations, has increasingly made efforts to introduce MacOS-like functionality and features that can benefit from the larger screen real estate - the most notable one to date being Stage Manager.
Latest 14-inch iPad news (Updated 28th June, 2023)
14-inch iPad Release date
After Gurman's intel, the device is unlikely to see a release even in 2024. Originally, the prominent display analyst and industry insider
Ross Young
made a prediction that the 14-inch iPad was supposed to make its debut sometime in the first quarter of 2023. Although that did not happen, his info was correct. It was Apple who decided not to go forward with the giant's release in 2023. But they were close to actually do it.
14-inch iPad price
Price is always a touchy subject when it comes to Apple products. Nevertheless, if the 14-inch iPad comes equipped with ProMotion (i.e. 120Hz adaptive refresh rate) and a mini-LED panel or even an OLED panel, this will invariably make it a very expensive device, surpassing even the already costly 12.9" iPad Pro (which starts at $1099 for the base configuration) in price.
14-inch iPad camera
Given that the camera is not a particularly strong suit of the iPad and is, thus, rarely a major selling point, there is little to no information on the prospective camera module on the 14-inch iPad. If any rumor regarding it surfaces, we will cover it accordingly.
14-inch iPad storage
The only reference to storage currently available is a questionable bit of information by Majin Bu, an Apple tipster with a somewhat mixed track record. The latter has stated in
a tweet
that the 14-inch iPad will come with 512GB of internal storage and 16GB of RAM. For reference, the base configurations of the iPad Pro currently come equipped with a fraction of that - namely, 6GB of RAM and 128GB of internal storage. The entry-level iPad and the iPad Air have even more lacklustre storage options. Most importantly, it would hardly make sense for an iPad to start with more internal storage and RAM than the M2 MacBook Air. Hence, at the moment, we cannot lend credibility to Bu's claims.
14-inch iPad design
When Apple fans were still somewhat sure they were going to see a 14-inch iPad, speculations surfaced that the Cupertino giant could be introducing a couple of design changes with the new device. This includes slimmer bezels, a bigger Apple logo, and a front-facing camera with a horizontal orientation. Obviously, there are no new credible (or non-credible) leaks for the time being.
14-inch iPad display
The display was another very hot point of contention surrounding the 14-inch iPad up until recently. The exact size of the screen was rumored to be slightly more than 14 inches - 14.1" to be precise.
Ross Young
, one of the most trustworthy sources in the display industry, initially expected the 14-inch iPad to feature neither a mini-LED panel, nor ProMotion. Nevertheless, he has then backtracked on his previous predictions and stated that the 14-inch iPad will come equipped with Apple's most cutting-edge display technology.
Young has also not ruled out the possibility that there could be two versions of the 14-inch iPad - a Pro and non-Pro one, with only the former featuring the higher-end display technology and ProMotion.
14-inch iPad battery
There is currently absolutely no information on the battery of the 14-inch iPad. As soon as there are any pointers in that direction, we will be including them.
14-inch iPad features and software
If the 14-inch iPad was released in 2023, it would be coming with latest version iPadOS 17, as it was
officially unveiled during the annual WWDC 2023 event
. Given that Apple is limiting Stage Manager to iPads with an M-series chip, the processor powering the 14-inch iPad (if one is to suddenly pop out) will determine whether the device will be able to make full use out of the capabilities of iPadOS.
14-inch iPad hardware and specs
It is almost certain that the 14-inch iPad will be powered by an M-series processor - but the earlier predictions for an M2 or an M3 chip can be now pretty much scrapped. Depending on how much they'll stall its release, it could easily come with an M7 chip, if one should exist.
One dubious leak
claimed the device will feature an M3 'Pro' SoC, which would be a first in Apple's iPad history. Until now, the Cupertino company has only utilized standard M processors in its tablets, because they do not require active cooling. Additionally, the same source claims that Apple is developing 'a special version of iPadOS 17' for this particular iPad model, which would allow the latter 'to support up to two 6K displays at 60Hz'.