Google Pixel 5 Review: Brilliant but outshined
35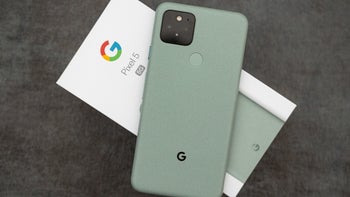 Google
's Pixel 5 is an interesting device. In many ways, it embodies the ideals cultivated by the Pixel series over the past few years, focusing on the slick software and great camera that made past Google phones dynamic and inviting. But equipped with a midrange processor and a somewhat stagnant feature set, one starts to question whether it deserves the flagship moniker it bears.
In all honesty, I'm in love with the Pixel 5, but it's hard to deny that it offers little, maybe too little, to differentiate it from the value-packed
Pixel 4a (5G)
, which offers the same camera, same chipset, and same software for $200 less. While Google's latest flagship is definitely a polished phone that offers a good number of flagship-level features, its Pixel brethren play the same game and manage to feel just a bit more compelling.
In the box:
Pixel 5
USB-C charging cable and 18W wall adapter
USB-C to USB-A quick switch adapter
SIM tool
Quick start guide and warranty
Design
The
Pixel 5
features a hybrid aluminum body with a thin "skin" made of a special bioresin plastic. This combo gives the phone a sturdy, flagship feel while allowing for wireless charging despite the metal frame.
The phone has a minimal number of ports and buttons on the sides, giving it a clean, sharp look. There's also no earpiece on the front because the screen holds a speaker under it, allowing the display to lay smoothly against the back panel. These changes subtly improve the handset's look and feel, and they're also a byproduct of its IPX8 water resistant design.
Overall, the smartphone feels solid in the hand, while the brushed metal power button and flush seams complete the premium aesthetic. Its soft-touch matte back features an almost pebbled finish, giving it an organic, approachable feel that exudes elegance rather than screaming luxury.
Display
The Pixel 5 features a 6.0-inch OLED panel made of Gorilla Glass 6 that's a pleasure to look at. At Full HD+ resolution, it's similar to last year's Pixel 4 and boasts a pixel density of 432ppi. It's the first flagship Pixel to adopt the hole-punch selfie camera, and the display feels expansive for its physical size. In fact, the razor-thin bezels mean that it's barely a hair taller than the Pixel 4a despite the display being 0.2 inches larger.
The panel itself is crisp and vivid with great colors and contrast. The aspect ratio is a slender 19.5:9, but it isn't super-slim like the 21:9 Xperia 5 II, hitting a nice middle ground for both widescreen video and general purpose usage. The brightness is also significantly brighter than either of the 4a models, ensuring great visibility even in daylight. It can also be turned down quite low to avoid eye strain when viewing in the dark.
Like its predecessor, the Pixel 5 has a 90Hz high refresh rate for butter-smooth scrolling. The software default will adjust the refresh rate up and down to conserve battery, but you can also keep 90Hz always on in the settings.
Camera
Every manufacturer claims to have 'best-in-class' cameras, but Google has long been the one to beat for smartphone photography. And as usual, the Pixel 5 pulls it off despite its unassuming hardware.
The Pixel 5 has two lenses, a 12.2MP main shooter, and a 16MP ultrawide sensor. This is the opposite of the Pixel 4's setup, which featured a telephoto lens but no ultrawide option. Most flagships offer three lenses, if not more, but, of course, this one is playing the quality-over-quantity game.
Google's best camera software for this year has already been mostly showcased on the 4a, and here it shines with sharp details, lifelike colors, and top-notch dynamic range via its advanced HDR processing. Photos really hit the sweet spot between vivid and natural, looking brightly lit but not oversaturated, as HDR often is.
The Pixel 5 handles difficult lighting with panache in both the main and wide shooting modes, and the phone produces good-looking shots in almost any situation. For darker lighting, the iconic Night Sight is back, of course, but now it can be enabled in any camera mode, including Portrait. This is a small but significant change that can really improve your nighttime portraiture.
< Night Sight OFF
Night Sight ON >
Like every other Pixel, a Pro mode for custom ISO or shutter speed is missing, likely because Google's optimization software needs to kick in for the photo magic to happen. I'm not complaining though, because it does a great job on its own.
One minor but amazing upgrade: the Pixel 5 now helps you adjust your camera angle when shooting top-down. Having the phone parallel to the ground is really important to avoid an uneven, distorted perspective, but it can be tough to do freehanded.
No telephoto lens means no optical zoom, of course, so the Pixel 5 is stuck with 7x digital zoom, powered by Google's Super Res Zoom tech from last year. It does fairly well, unearthing a good amount of detail from afar, but at its extremes it can render textures oversharpened or occasionally indistinct.
There is also optical stabilization so your photos emerge crisper with less motion blur. For videos, there is also an Active mode for enhanced stabilization. And yes, Google has enabled 4K/60fps video capture for the Pixel 5.
Selfies are taken with the Pixel's single, 8MP camera. The sensor has smaller pixels and smaller aperture compared to the main camera (1.12μm vs 1.4μm, f/2.0 vs f/1.7), but it still performs admirably, bolstered by the same powerful image processing software. Selfies are generally well exposed, and skin tones tend to be captured quite accurately. Interestingly, the Pixel 5 also has selfie retouching off by default, unlike previous models.
If your selfies or portraits don't look as well-lit as you would like, you can also add lighting retroactively with the new Portrait Lighting feature. The effect is more dramatic in darker photos, but it adds a definite, natural-looking boost for brighter portraits. You can customize the strength and angle of your artificial light, but the automatic mode handles things nicely as well. And since it's AI based, you can even apply it to photos from years ago!
Software & Performance
The Pixel 5 runs on stock Android (surprise!). True to form, the software interface feels zippy and smooth, while Assistant and Search remain accessible from basically everywhere. Coming from a Pixel 4, the native screen recorder and improved screenshot tools are both very much appreciated.
As is traditional for Pixels, the Pixel 5 ships with Android 11 and a selection of Google's newest software tricks. One of the big ones is Hold for Me, where Google Assistant will keep you on the line when you're placed on hold. The feature will automatically alert you when a real person shows up so you can quickly reconnect. Hold For Me is even smart enough to recognize pre-recorded messages that are often played while on hold.
Another major feature is for Google' own Duo app, which now supports screen sharing while on video call. Screen sharing is something many of us have become intimately familiar with, but Google is hoping the feature will help you stay connected with friends and family and watch videos together, or look through past photos. It's pretty niche, but a nice touch in times like these.
The Pixel 5 also retains major features like car crash detection with automatic 911 dialing, the new Google Assistant, and Recorder with live transcription. Plus, like all Pixels, it'll continue to receive new functionality and updates through Google's Feature Drops.
As for performance, the Pixel 5 zip along about as well as you'd expect based on its Snapdragon 765G chipset. I've said it before and I'll say it again: midrange processors have gotten more than good enough for the vast majority of people, myself included. Everyday performance is excellent, and the 8GB of RAM (up from the Pixel 4 and 4a's 6GB) is more than enough to keep up with multitasking.
That being said, the Pixel 5 is definitely not equipped to challenge its SD865-powered peers, like the Galaxy S20, LG V60, or Asus Zenfone 7. This is evident in benchmarks, where the phone scored a cut under the flagship competition, especially in graphics processing. Though the performance will be fine for most, it's likely not the best choice for gamers (unless you're on Stadia, of course).
Connectivity & Audio
The Pixel 5 has all the 2020 features you'd expect: 5G connectivity (mmWave on Verizon and Sub-6Ghz for everyone else), Bluetooth 5.0 LE, NFC, wireless charging, and reverse wireless charging to top it all off—a first on Pixel.
There's no headphone jack, which hardly feels like an absence anymore, but Bluetooth connection is a pleasant and unproblematic process from my experience. As far as call quality goes, the under-display speaker works well to deliver crisp and clear phone calls, while the mic setup seems to fare well too.
Media and music playback is great as well, a hidden strength of Google's phones. The Pixel 5 sounds clear and tight across the spectrum, and it sounds both brighter and richer than the Pixel 4's excellent speaker setup, though the sound isn't quite as spacious.
Battery
Though Pixels have always boasted good power efficiency, their relatively small batteries often hold them back. This year, the Pixel 5 is outfitted with a 4,000mAh power cell, a big boost from the Pixel 4's 2,800. While it's still not the biggest one on the block, the Pixel 5 delivers great battery performance for day to day usage.
I've been consistently getting a day and a half with room to spare, while the phone sips only around 0.8% per hour on standby. In fact, lighter users may easily cross the 48-hour threshold.
The Pixel 5 ships with an 18W charger like its predecessors, while it can top up wirelessly at up to 12W. With the included wired charger, a full charge from empty to full takes around 90 minutes.
Recommended Stories