Google Pixel 6 vs Pixel 6 Pro
4
We may earn a commission if you make a purchase from the links on this page.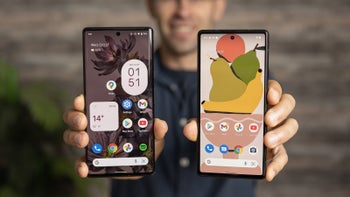 The
Google Pixel 6 series
is nearing its second anniversary now. Since they arrived, we've had the
Pixel 6a
, the
Google Pixel 7 series
, and — very recently — the
Pixel 7a
. If you are looking at
Pixel 6
phones right now, you are probably looking for a massive deal, since they are regularly available at discounted prices. So, one question might be circling in your head — is the
Pixel 6 Pro
worth the extra asking price or can you just grab the
Pixel 6
and save even more cash?
If price is a priority, this should go to the
Pixel 6
, though if that's the case, you may also want to take a look at the slightly newer
Pixel 6a
. But the latter does have some corners cut as it is decidedly a
mid-range phone
from Google. Let's not dilute this further — we are here to compare the 2021 Google flagships — the
Pixel 6
and
Pixel 6 Pro
.
Pixel 6

vs

Pixel 6 Pro

in a nutshell:
More premium design with curved screen on 6 Pro
Slightly larger screen on 6 Pro

Pixel 6 Pro

has a 4x zoom camera

Pixel 6

has 90 Hz screen,

Pixel 6 Pro

has 120 Hz
Google

Pixel 6

vs

Pixel 6 Pro

price
The price is going to be a deciding factor for many out there looking for a new phone. This is where the
Pixel 6
leads — it still has an MSRP of $599, but already drops to $399 on a regular basis. The
Pixel 6 Pro
has a list price of $899, but we see it drop to $649 quite often.
VS
You should also consider storage options. Both of these starting prices are for the 128 GB models, which is a lot of room for most users out there. But, if you want to upgrade to a 256 GB model, that'll be $100 extra for each.
The long and short of it is — if you are buying a Pixel to use its high-res camera as often as possible, you will be fine with any one of these phones. If you think you can't do without a zoom camera, the
Pixel 6 Pro
is more up your alley. If you'd rather save some cash and don't care about a curved screen or a zoom camera, the
Pixel 6
is an awesome deal for you.
Google

Pixel 6

vs

Pixel 6 Pro

display and design
The first, and most obvious difference between the two devices is the size. As is customary, the Pro is bigger, with a screen size of 6.7 inches. The regular
Pixel 6
is only slightly smaller, at 6.4 inches. In other words, the regular
Pixel 6
is by no means a "mini" or "compact" — it's more of a medium-sized phone.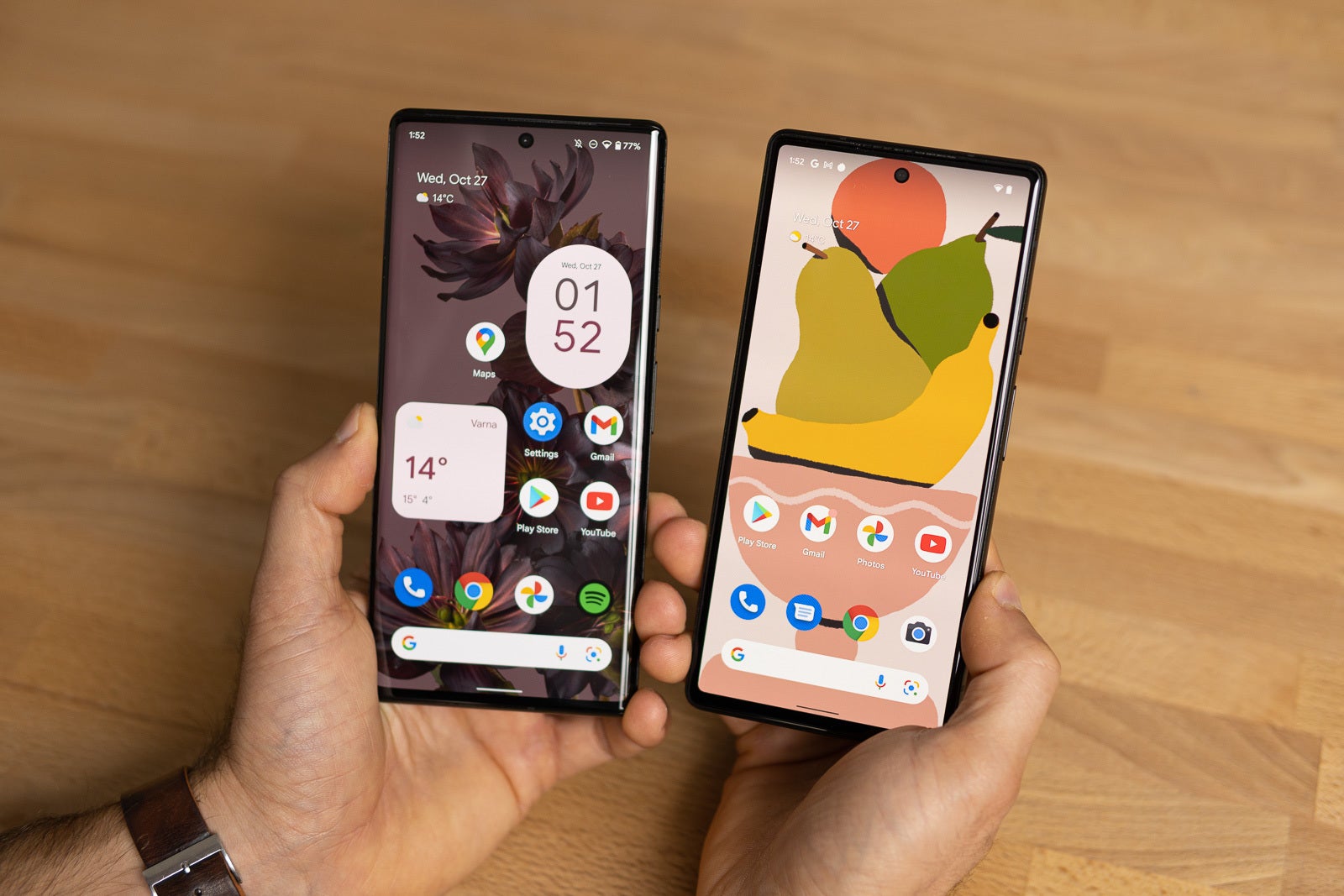 Both phones have OLED panels, so no skimping there — you will get deep, rich blacks and sharp contrasts with either device. The
Pixel 6
Pro's screen can hit the coveted 120 Hz refresh rate, while the
Pixel 6
is "limited" to 90 Hz. This is, however, still noticeably better than 60 Hz screens of yesteryear, so — even with the
Pixel 6
— you will feel an improvement in animation smoothness and response.
The panel on the
Pixel 6 Pro
is also LTPO, which means it will automatically drop to a 10 Hz refresh rate when displaying static images so they save battery. The regular
Pixel 6
does not do such magic tricks.
As for resolution, the
Pixel 6 Pro
has the sharper screen with a resolution of 1440 x 3120 or 512 pixels per inch. The
Pixel 6
has a resolution of 1080 x 2400 or 411 PPI. In reality, both are sharp and dense and you won't be seeing jagged edges or individual pixels with the naked eye. Both screens look great, are colorful, and get plenty bright.
Display measurements and quality
Let's talk design and build next. The two Pixel models share a lot of the same DNA with that instantly-recognizable camera bar on the back — the RoboCop vizor!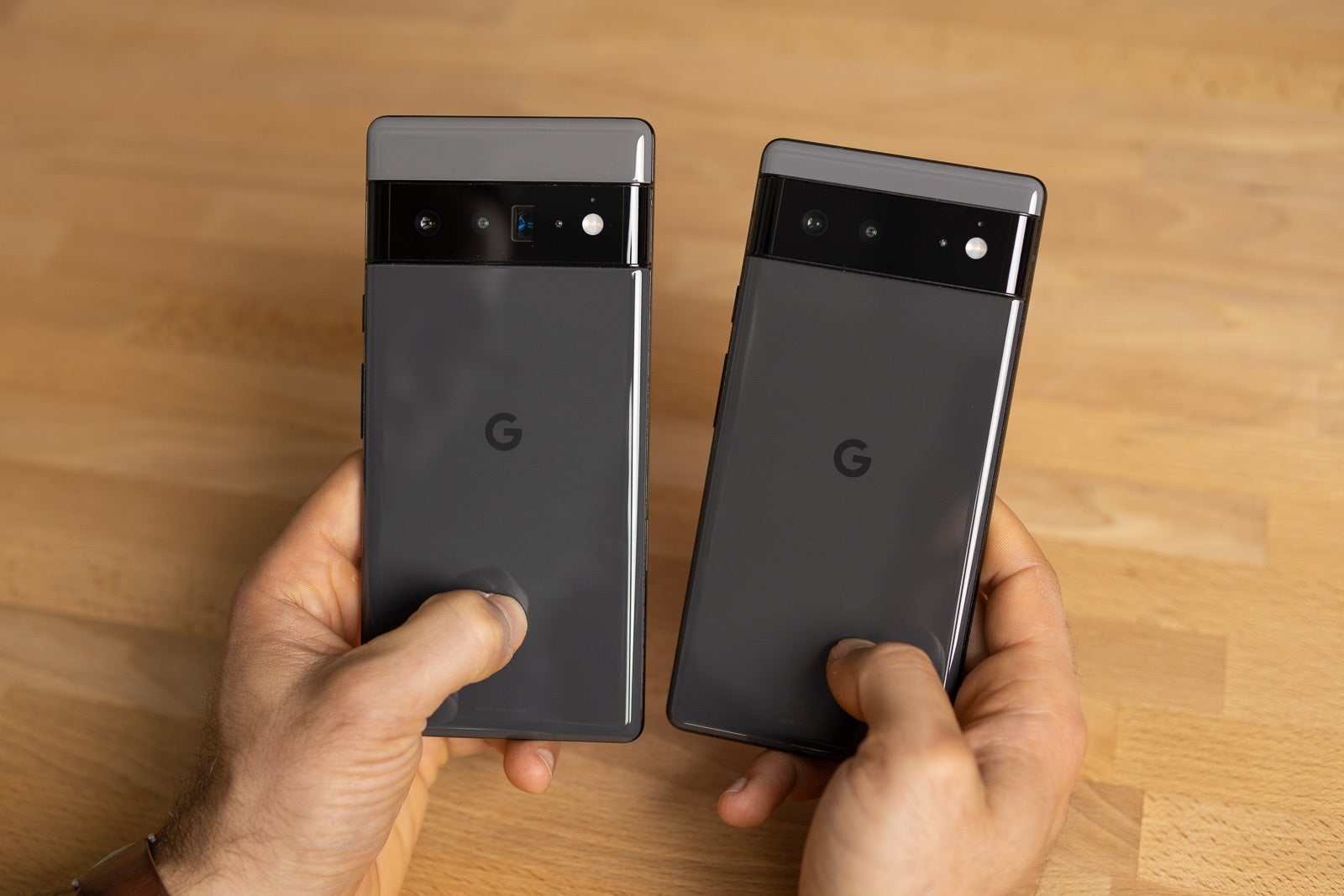 The
Pixel 6 Pro
has a very slight edge to its screen — a slight curve towards its sides, like Samsung's edge displays. Google calls it a "waterfall display". The Pro as a whole has thinner bezels and a more cutting-edge to it.
The
Pixel 6
is more of a flat-screen boy with no curvy shenanigans. Its bezels are slightly thicker here and, when compared side by side to the bigger model, the
Pixel 6
has a more... mid-rangey look to it.
Which one is the better choice is up to you — some people love the futuristic look and feel of a slightly curved display, others hate the feel because they are a bit harder to grip and are prone to more ghost touches.
Whichever you pick, both of them are protected by Gorilla Glass Victus on the front — the latest-and-greatest from Corning that's applied to Samsung's top-tier phones, too. On the back, the
Pixel 6 Pro
has another slab of Gorilla Glass Victus, while the
Pixel 6
is protected by the last-gen Gorilla Glass 6.
Both phones have a duo-tone look on the back, where the lower part and the top part of the panel are separated by the camera strip and each is painted in a slightly different shade. Also, both glass panels on the back are glossy, which makes them fingerprint magnets.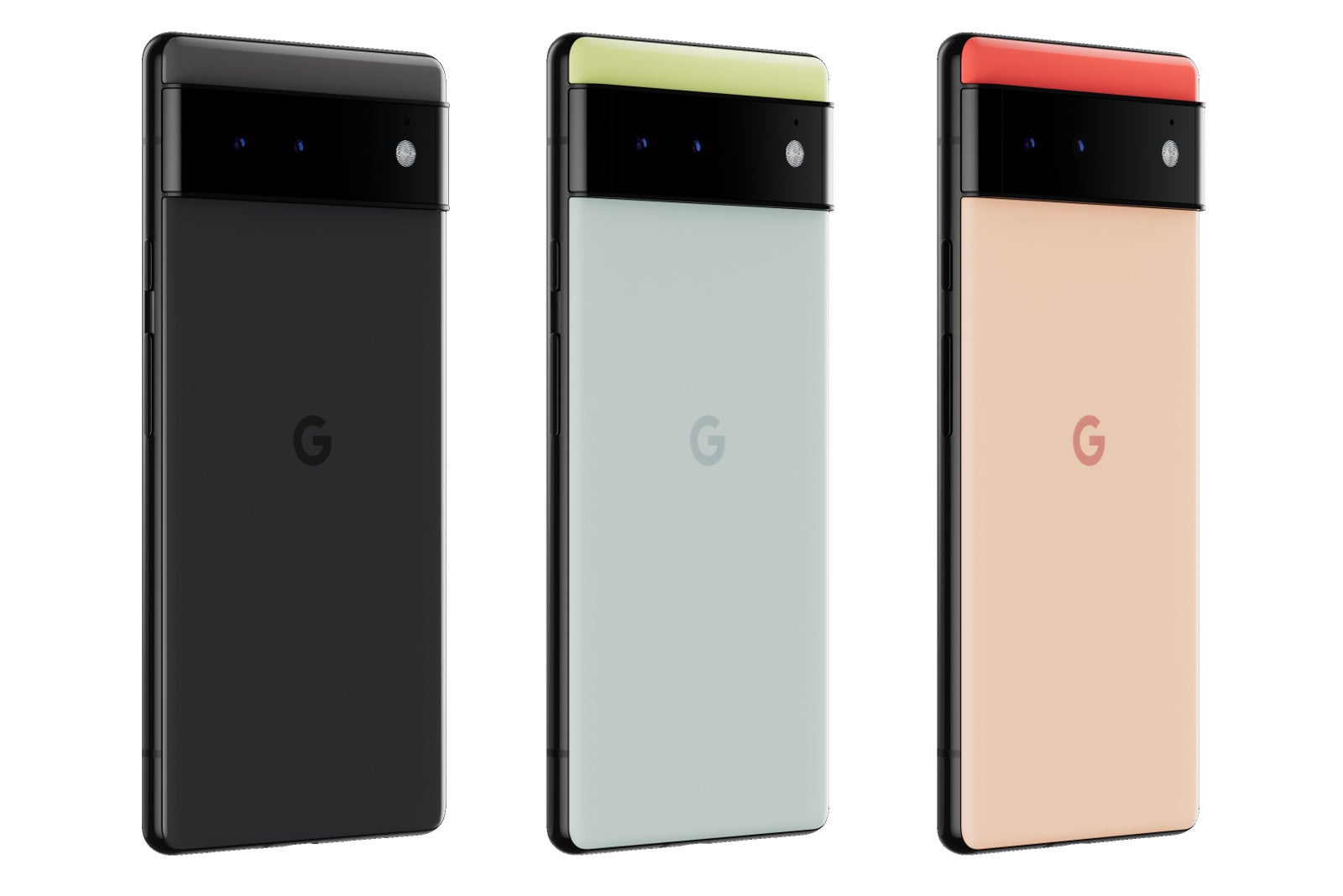 Pixel 6 colors
Speaking of colors, you will find that the
Pixel 6 comes in more "fun" colors
— vibrant and fresh — contrasted against matte black frames. They are Stormy Black, Kinda Coral (salmon-like), and Sorta Seafoam (mint-green). The
Pixel 6 Pro
comes in the more sophisticated… and boring Stormy Black, Cloudy White (like silver), and Sorta Sunny (gold) versions. But the Pro is extra shiny with matching frames with a glossy finish over them.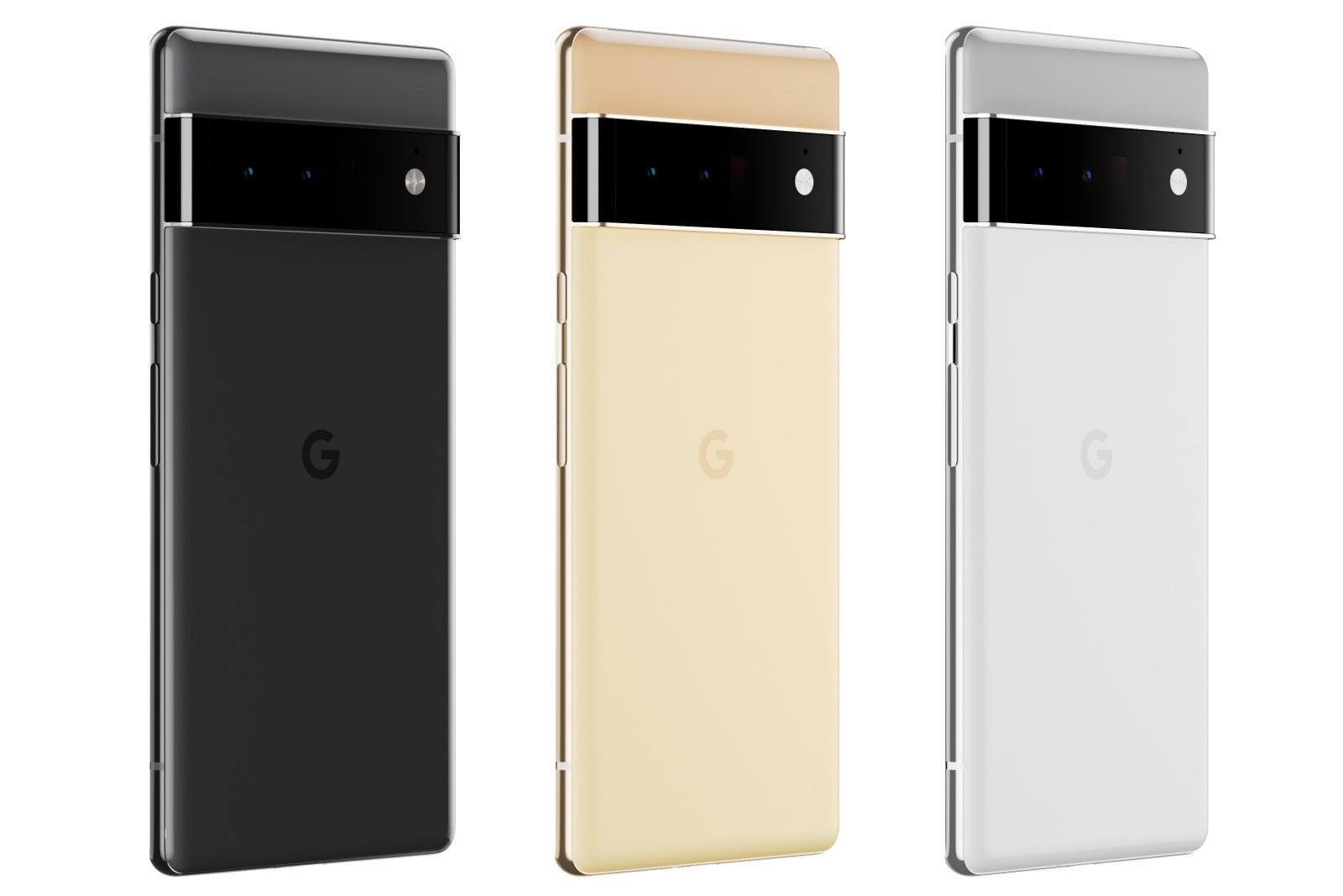 Pixel 6 Pro colors
Honestly, the colors themselves might be your reason to pick one model over the other — the regular
Pixel 6
just looks much more fun in the two colored options. But the Pro's Sorta Sunny option also offers a lot of bling, or — if you are one for subtlety — you might enjoy the elegance of the 6 Pro in Stormy Black.
Google

Pixel 6

vs

Pixel 6 Pro

hardware and performance
The good news is that both the regular
Pixel 6
and
Pixel 6 Pro
have the same internals. For the first time ever, Google released its phones with homemade chips — the Google Tensor. In lieu of a Snapdragon SoC, and in direct contrast to Apple's A series chips — hopes were high for Tensor to up the game for
Android phones
dramatically.
Google talked the Tensor up quite a bit, claiming a massive improvement in performance and optimizations catered specifically to the AI-powered Assistant and the many AI features that come with Android's stock apps. There are cores specifically designed to improve the speed and accuracy of speech recognition as well as image enhancement after you've pressed that shutter button.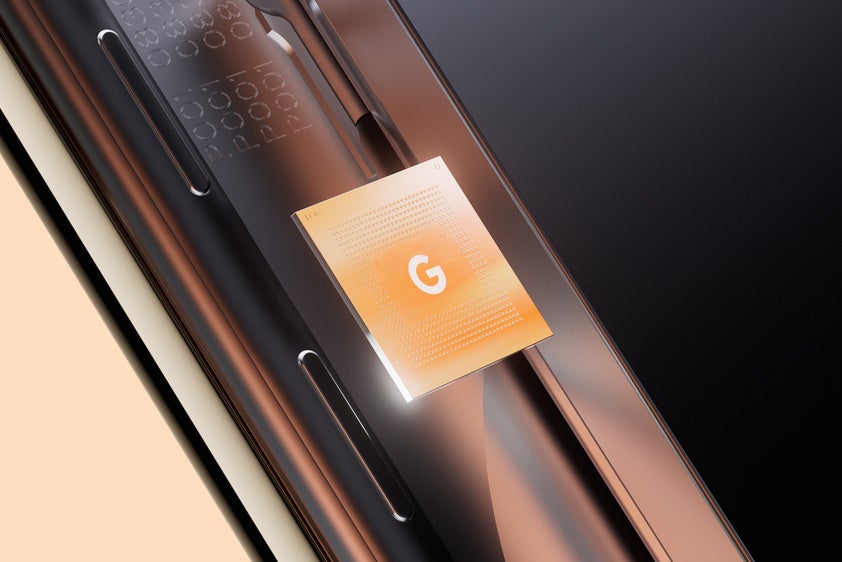 In reality, Tensor is not really a massive performer and benchmarks show as much. It barely competes with Qualcomm's own Snapdragon 888. However, we are happy to report that — in real life — both the
Pixel 6
and
Pixel 6 Pro
feel fast, fluid, and generally fun to use. The 90 Hz and 120 Hz refresh rates definitely help here as the phones seem to react to touches and swipes with ease and everything feels snappy.
Both phones start at 128 GB of storage. The
Pixel 6
has 8 GB of RAM, no matter what tier you pick, and the Pro — 12 GB. If you want to upgrade the storage, $100 extra will get you 256 GB for each of these models, and the
Pixel 6 Pro
has an extra storage tier — 512 GB for a total of $1,099.
Google

Pixel 6

vs

Pixel 6 Pro

camera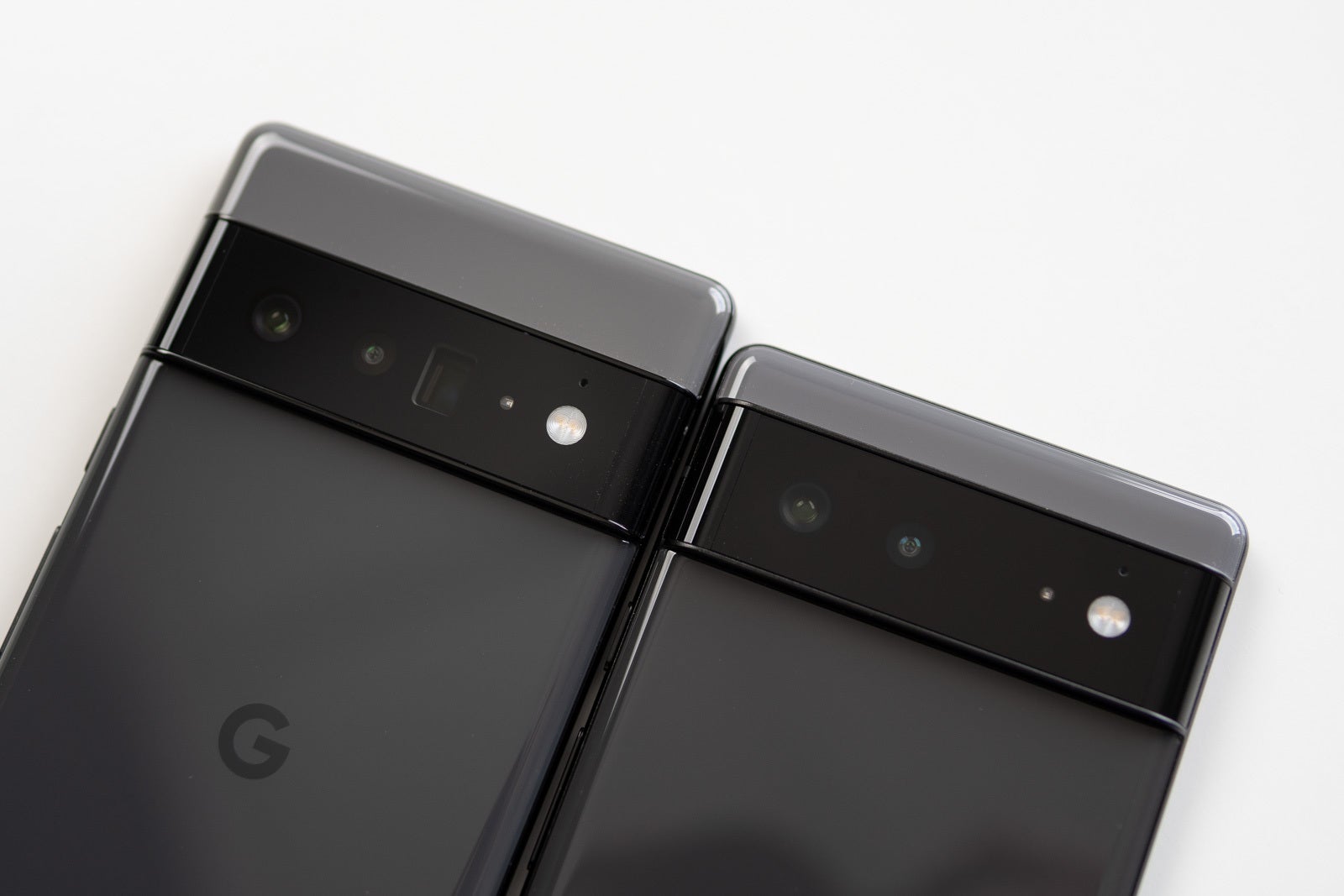 Google's
Pixel phones
have always had one core strength — the camera. The hardware itself hasn't been special for years now — just a 12.2 MP sensor behind a pretty regular lens. But Google's software worked wonders behind the scenes, leveraging HDR+ and enhanced algorithms to create clear, detailed, sharp images with plenty of exposure even in low light conditions.
Well, with the
Pixel 6
line, we get upgraded cameras. And it seems like a huge leap forward. Both phones get the upgraded main sensor — that's a 1/1.3 inch 50 MP sensor with 1.2 μm individual pixels for the main wide angle camera. The secondary, ultra-wide camera sports a 12 MP sensor. It's not ultra ultra-wide, really — it goes down to 0.7x on both phones, when current competitors usually go down to wider-angle 0.5x.
< Pixel 6 ultra-wide
Pixel 6 Pro ultra-wide >
Pretty much the same main camera performance on both sides. Here's some more samples to show you how the
Pixel 6
camera performs in both light and dark:
The big difference between these two has got to be the telephoto camera as the
Pixel 6
simply doesn't have one, while the Pro comes with a 4X zoom lens.
< Pixel 6 2X
Pixel 6 Pro 2X >
< Pixel 6 4X
Pixel 6 Pro 4X >
< Pixel 6 7X
Pixel 6 Pro 7X >
As for selfies, there is quite a bit of difference between these two's front-facing cameras. The
Pixel 6
comes with an 8 MP 1.12 μm pixel sensor, while the
Pixel 6 Pro
has an 11.1 MP with 1.22 μm pixel one. The
Pixel 6 Pro
also has a slightly wider selfie lens, with a 94-degree FOV, where the
Pixel 6
has 84 degrees to work with. In reality, it's a bit easier to end up with softer or blurrier images with the
Pixel 6
. The Pro is better for selfies.
< Pixel 6 wide
Pixel 6 Pro wide >
In low light, we tested these two side by side to see if there are any differences. We can spot that there's definitely something different with the ultra-wide — despite the two cameras being the same on paper, the
Pixel 6 Pro
's ultra-wide seems to be much more accurate in low-light, while the
Pixel 6
gets bluish and cold.
< Pixel 6 ultra-wide
Pixel 6 Pro ultra-wide >
The software behind the
Pixel 6
camera is turned up to 11, using machine learning to reduce blurry faces even in photos taken in motion. There's also a Motion Mode on board, which analyzes movement in a photo and can simulate a "long exposure" effect.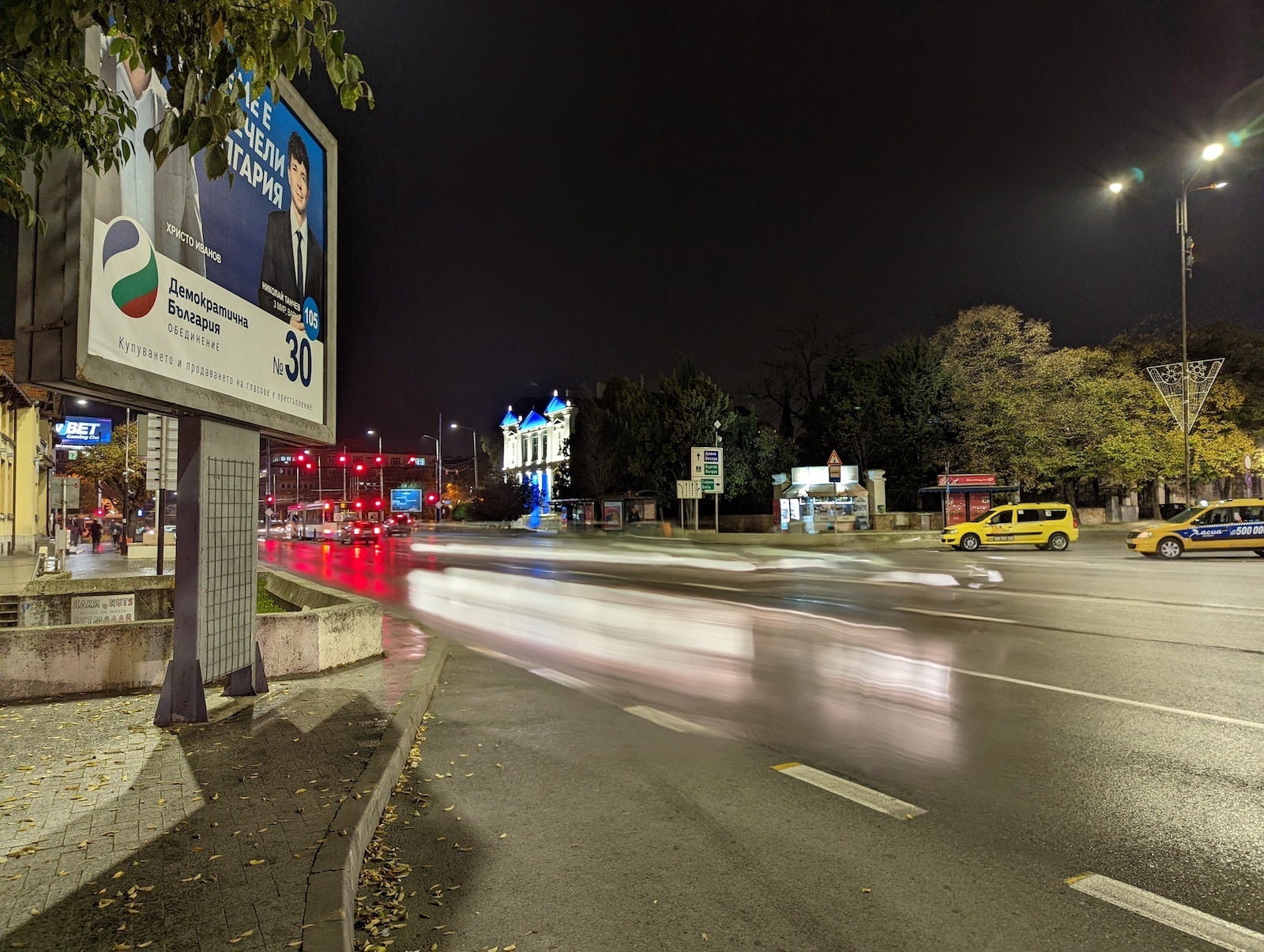 Long exposure
You can also clear unwanted subjects from photos with a single tap — the new Magic Eraser is available on both
Pixel 6
and
Pixel 6 Pro
. When it comes to software, Tensor and Android 12 on both Pixels make sure you will be able to enjoy all the features no matter which phone you pick.
In terms of video, Google claims that it has made strides to bring the Pixel picture quality to video capture. Again, with the power of Tensor, the
Pixel 6
and
Pixel 6 Pro
are capable of capturing more vivid clips that mirror the look of HDR+ for photos. Even at 4k at 60 FPS!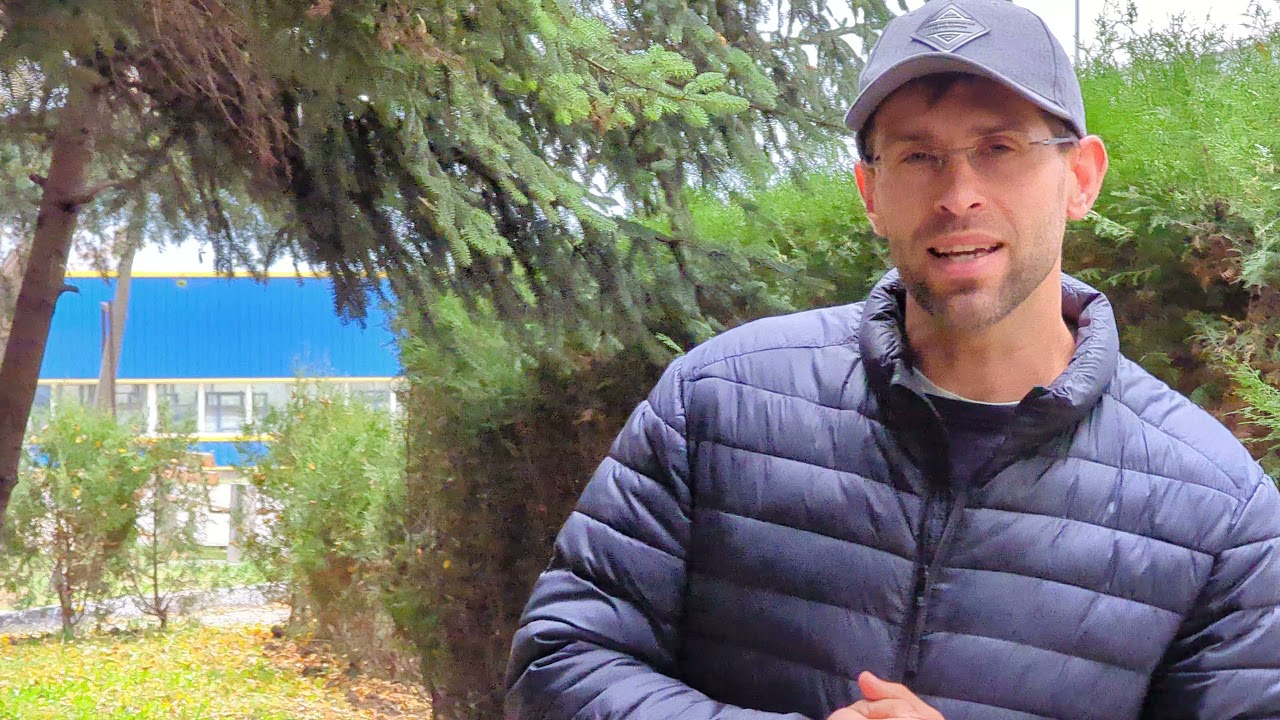 Now, the paths diverge a little. The
Pixel 6 Pro
has a third camera on the back — a periscope lens with 4x optical zoom — so zooming in for video will, obviously, look better on the
Pixel 6 Pro
.
Google

Pixel 6

and

Pixel 6 Pro

extra software features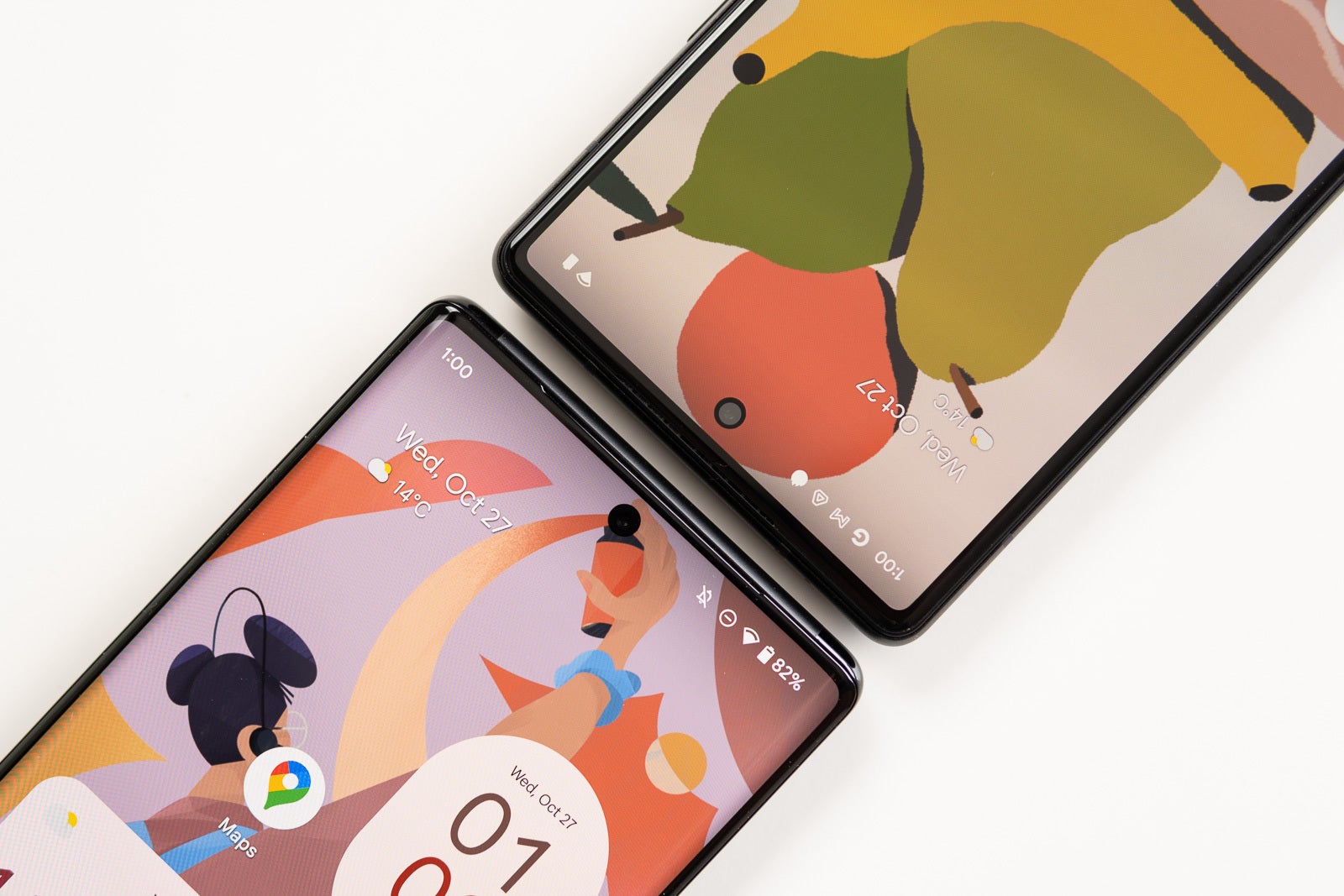 When it comes to software, these beasts offer the same amount of value — you get Android 12 on board with all of its bells and whistles. This includes bigger, bolder buttons and the new Material You philosophy, which allows you deep customization of your device's theme and look. Google is really leaning into that "make your phone look how you want it" ideology with Android 12 and customizers around the globe will love it.
The fast Translate features, voice typing, and the new upgrades to the Google Assistant voice recognition will be available on both phones in equal quality. And both phones are guaranteed to get "at least" 3 years of major Android upgrades and 5 years of security patches.
The stock apps like Weather and Photos also get a redesign, the widgets fit better with Material You and Android 12 is generally the first… interesting update in a while.
Google

Pixel 6

vs

Pixel 6 Pro

battery life
Despite having its own, home-made chip running the show in the new Pixels, Google still touts "all day battery life". So, no, not 2-day, not multi-day. The
Pixel 6
specs page does state that both phones can make it up to 48 hours of battery life if you turn Extreme Battery Saver on.
We have also run our independent battery life tests on both phones and here are the results:
Interestingly, despite its larger battery, the
Pixel 6 Pro
drained faster in all three of our tests. Keep in mind that we set the phones to the same brightness level for an equal playing field.
In real life? Both of these phones can comfortably take you through a day. We would consistently end up with about 30% of charge left at 6 PM if we made the conscious decision to not put them on the wireless charger on my desk. Google seems to have improved the standby battery drain — while it's not at iPhone levels, it's pretty consistent. As you can see from the benchmarks, the phones can keep the screen on for quite a while, actively doing tasks, too. Where it kind of falls apart is heavy apps like gaming.
For charging — both phones support 30 W wired fast charging and 21 W wireless fast charging. Well, at least official info says so. However,
pundits have discovered
that the
Pixel 6
and
Pixel 6 Pro
cap out at 22 W wired charging, which is weird, and a bit of a letdown.
Summary and final word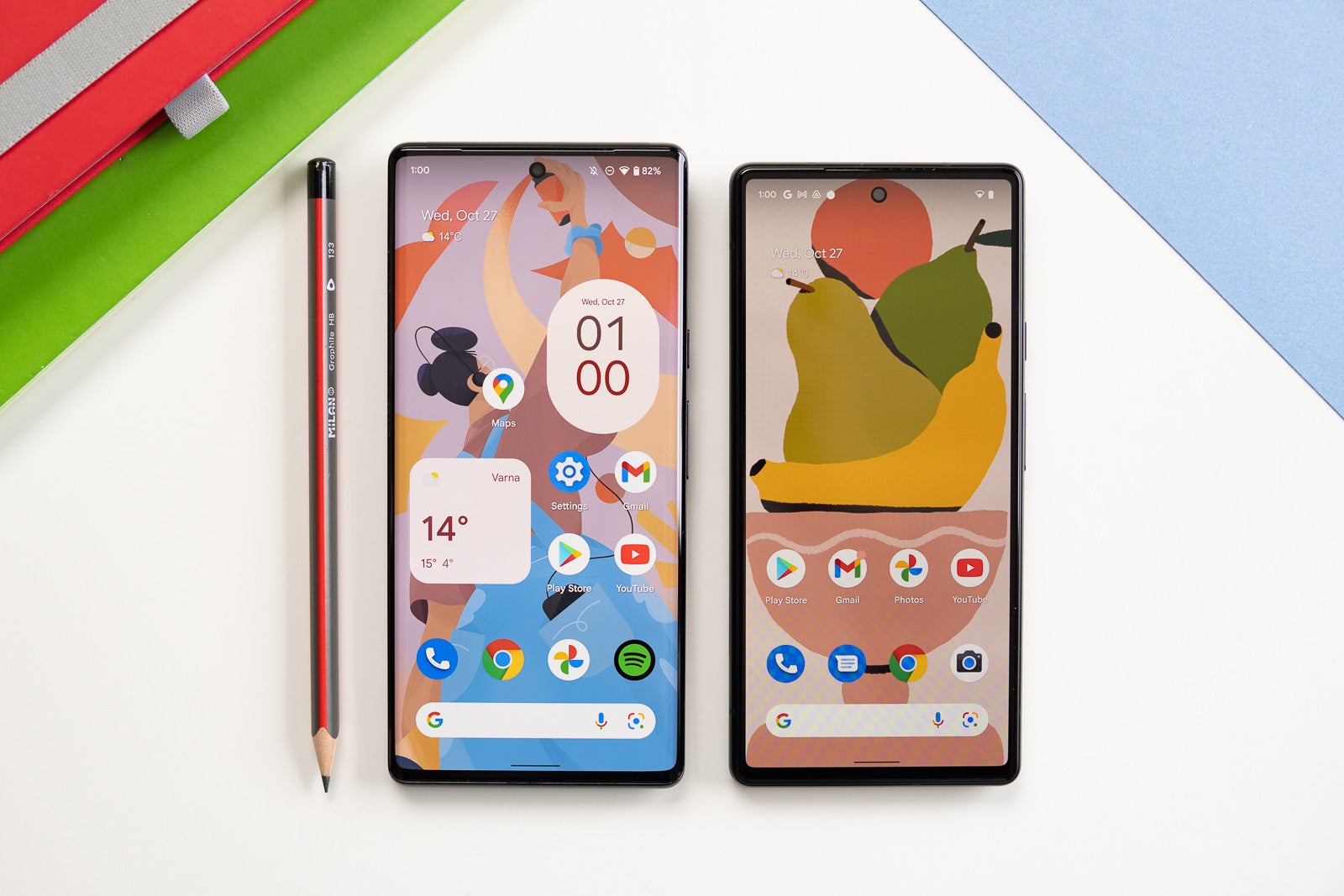 With all we've seen so far, it kind of looks like the
Pixel 6
is the better deal here. It's a full $300 cheaper (price difference may vary depending on current deals), its screen is still relatively big at 6.4 inches, it has that new Tensor chip inside, and the same main camera. OK, the
Google

Pixel 6 Pro
has a 4x optical zoom — that'll matter to you if you want to take portraits while standing quite a way back from your subjects. And that shiny and curvy design on the
Pixel 6 Pro
is definitely more... well, pretty.
But the
Pixel 6
? That's an amazing bargain of you can grab it for $400.
Recommended Stories