Google Pixel 6 vs Pixel 6 Pro: expectations
4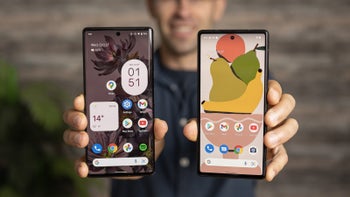 Google has just dropped a surprise announcement of the
Pixel 6 line
. What's weird about it is that the phones are nowhere near launch — they are expected to come out in October. But, I suppose, Google would rather present its line now and spool up some officially-backed up hype, instead of letting the leaks spoil everything.
So, we will have two new Pixels to pick from — the
Pixel
6 and Pixel 6 Pro. Both premium-looking and most probably premium-priced devices. Of course, the Pro will be more expensive.
Say, if we were to start saving up for a new Pixel right now. Which one should we daydream about? Well, let's take a look at what we know and solve the question "Should I buy a Pixel 6 or Pixel 6 Pro?".
Google Pixel 6 vs Pixel 6 Pro price
Unfortunately, pricing details on the phones have not been revealed. All that we know is that the Google Pixel 6 and Google Pixel 6 Pro will be "premium priced" smartphones.
This could mean something along the lines of $900 for the Pixel 6 and $1100 for the Pixel 6 Pro. But keep in mind, we don't have much to go on as of right now. Just looking at the smartphone space and the competitors that Google will be going up against with the Pixel 6 line.
Google Pixel 6 vs Pixel 6 Pro display and design
The first, and most obvious difference between the two devices is the size. As is customary, the Pro is bigger, with a screen size of 6.7 inches. The regular Pixel 6 is slightly smaller, at 6.4 inches.
It's fair to assume that both phones will have OLED panels, though nothing was confirmed by Google at this point. What we do know is that the Pixel 6 will have a 90 Hz refresh rate, and the Pro will go up to 120 Hz. Nothing to worry about — we've used plenty of 90 Hz phones and they do feel smoother and snappier than the ones that are still capped at 60 Hz.
When comparing 120 Hz to 90 Hz, the difference is not that dramatic. The former does feel a tad slicker, but don't worry if you settle for 90 Hz — it's still pretty good.
The next bit of info we have is on resolution. Now, the Pixel 6 is listed to have an FHD+ resolution, while the Pixel 6 Pro will have QHD+. We don't know the exact aspect ratio of the screens, but if we are to assume a ratio of 19.5:9, this would mean the Pixel 6 should have 1080 x 2340 pixels (402 pixels per inch), the Pixel 6 Pro should have 1440 x 3120 pixels (513 pixels per inch).
Let's talk design and build next. The two Pixel models have been shown to us in official marketing images and they look quite similar to one another. They have this signature "camera strip" at the back, which definitely looks unique in the smartphone space and will give the Pixels that much-needed signature look.
The Pixel 6 Pro has a very slight
edge
to its screen — a slight curve towards its sides. The Pixel 6, it appears, will have a flat sides instead. That's something to consider, as some users definitely dislike curvy edges and the phantom touches that come with them.
They are made of premium materials with metal frames and glass backs, and are painted in tri-tone finishes. The frame, the lower back, and top back come in different shades.
You will find that the Pixel 6 comes in more "fun" colors — vibrant and fresh — contrasted against matte black frames. The Pixel 6 Pro comes in the more sophisticated… and boring black, silver, and gold versions. But the Pro is extra shiny with matching frames with a glossy finish.
Honestly, the colors themselves might be your reason to pick one model over the other — the regular Pixel 6 comes in a fun salmon / red and cool green / mint colors, which definitely pop. Then again, the extra shine on the Pixel 6 Pro doesn't look bad as well — it's all about what type of accessory you prefer to be seen with.
Google Pixel 6 vs Pixel 6 Pro hardware
The good news is that both the regular Pixel 6 and Pixel 6 Pro will have the same internals. For the first time ever, Google is releasing its phones with homemade chips — the Google Tensor. In lieu of a Snapdragon SoC, and in direct contrast to Apple's A series chips — hopes are high for Tensor to up the game for Android phones dramatically.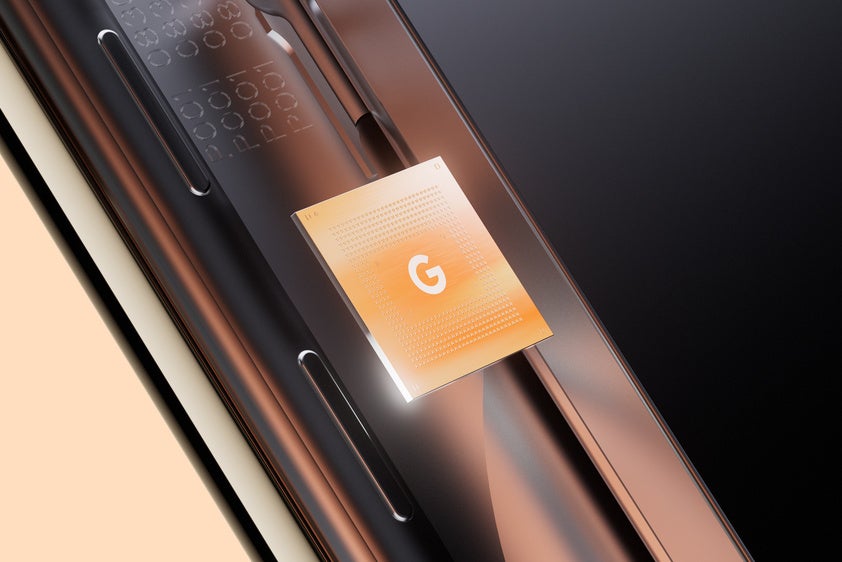 Preliminary info says both phones will start with 128 GB of storage. The Pixel 6 would have 8 GB of RAM, and the Pro — 12 GB. But this is unconfirmed data, so take it with a pinch of salt as of right now. Still, it's safe to assume that these premium-made, premium-priced phones will have plenty of storage on board and probably storage tier models, much like how the iPhones are sold.
Google Pixel 6 vs Pixel 6 Pro camera
Google's Pixel phones have always had one core strength — the camera. The hardware itself hasn't been special for years now — just a 12.2 MP sensor behind a pretty regular lens. But Google's software worked wonders behind the scenes, leveraging HDR+ and enhanced algorithms to create clear, detailed, sharp images with plenty of exposure even in low light conditions.
Well, with the Pixel 6 line, we get upgraded cameras. And it seems like a huge leap forward. Preliminary info says the main sensor has a 50 MP resolution. The secondary camera sports a 12 MP sensor.
Now, the paths diverge a little. The Pixel 6 Pro has a third camera on the back — a periscope lens with 4x optical zoom. We assume there will be extra zoom on tap via digital enhancements, but we don't think that Google will go as far as Samsung with its over-the-top 100x zoom. More probably, the Pixel 6 Pro will tap out at something like 40x - 50x.
It's been said that Google made specific strides in the realm of video recording — the Pixels were always great for photos, but not that great for video. The Pixel 6 line, we are told, will record excellent video. Both of them — the 6 Pro will just have the added benefit of optical zoom if you happen to need it.
Google Pixel 6 vs Pixel 6 Pro battery life
Despite having its own, home-made chip running the show in the new Pixels, Google still touts "all day battery life". So, no, not 2-day, not multi-day. We have no specs or info, but it's safe to assume that we are looking at similar battery performance from both phones. The smaller Pixel 6 has a lower resolution screen and less of it to light up. The Pixel 6 Pro has room for a bigger battery, but it needs to keep more pixels glowing.