T-Mobile is getting everything ready for its Sprint merger, including its 5G phones
2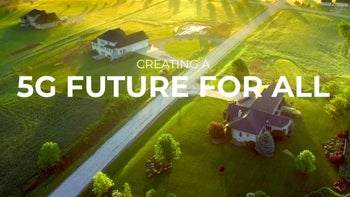 T-Mobile sure took us by surprise yesterday by announcing the
OnePlus 7T Pro 5G McLaren
, a device whose very existence was essentially
refuted by its own manufacturer
just last week, but while the "Un-carrier" didn't confirm an actual release date or price point for the ultra-high-end handset, some bold promises were made regarding short-term 5G rollout plans.
As such, it probably shouldn't come as a surprise that the impending 5G-enabled OnePlus 7T Pro McLaren Edition has been designed with
both T-Mobile and Sprint compatibility in mind
. That's obviously not to say the sports car-inspired phone will ever be sold directly by the latter carrier. Instead, it simply means the device will be able to leverage both T-Mo's low-band technology and Sprint's mid-band connectivity whenever the two's joint vision is realized and
"The New T-Mobile" created
.
While T-Mobile tried hard to hype up its low-band 600 MHz spectrum when unveiling the OnePlus 7T Pro 5G McLaren, the truth is the speed boost expected to be delivered by this network upgrade will not be as significant as improvements made possible by mid-band 5G rollouts. That's actually one of the main reasons the nation "needs" the merger to go through,
at least according to the two carriers
.
Long story short, you can consider the OnePlus 7T Pro 5G McLaren future-proof, with both vastly expanded coverage across the US and major speed upgrades in the cards for sometime in the not-so-distant future. The same goes for the
Galaxy Note 10+ 5G
, which is currently
exclusive to Verizon
but will
soon come to T-Mobile
with an identical combination of low and mid-band 5G support.
Of course, it's worth pointing out that there's also a third type of 5G technology in the pipeline called millimeter-wave. This is even faster than Sprint's mid-band network but its coverage outside of dense urban areas is very poor. Interestingly, while T-Mobile's OnePlus 7T Pro 5G McLaren and Galaxy Note 10+ 5G don't come with mmWave compatibility, the technology is supported on the "Un-carrier's" existing
Samsung Galaxy S10 5G
, which will also get a mid-band 5G signal on Sprint while lacking low-band functionality. Talk about a messy situation!