When will T-Mobile or AT&T get the Note 10+ 5G? Verizon's exclusivity shows how Apple lucked out
18
This article may contain personal views and opinion from the author.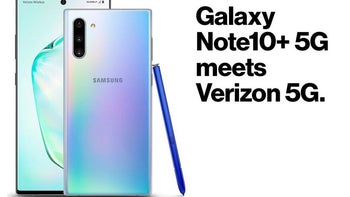 Look no further than the
Galaxy Note 10+ 5G
for a clear demonstration how 5G is fragmenting American carrier networks, again. If you are wondering why Samsung made it Verizon-exclusive, while T-Mobile and AT&T showed nebulous intent to have their own version by year's end, it's because everyone is going their own 5G direction.
The Note 10+ 5G is the living proof why everything with 5G in the US is so complicated right now and why Apple actually scored with its inability to issue a 5G iPhone this year.
You're holding the Note wrong!
Samsung must have been in a pickle. First off, neither its Exynos 5100, nor Huawei's
Balong 5000
modems support Verizon's millimeter wave (mmWave) network. The only 5G modems that do are Qualcomm's current finest, the X50, and the upcoming
X55
. That only left Qualcomm in the mix for Samsung. The
X50
, however, can't be integrated into the Snapdragon 855 chipset, like the
X24
LTE modem, but has to be tacked on separately.
Not only do such separate 5G modems need extra space, RAM and battery power to function in a phone, but the Qualcomm ones may also bring a "
You're holding it wrong
" moment. Why? Well, the US carriers' current mmWave 5G networks require a complex new antenna design that was behind some
delays
in the launch of the S10 5G or the LG V50 5G.
When unveiling the X55, Qualcomm touted a slimmer than usual QTM525 antenna module. That's because millimeter wave signals can't even pass through your hand, so several antennas have to be strategically placed around the edges of the phone to ensure fairly robust 5G connectivity. Despite all of these complications, Samsung still went with Qualcomm's X50 modem as it basically had no other choice. Why Verizon, though?
Why Verizon for the Note 10+ 5G?
At first blush, Samsung picking Verizon for the Note 10+ 5G cameo is not a big surprise. After all, it is America's largest carrier by coverage and subscriber numbers, and just
boasted
the highest network scores in 10 years in the P3 Mobile Benchmark USA report:
Verizon was rated tops overall for the 4th straight time, and our 'Crowdsourced Quality' score of 933 of a possible 1,000 across six categories was the highest score any U.S. wireless network provider has been awarded in the last 10 years of P3's network tests. Verizon's network was also ranked first in 4G, data, and voice coverage for the 4th time in a row as well.

"People and business partners have always known us for our superior network, but we never take that for granted and work to continuously improve. As these latest results show, our 4G network performance is the best it's ever been," said Heidi Hemmer, Verizon's VP of Network and Technology. That's a performance we're proud of."

The P3 Mobile Benchmark USA report is based on over 54 billion data samples taken from three million users over a 24-week period in the first half of 2019. The data covers over 99% of urban locations and 86% of non-urban areas across 1.26 million km².
There are more things at play in Samsung's choice of Verizon's controversial 5G efforts than network quality, though, and to understand its reasoning fully, we must delve into how the 5G networks of each major US carrier differ from each other at the moment.
Verizon vs T-Mobile vs AT&T vs Sprint 5G networks

We won't bore you with what carrier has amassed what 5G spectrum at the FCC auctions or by purchasing smaller operators, as we already have a primer on
US carrier 5G bands
. What's more important to differentiate is how the low-, mid- and high-bands differ when it comes to 5G.
| 5G network | Low-band | Mid-band | High-band (mmWave) |
| --- | --- | --- | --- |
| Verizon | coming in 2020 | n/a | now |
| AT&T | coming late 2019 | n/a | now |
| T-Mobile | coming late 2019 | if merged with Sprint | now |
| Sprint | n/a | now | n/a |
| Speeds and coverage | Widest coverage, 100 Mbps max | City level, 300 Mbps max | 1Gbps+, but trouble going through buildings, trees, windows and even hands |
In a nutshell, millimeter wave networks like the current ones from Verizon, AT&T, and T-Mobile, offer the fastest speeds and thus marketing bombast at their initial rollout that could impress users the most. Just look at these download speeds with a Note 10+ 5G on Verizon's high-band network.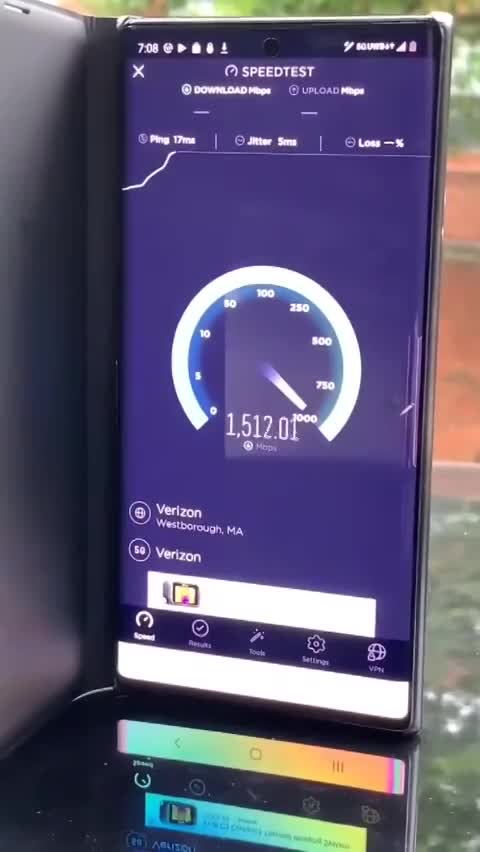 On the other hand, mmWave spectrum has very low penetration rates. So low, in fact, that the signal can get easily dispersed by the phone's glass body, and it has trouble getting through your hands holding the phone, let alone trees, buildings, and even windows. T-Mobile was quick to point the difference between its 600 MHz Extended Range LTE spectrum and Verizon's initial mmWave 5G rollout in a typical trolling fashion.

The fact that Verizon is offering a
BOGO deal
on a Note 10 when you get the Note 10+ 5G comes to show that it has enticed Samsung to offer it exclusivity with more than its position as America's largest carrier, and more than its LTE network coverage. After all, its 5G base stations barely cover a few blocks in any given city, and the combined T-Mobile/AT&T subscriber base is larger.
Verizon, however, has been the one that most aggressively marketed its 5G rollout. It shouted "first!" with a
commercial connection on a 5G phone
a day before South Korea was scheduled to turn on its nationwide coverage, even though the connection basically happened over one lamp post in downtown Chicago with a
5G Moto Mod
tacked on.
Knowing full well that it won't have much to show in the sub-6GHz field until next year, and that if the T-Mobile merger with Sprint goes through, it will score a trifecta of 5G bands for the resulting carrier, Verizon is trying to leverage what it has now to the fullest. That would explain the quick adoption of all 5G phones in the US under the sun, their generous subsidies, and the
new 5G data plans
that give the next-gen connectivity away for a limited time.
When are T-Mobile, Sprint or AT&T getting the Note 10+ 5G?
Verizon's Note 10+ 5G exclusivity won't hold long, but it will be enough for Big Red to shout another "first!" on something 5G-related, and scoop up the early adopters. While that may very well be the goal,
AT&T
already said it will be getting the phone by year's end:
Following our recent progress in making our first data transfer over a low-band 5G network (sub-6) we continue to work with Samsung to offer a low-band capable smartphone, the Samsung Galaxy Note10+ 5G, by the end of the year. This is an aggressive timeline that follows our recent network progress, allowing 5G capable smartphones to be able to access our broad 5G network that we plan to make available starting this year and nationwide in the first half of 2020.
Needless to say,
T-Mobile
was much more eloquent on the matter, and didn't miss the opportunity to take jabs at Verizon's 5G marketing push, all the while pointing out that T-Mobile has saved the best for last when it comes to the new Note:
Samsung also unveiled the Galaxy Note10+ 5G and committed to deliver it exclusively to Un-carrier customers in Q4 this year in a version that lights up T-Mobile's 600 MHz 5G spectrum! That's a big deal because T-Mobile has put forth a radically different vision for 5G in America, arguing that 5G should work outside of big cities in suburbs and small towns nationwide and cost the same as LTE does today.

"We're all about giving our customers options, and if you want the latest and greatest from Samsung, T-Mobile's the place to get it," said John Legere, CEO of T-Mobile. "And our exclusive version of the Galaxy Note10+ 5G that will tap into both low and mid-band 5G spectrum will break 5G from the confines of urban centers and help unlock 5G for All with New T-Mobile."

"T-Mobile is still the adult in the room when it comes to bringing a real, meaningful 5G experience to America," said T-Mobile CTO Neville Ray. "The cracks in Verizon's millimeter wave-only strategy are showing – and they'll be forced to take capacity from their existing customers if they want to deliver broad 5G. Only the Un-carrier has a way to harness a full range of clear spectrum for 5G, should regulators approve our merger with Sprint. It's taken years of dogged determination, meticulous planning, innovation on a global scale and ridiculously hard work from a ridiculously talented team... and we're just getting started. With the Galaxy Note10+ 5G and many more devices to come, we'll get to see it all pay off."
As for
Sprint
, which is currently awaiting with bated breath the final decision on its merger with T-Mobile, it simply stated humbly that it will "
launch Galaxy Note10+ 5G at a later date for customers looking to connect to its next-generation True Mobile 5G network. Pricing and timing will be shared closer to launch
."
(Un)intended consequences
The latest Note 10+ 5G follows the familiar path we've seen with all 5G phones so far. They are present on one or two carriers but not on all of them at once. They work with mmWave and sub-6GHz somehow, but full support is coming later on. In fact, before Qualcomm's X55 modem hits devices later this year or the beginning of the next, we can't hope for a universal 5G phone model that can be quickly fine-tuned by its manufacturer for a specific carrier like they do with current 4G LTE handsets.
Until then, the Note 10+ 5G's Verizon exclusivity would be the norm, not the exception. It won't be before the second half of 2020 when we see modems that support all of the 5G spectrum be integrated into chipsets like the
Snapdragon 865
, or whatever the Exynos and Kirin departments are cooking for next year. There is one more major mobile chipset maker out there that lucked out on 5G, though - Apple.
By lucked out we mean Apple's unwillingness or inability to
solve
its patent issues with Qualcomm sooner that
deprived
the 2019 iPhone 11 of 5G connectivity. Looking at the fragmented state of the next-gen networks in the US, and what is happening with the Note 10+ 5G availability, Apple might have been all the better to wait for next fall to
introduce a 5G-enabled iPhone
. That, plus the fact that the Note 10+ 5G starts off at $1300, and we shudder to think what an iPhone with mmWave modem would have cost had it been released next month.