Deal: Get two Nest Hubs for the price of one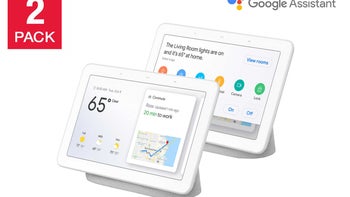 Google acquired Nest Labs, a manufacturer of smart home products, way back in 2014, but the search giant didn't release its own smart home speaker until 2016. When it did, it did so under the name Google Home, which was then followed by the Mini model, the much bigger Google Home Max, and then the very well-priced Google Home Hub in 2018.
However, just recently, Google decided to move its entire Home product lineup under the Nest brand as a "natural next step" in Google and Nest's joint efforts to "create a more helpful home." The first product to be brought under the new name is the Google Home Hub, now branded as Nest Hub. And what better way to raise awareness of the change, than to launch a two-for-one deal on the Nest Hub!
You can now get a single Nest Hub for $129, instead of the usual $149, but there's a much better deal available that will get you two Nest Hubs for $139! The offer is available at Costco and is good until May 12, or while supplies last. Only the Chalk version seems to be in stock, but if you aren't too picky about the color and are in the market for one or more smart home speakers, you can't go wrong with the Nest Hub. Check out the link below for more details!
Nest Hub 2-pack at Costco ($139)