This week's top deals roundup: record iPad Pro (2022) discounts, affordable OnePlus flagships, and more
We may earn a commission if you make a purchase from the links on this page.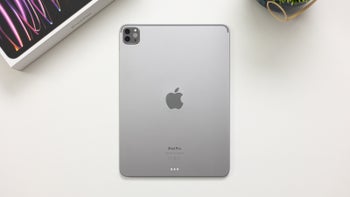 But a true bargain hunter never sleeps and never rests, constantly foraging the internet, and for folks with a lot of free time on their hands, brick and mortar stores for the greatest deals on the most popular mobile devices all year round.
Of course, if you have (almost) no time to dedicate to such a delicate, often convoluted, and even occasionally frustrating task, you can just rely on our always thorough research and keep an eye on our website every day for cool new smartphones, tablets, smartwatches, and accessories offers... or check out the following roundup for a more complete view of what's going on in the world of tech bargains.
We can't think of a much better way to start the weekend than by recapping the top deals of the week that's... about to end. Yes, all these promotions are still live at the time of this writing, although you are also advised to hurry if you like anything on our list:
The best of the best deals of the week
iPad Pro 11 (2022) at record discounts
Even though we're well aware that a 1TB or 2TB
11-inch iPad Pro (2022)
beast is not for everyone from a number of different standpoints, those who do need that kind of insane amount of storage space inside of their tablet should absolutely consider jumping on this promo
today
.
The number of variants and models available at a new all-time high discount of $200 seems to have gone down since
we first told you about this offer
, and Amazon definitely doesn't have a lot of inventory left for the configurations and color options that are still up for grabs. What are you waiting for?
Cheaper-than-ever Pixel 6 with 256GB storage
Yes, you've seen that reduced price tag before... attached to a 128 gig storage variant of Google's non-Pro Pixel powerhouse from 2021. This time around, you can get twice the local digital hoarding room, which will definitely come in handy with no microSD card slot on deck.
The
Pixel 6
, of course, is slightly humbler than the Pixel 7, but it looks virtually identical on the outside and it offers unrivaled software support
and
camera performance in its sub-$500 price bracket.
Why wait for the OnePlus 11 when the OnePlus 10 Pro is (still) so affordable?
At least until the highly anticipated
OnePlus 11
is commercially released stateside, the
OnePlus 10 Pro
is without a doubt one of the very
best phones money can buy
, and if you hurry, its 128 and especially 256GB storage prices are unbeatable and pretty much irresistible.
The higher-tier variant in particular feels more attractive than ever at a super-rare $170 discount that Amazon and Best Buy cannot match at the time of this writing. And with all of the key
OnePlus 11 specs
already out, we definitely won't blame you if you consider the
OnePlus 10 Pro
better.
So many excellent smartphone deals, so little money
Regularly priced at an obscene $1,400, the 512GB US unlocked
Sony Xperia 1 IV
is clearly not
conventionally
affordable even after a huge $400 discount, but it is less expensive than ever. With Amazon already out of stock, you might not have a lot of time left to score this outstanding deal from Best Buy either.
If the Xperia 1 IV remains out of your financial reach or you're simply not a fan of Sony's... quirky smartphone designs, we have a number of other Android handsets to recommend at lower prices. Samsung's
Galaxy A23 5G
undeniably bids for the title of
best budget phone
right now, while the
OnePlus 10T
is another solid alternative to the upcoming OnePlus 11, especially as far as charging speeds are concerned.
Ultra-affordable tablets to kick off the weekend
We'll be honest with you, none of the Android-powered bargains listed here can really be considered top iPad Pro alternatives. But they're definitely all cheap enough to be worth a look if you can settle for slightly humbler specifications and less fancy designs.
The Lenovo Tab P11 Plus has never been available at
such a low price before
, mind you, while Amazon's 2021-released Fire HD 10 and Fire HD 10 Plus are more affordable right now than anytime in the last two months. Then there's Samsung's very respectable 10.5-inch
Galaxy Tab A8
, which promises to provide stellar software support at a fraction of a "regular" iPad's price. Not bad for some random, "leftover" January deals, eh?
Of course, if you're addicted to power and feel like an 11-inch screen is not enough to handle your on-the-go multimedia consumption needs, the
12.9-inch iPad Pro (2022)
beast can be had (in a 512GB storage variant) at the exact same price as its little brother (with 1 terabyte of local digital hoarding room). If you can live with
just
512 gigs of storage, it's hard to argue with the performance and sheer quality of the jumbo-sized Apple M2-powered laptop replacement. Is this the
best tablet money can buy
? Probably! And that $100 discount is a match for the deepest price cut available to date on the model you can snap up here.
Best smartwatch and wireless earbuds deals available this week
If the "newly" reduced prices of the
Galaxy Watch 5
happen to feel familiar, that's probably because
these exact same deals
have been available several times since the official start of the recently concluded holiday season.
But this is without a doubt one of the
best smartwatches
out there (that can be paired with an Android phone), and these discounts have yet to be surpassed, so we simply cannot ignore what might be the greatest value proposition in the wearable industry today.
As far as true wireless earbuds go, the
Galaxy Buds 2
are not Samsung's latest or greatest AirPods or AirPods Pro rivals, but their latest discount makes them
almost
as cheap as on Black Friday back in late November. That's no small feat, and despite the lack of a Pro suffix, these bad boys come with a laundry list of cutting-edge features and capabilities undeniably headlined by active noise cancellation.
That's pretty much it for this week in terms of the best tech deals out there, but be sure to join us again next Friday for a new and exciting roundup... if you have anything left in your bank account.