Sony Xperia 1 IV review: unapologetically Sony
19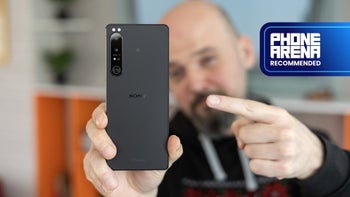 The Sony Xperia 1 IV is meant to be the one-stop Sony flagship for 2022. Packed to the brim with cutting-edge hardware and the latest features Sony has to offer. It's not quite over-the-top like the
Xperia PRO-I
, with its 1.0-type sensor, but it's obvious that the Xperia 1 IV is flying very close to the super-premium PRO-I.
Sony wants this to be a smartphone for creatives, and that's immediately apparent when you see that there are three different camera apps and a plethora of manual controls. Its 120 Hz, 4K display and meaty stereo speakers are there to help you enjoy any media you may wish. The light weight and grippy design make it an excellent everyday carry.
And it's kind of amazing that Sony keeps the headphone jack on its phones, despite the fact that the company has a plethora of wireless headphones that it would probably be more than happy to sell to you. I know, it's weird, but I have to give props that this very basic connector is included on this very premium phone.
However, at the asking price, it's kind of hard to recommend the Sony Xperia 1 IV. At the time of writing this, we have the European pricing, which is €1,399. That's more than a 256 GB
iPhone 13 Pro Max
. And it's more than a 256 GB
Galaxy S22 Ultra
. US estimated price is $1,600 and it's expected to launch stateside in early September.
For the money it demands, Xperia 1 IV doesn't even feel like it's offering enough even for devout Sony fans. And if you are coming into the market completely brand-neutral, I dare argue that the Galaxy S22 Ultra, iPhone 13 Pro, and
Pixel 6 Pro
have much more to offer.
Table of contents:
Design & Display
It's elegant and functional
I've been a fan of the Xperia design over the past 8 years now — Sony stubbornly and unapologetically refuses to move away from that stark rectangle look, and that's perfectly fine by me. When you grab the Xperia 1 IV, you can definitely feel its sharp edges. However, combined with the phone's rather narrow build, they give you a very reassuring grip.
That's all helped by the phone's weight — it feels light and perfectly balanced (as all things should be). I had no qualms about using the Xperia 1 IV without a case, as it was just so comfortable to wield at all times.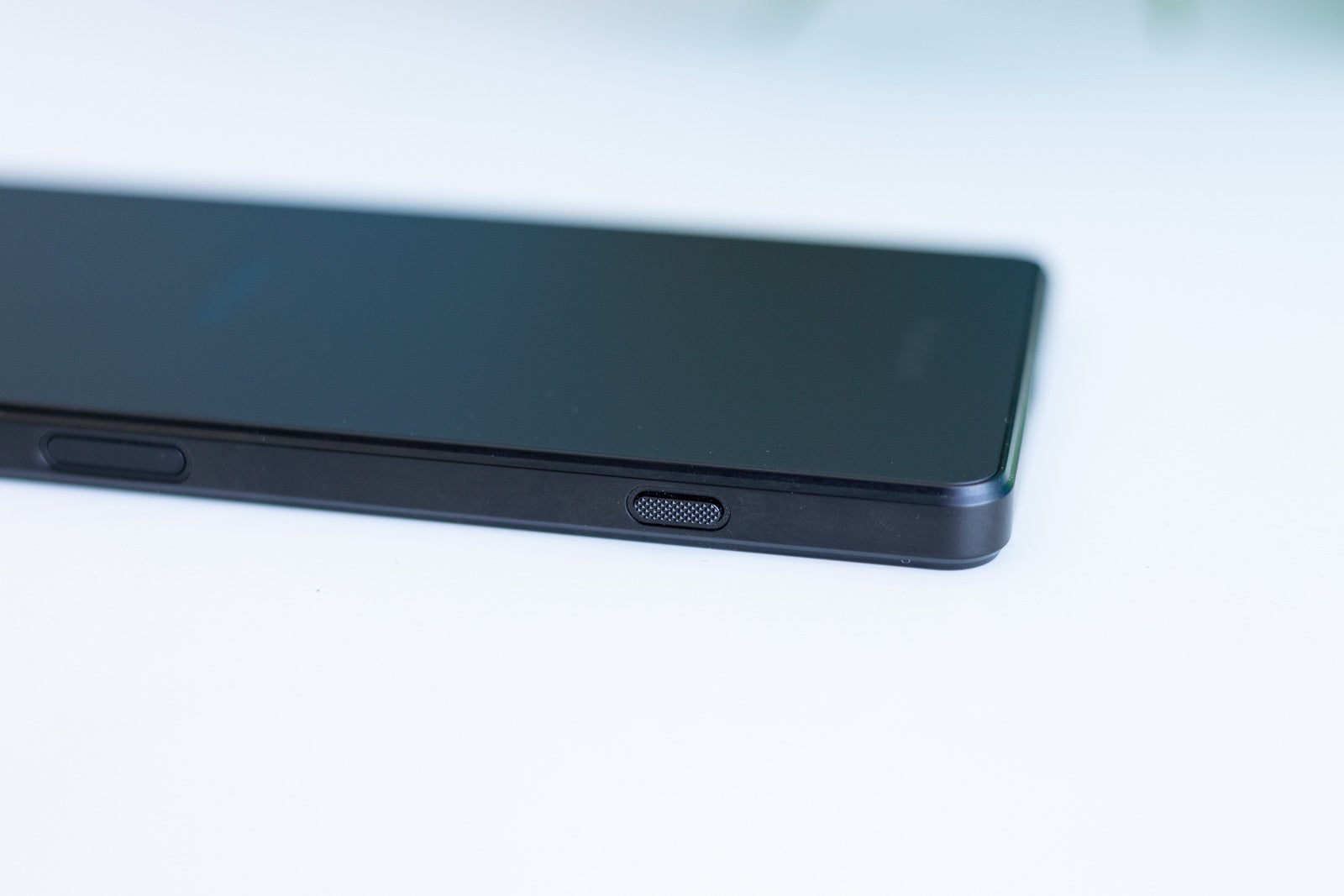 There's the typical two-step shutter button on the right frame of the phone — another Sony staple, which has been improved over the years and no longer feels wobbly or wonky. The power button houses a fingerprint scanner, and the clicky volume rocker is right above it.
The display has a 6.5-inch diagonal, but don't let the numbers on paper scare you. It's a 21:9 aspect ratio, which means the screen is extra tall (or extra wide, in landscape orientation). So, for regular smartphone use, it's still a narrow phone.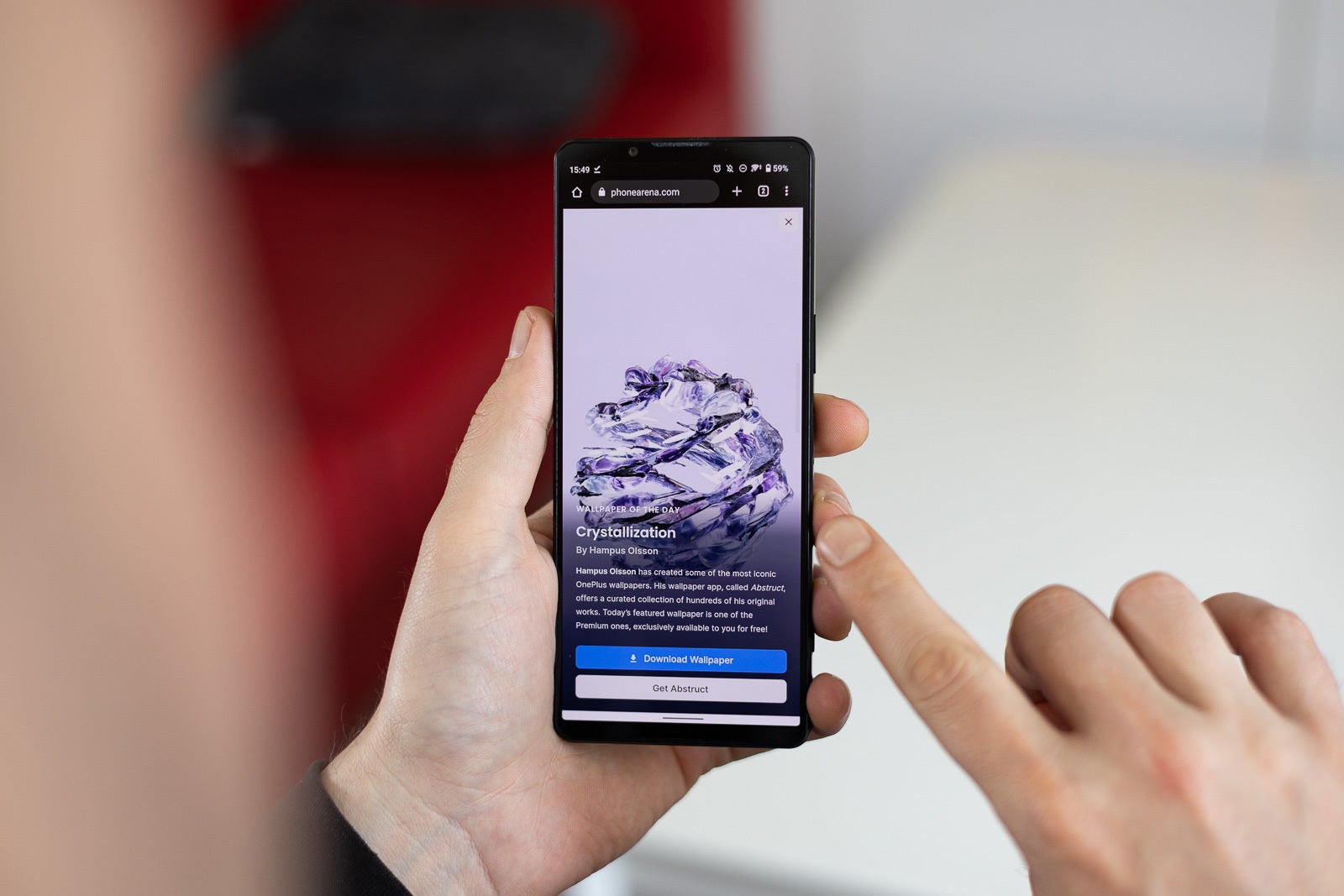 It's an HDR-compliant OLED panel with a 4K (3840 x 1644 pixels) resolution, a 120 Hz refresh rate, and 240 Hz touch-scan rate.
In other words — it's a beautiful screen. Just not straight out of the box — you need to enable Creator Mode in the display settings to get natural hues and a warm cast. By default, the screen has that typical punchy saturation over cold whites, which may look more attractive in the store, but I find fatiguing to use.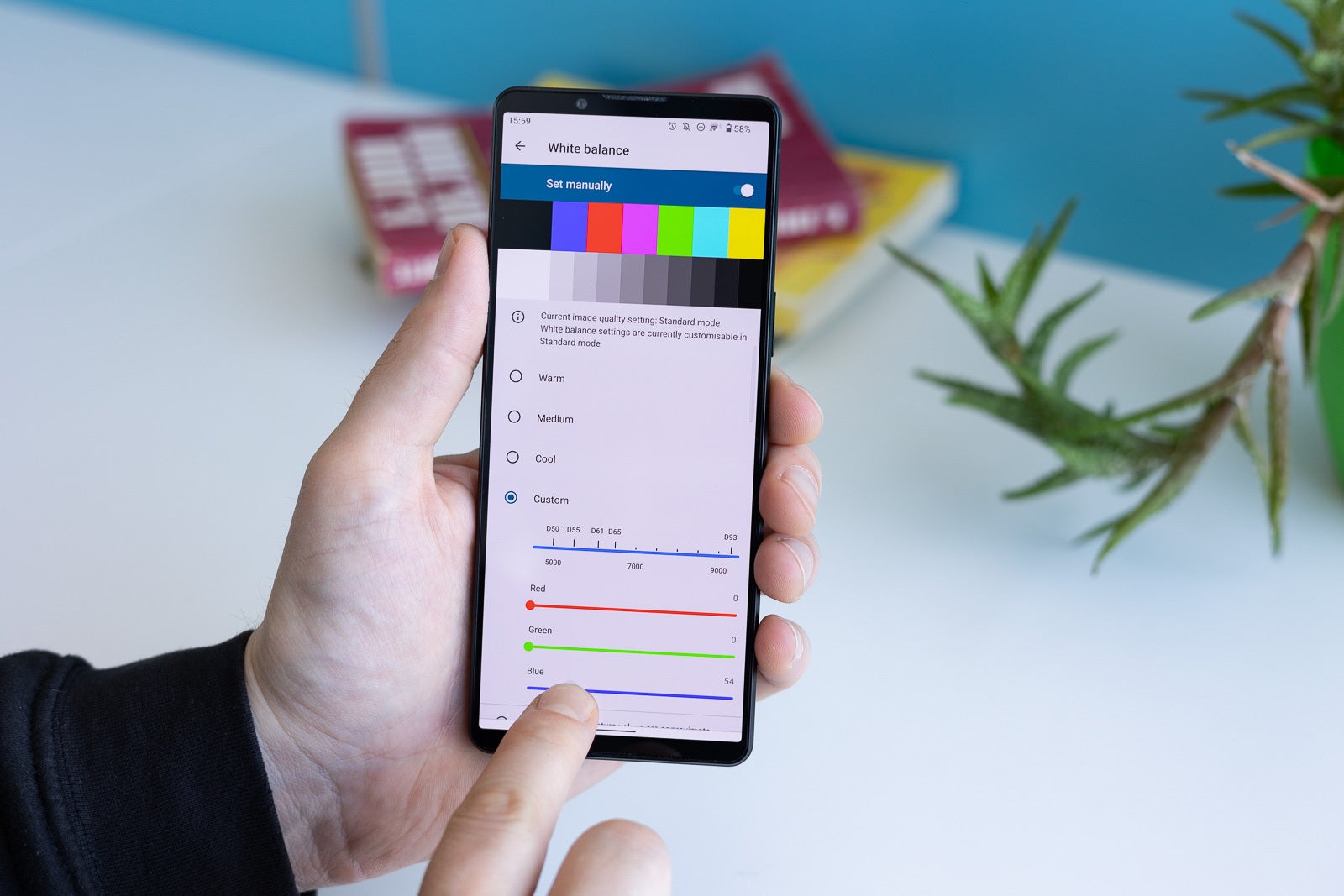 The max brightness of the screen does hit high levels and I found it usable under the scorching sunlight. Though, I did find myself squinting while trying to take all the sample photos — could be the photo app darkening things, could be too much reflection from the front glass panel.
And I can't leave the design section without mentioning two artifacts of the past that Sony keeps protecting — the Xperia 1 IV still has an actual, physical headphone jack and an LED notification light. Those are things that have long gone the way of the dodo, at least on premium phones, but Sony keeps holding on, and good on them for doing so.
Display measurements and quality
Camera & Audio
Actual variable zoom, wow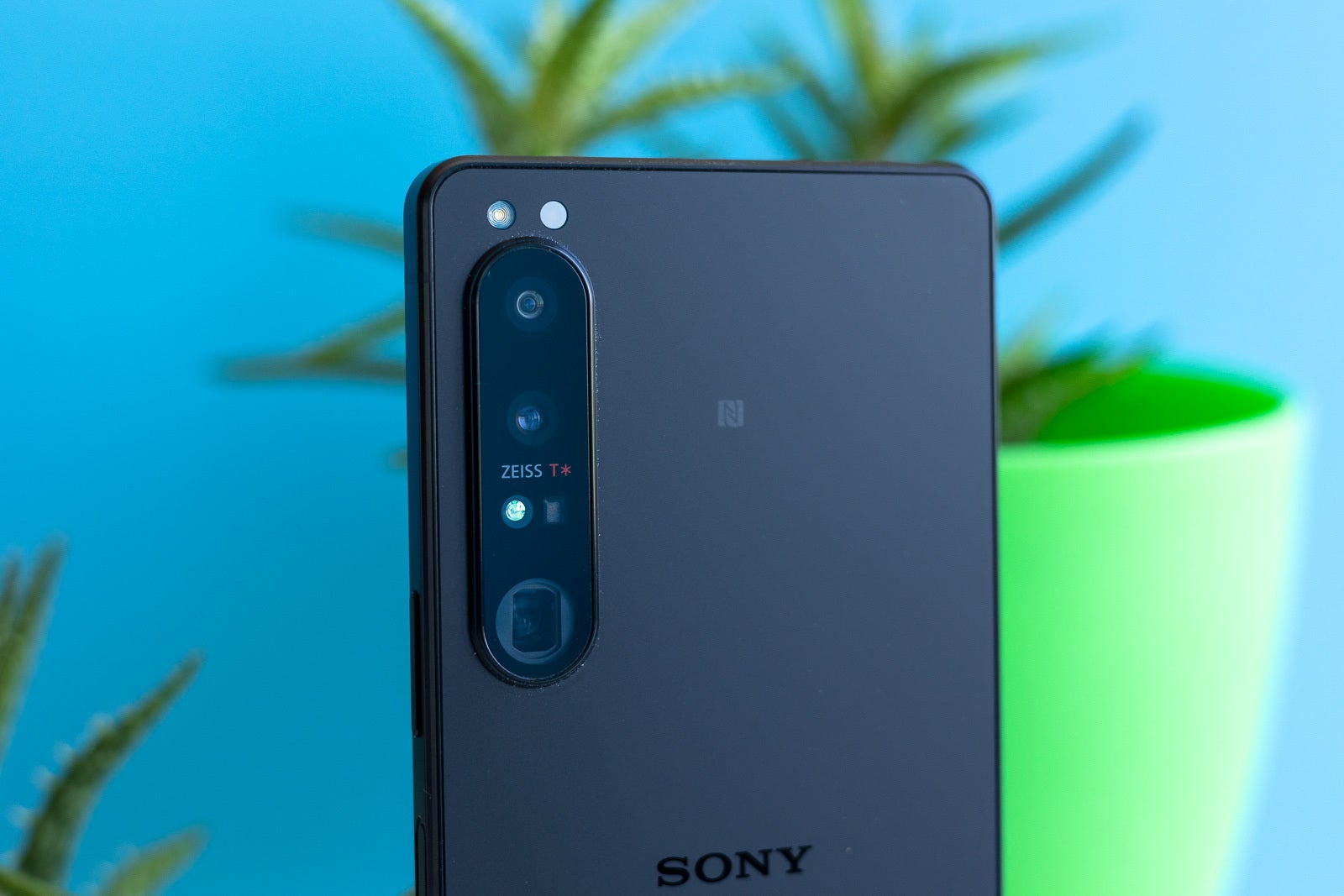 The Xperia 1 IV has a triple camera on the back — an ultra-wide (16 mm equivalent, or 0.67x), wide (24 mm equivalent), and telephoto camera that has actual variable zoom. Yes, unlike last year, where we had two set telephoto lenses and were switching between them (with digital zoom in between), the Xparia 1 IV actually has super-cool tech inside that allows its telephoto camera to physically zoom in, between 85 mm and 125 mm equivalent focal lengths (3.5x and 5.2x).
The lenses have been calibrated by Zeiss and have the Zeiss T* coating for reduced reflections and better contrast. All rear cameras have a 12 MP Sony-made Exmor RS for Mobile sensor capable of recording 4K video at up to 120 FPS… in HDR!
That is all super-impressive on paper, so let's look at some samples before we talk more about the cameras.
Alright, first the good — awesome colors, amazing detail. Where other phones like to oversharpen details to the point of making them jagged, fine objects on the Xperia photos look pretty honest and clean.
The colors in photos also come out accurate, just the right amount of vibrant, and beautiful.
Exposure and dynamic range, there's a different deal. The photos can easily come out underexposed, with crushed shadows. If you are out on a sunny day, HDR does a great job at keeping the highlights at bay, which is great.
When the light is less than favorable, we get different results.


Highlights are easily clipped, and photos may come out blurry as the shutter is super slow. With some setup and some patience, you can come up with OK photos, but the premium competitors have Night Mode processing, which comes up with much clearer scenes.
Sony doesn't have a Portrait Mode per se, it has a Bokeh toggle in the Photography Pro app, which adds faux blur in the background. It's... not great at separating the subject, it makes the picture files abnormally large for some reason, and dynamic range suffers in this mode.



In fact, I found that just using the zoom camera and forgetting about the Bokeh effect will give you better, more natural results. Even if the blur isn't super-creamy.



As you can see in the samples above, at 3.5x zoom, the photos look pretty fine — a nice optical zoom with clean details and pretty colors. But, when going up to 5.2x, it's very easy to get a photo that is a bit too blurry or washed-out. At the moment, it struggles a bit with finding the right focus as you zoom in, so I had to take multiple upon multiple shots to get some workable material.
It's pretty amazing that we can get an actual optical zoom through moving mechanical parts, but it seems to me that the technology still needs some fleshing out.
Before proceeding, I feel like I need to throw in a few words about the Camera app's multiple photo modes. See, there's Basic, which works just like any other smartphone camera app. Then, you can switch to Auto, Shutter Priority, Manual Exposure. The latter modes completely transform the Camera app to resemble an actual physical camera's controls.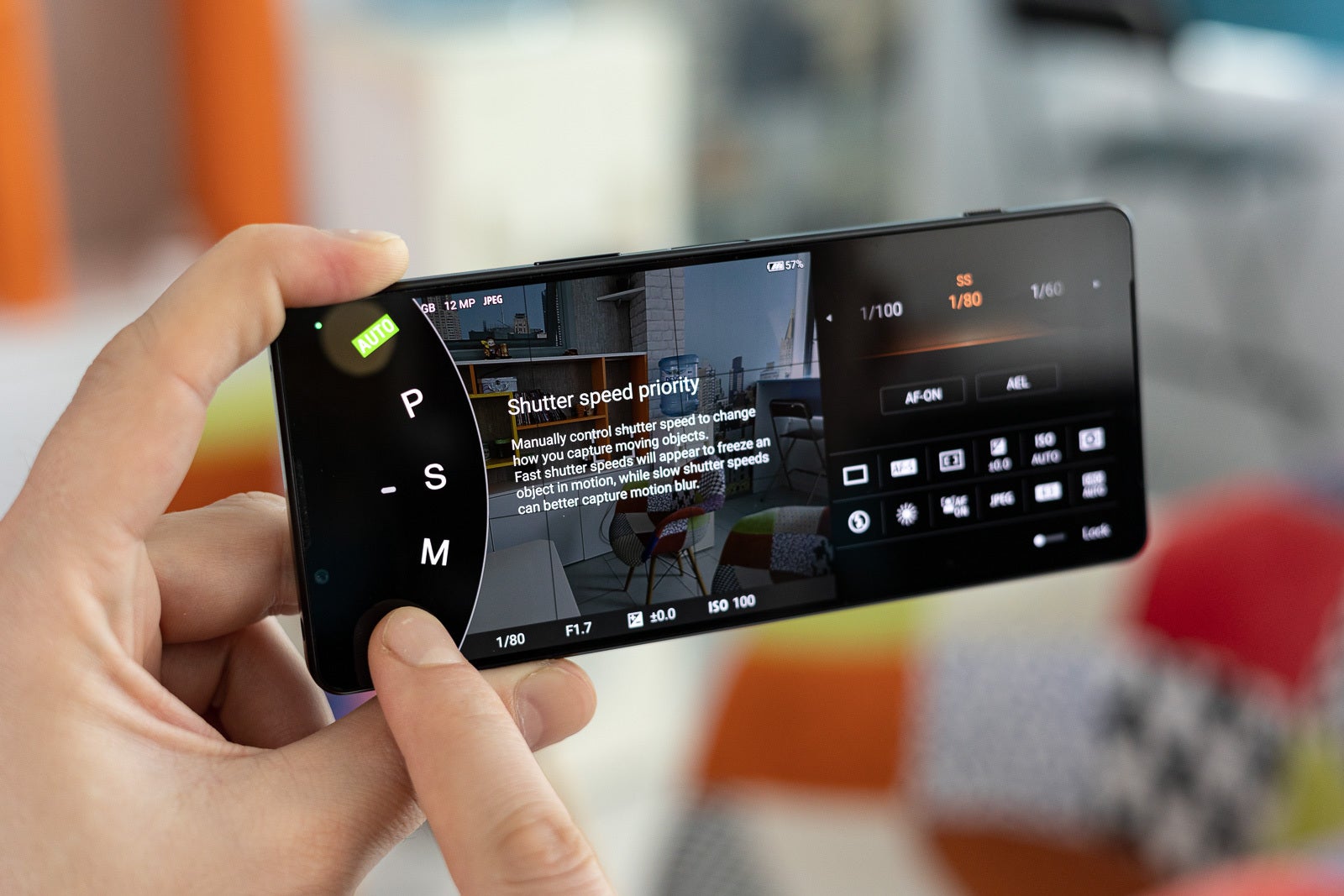 But I find it to be lacking. There's no focus peaking, no zebras, nothing to make you feel like you have been given the tools to actually set up a shot manually. Also, there's absolutely no feedback from the phone when a picture is taken, which will end up bothering you more than you would think.
In the end, the manual modes of the Camera app work like the Auto mode, just with a few extra steps, which I ultimately preferred not to take. It's kind of disappointing that Sony puts so much emphasis on its camera featureset, yet it looks like it's all talk and no walk. At least on the photo side of things!
Though, the real-time autofocus with eye tracking is pretty solid, as long as you are trying to catch a subject with eyes in the shot.
The selfie camera has yet another 12 MP Exmor RS for Mobile sensor, though its lens is not as fancy. So, exposure and details are not as fine as with the main camera.
On to video recording — you have a huge choice of apps here. You can record clips through the default Camera app, the Video Pro app, and the Cinema Pro app. What do you mean by "confusing"? It's nothing like that at all!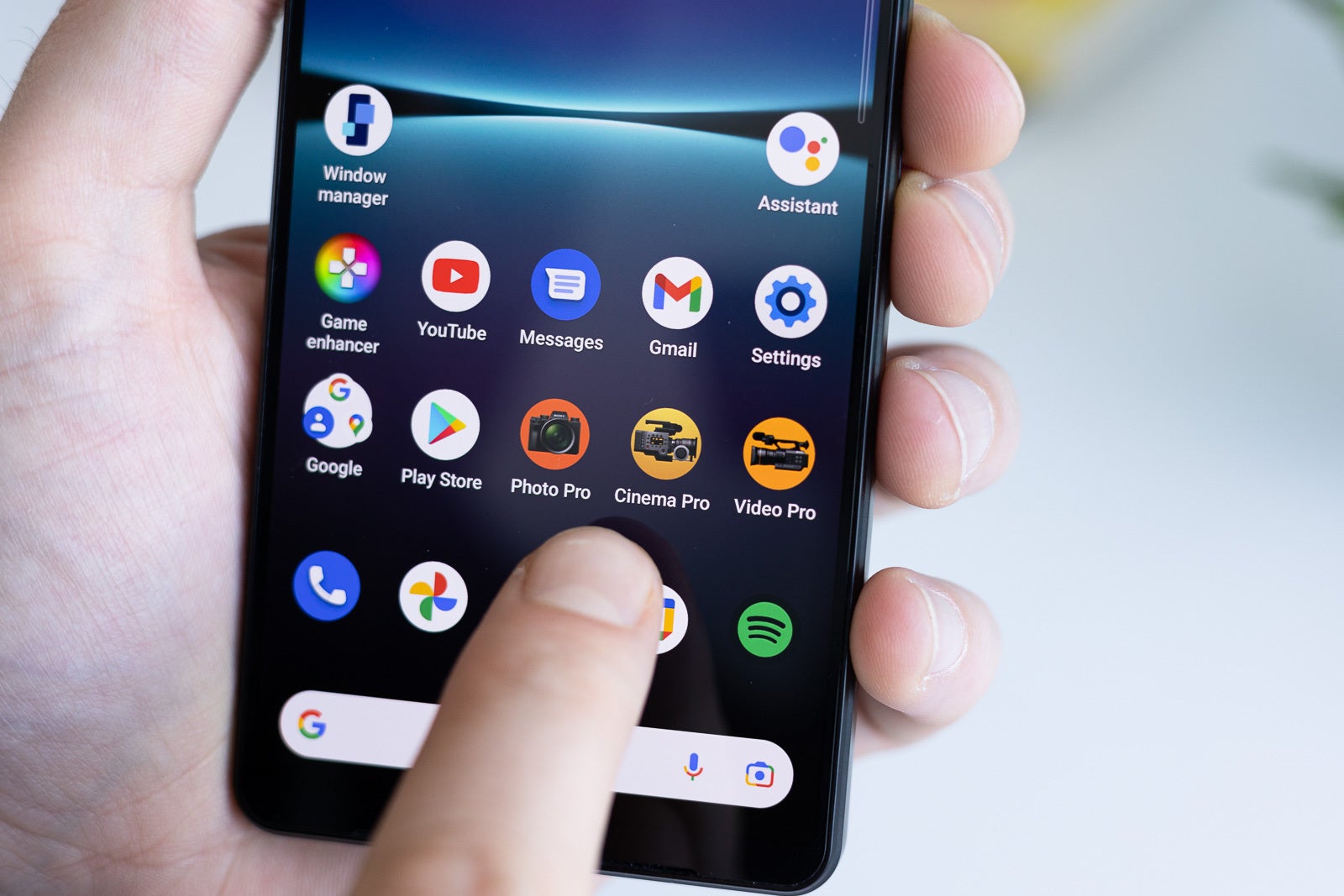 In all seriousness, though, Sony did go a bit overboard, but let me try and explain what each app is dedicated to.
Cinema Pro is meant only for cinematic clips. This app will always shoot in HDR and always in a cinematic aspect ratio (wide). It gives you access to various filters that emulate actual film with its specific tints and color treatment. There are a few extra bells and whistles hidden in its sub-menus, like the ability to pre-set focus points so you can do an automatic, smooth focus racking effect while shooting a scene. But in general, it does what it says on the tin — it shoots cinematic videos.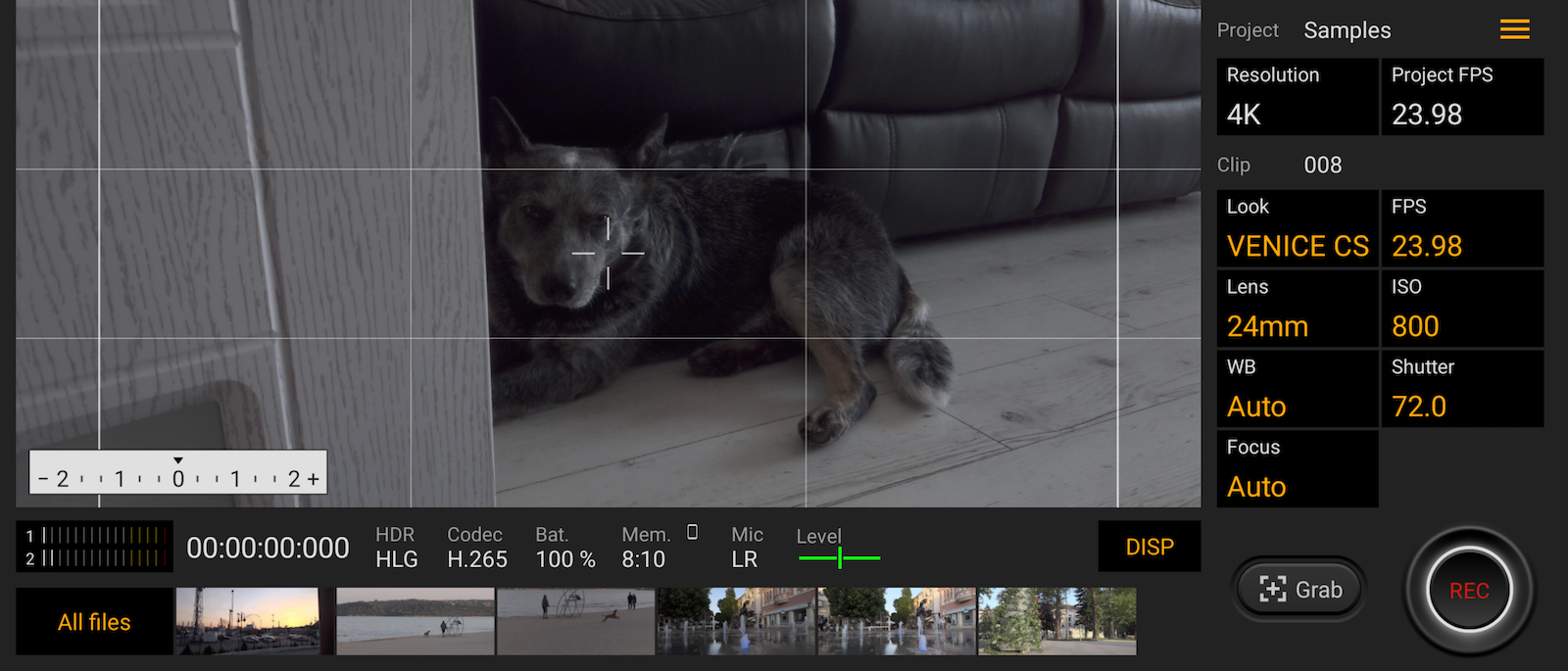 Cinema Pro
Video Pro's interface leans more towards a camcorder. This app provides the right look for footage of interviews or vlogging. There's also a built-in option to go online and stream directly from here. You can choose between SDR and HDR.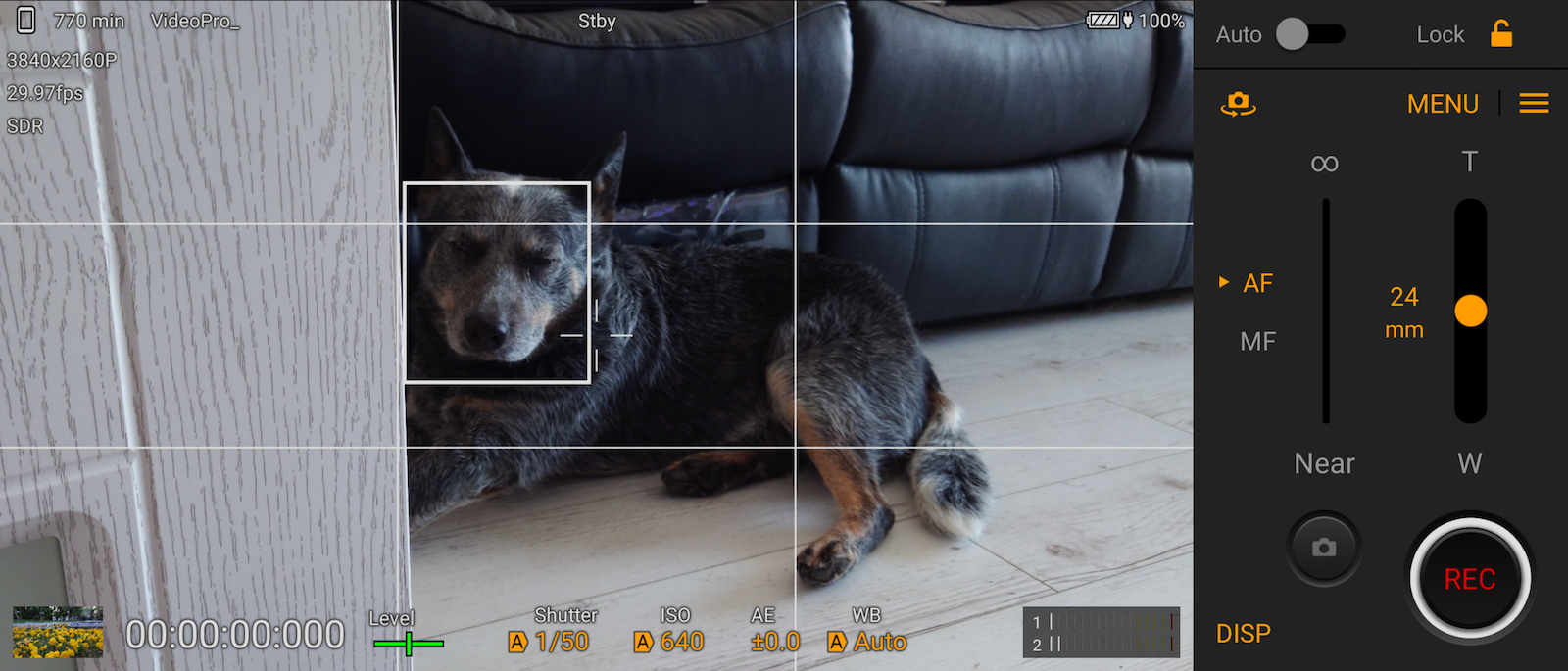 Video Pro
The Camera app (called Photo Pro) is your standard affair of just pulling the phone out of your pocket and starting to record video. This is the camera that will launch if you use the double power button shortcut or if you hold the hardware shutter button.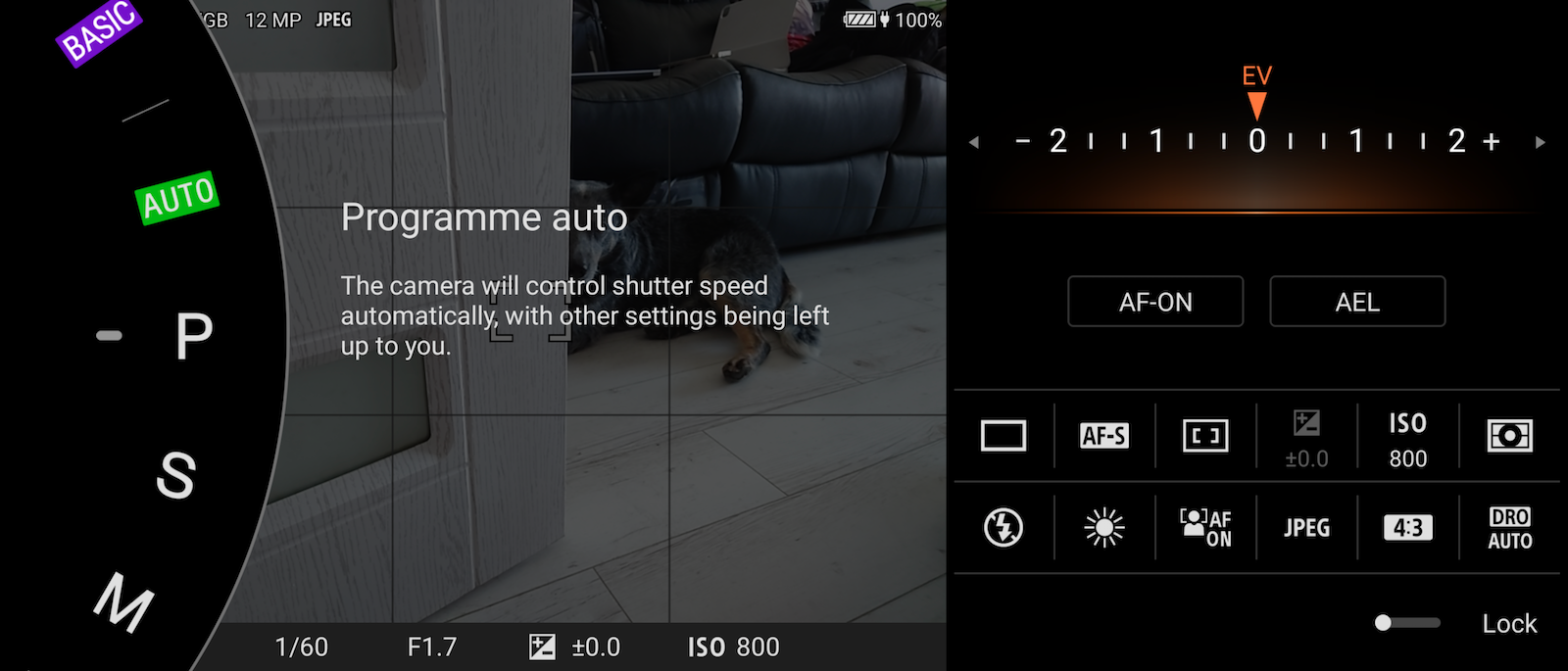 Photo Pro
With all of that out of the way, here are three clips, taken with the three different apps:
The Cinema Pro app can make really pretty-looking cinematic shots. It absolutely hates movement, even if there's a "stabilize" option inside the app. It doesn't do a great job. This app is meant for a tripod, as handheld clips don't come out too well — you can see that near the end of this sample:
The Video Pro app has a fantastic stabilizer, which is perfect for handheld clip recording. For vloggers, journalists, streamers, and other types of content creators that are often on foot and shooting real action as it happens — this app does a great job:
The regular camera app, called Photo Pro, also takes videos. Absolutely not bad, it does many more things automatically, so it's the one-stop-shop for quickly recording a moment before it has passed:
Stereo speakers - it's a mini boombox
I have to say, the stereo speakers of the Sony Xperia 1 IV sound pretty great. Initially, they are a bit boxy, with a heavy hump somewhere between 400 Hz and 800 Hz. But when you enable Dolby audio from the settings, it all evens out for a balanced, meaty, detailed sound that is pleasing to listen to.
Admittedly, it doesn't get too loud, but it does reach a comfortable volume.
Additionally, the Xperia 1 IV features built-in support for Sony's 360 Reality Audio. This means, you can listen to 360 Reality tracks straight from the phone's speaker. But, what's even better — the Xperia 1 IV can upscale any stereo audio to get the widened 360 Reality sound.
Yeah, it's always best to listen to music that has been specifically mastered for the format. But since you can only access 360 Audio on Tidal Hi-Fi, Deezer, and a couple other smaller streaming services, the upscaler definitely comes in handy. And doesn't sound bad at all!
A year ago, I wrote about Apple's Spatial Audio being the better feature because it has a "spatialize" option to treat any stereo signal source. Well, now Sony has caught up and the playing field is even again.
Pro microphone?
It is worth noting that the Xperia 1 IV is supposed to be able to do some crazy good audio recordings. Apparently, there should be a Music Pro app, which will take sound clips, upload them to the cloud, process them to sound like they have been recorded with a pro-grade microphone, and feed them back to your device.
One, I am highly skeptical of this. Two, I couldn't wait to test it, but there's no Music Pro app or feature anywhere on the provided Xperia for testing, so I would assume it should come with a later update. If it does so in timely manner, this space will be updated and we may even take the microphone for a more... extended test-drive!
Software & Performance
Can't spell clean without "lean"
Sony is pretty well-known for keeping as close to the stock Android experience as possible. And the Xperia 1 IV makes no exception. It comes with Android 12 straight out of the box and it's as close to a Google Pixel as you can imagine, with only a few Sony-specific apps thrown in.
Like the three aforementioned camera apps, but also the specific Sony Music app. Pretty interesting that Sony decided to do away with its own Gallery, in lieu of Google Photos, but keeps the Music app.
Other than that, there are a few extra options in the Settings menu that are Sony-specific, mainly around the display and the 360 Reality Audio. And the rest is clean, lean, and easy to wrap your head around. The amount of apps that the phone has on a fresh install don't even fill up one screen of the app drawer. Now, that's a breath of fresh air!
The Edge Sense menu works much like Samsung's Edge panel for apps — you can put your favorite apps here or favorite pairs for instant split-screen launching. I like Sony's Edge Sense better for the way you activate it — you need to double-tap on the floating icon, whereas Samsung's Edge panels get called out by a simple swipe, which I've often done by accident.
Performance-wise, it should come as no surprise that the Xperia 1 IV is able to steamroll through anything the Play Store has to throw at it. The built-in Game Enhancer allows you to block the navigation gestures, block notifications, and clear memory, though I haven't found the need to do the latter. The games run perfectly well on this beast, though, I did feel the Snapdragon 8 Gen 1's heat coming through the thin phone chassis.
Battery life
Not the king, but you will do
The Xperia 1 IV has a 5,000 mAh cell in its body, which is pretty impressive considering the size. In theory, this sort of battery should give you plenty of juice to go on. In practice, the Xperia 1 IV has a pretty dependable battery life, but nothing close to what I would call a "two day battery".
Indeed, I felt confident that the phone will take me through a day, taking it from the charger in the morning and returning it there late in the evening, but nothing above that.