Best Samsung phones 2020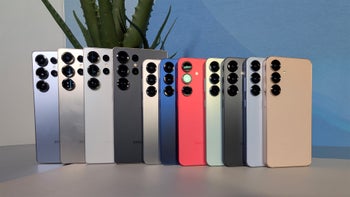 The world's largest phone maker,
Samsung
, is at the market share top for a reason. Ever since the first
Galaxy S
, it has been relentlessly pursuing things like unique OLED display panels, or innovative camera tech like Dual
Pixel
focusing as a market differentiator, culminating in the curved, bezel-less Infinity Display Premium Hole designs of the
Galaxy Note 20 Ultra
and its excellent camera that takes some of the best low-light pictures among its peers.
A frequent critique towards Samsung is that it has diluted the brand with too many redundant offerings in all tiers of the market - from entry level devices, to the flagship S series. The company took notice, and trimmed its portfolio, leaving three recognizable lines as its main staples - the A, and S-series, with the Note line as a side show. But, even then, there are quite a bit of phones to pick from. So, what is the best Samsung phone? More importantly, which Samsung phone is best for you? Walk down the twisted path with us and let's find you an answer!
Best current Samsung phones list:
Galaxy Note 20 Ultra — the biggest and most advanced phone Samsung has to offer right now, with the best stylus on a smartphone.
Galaxy S20 and Galaxy S20+ — fantastic Android smartphones — they make no compromises, they just aren't as overkill as the S20 Ultra.
Galaxy Note 10 and Note 10+ — powerful and now more affordable stylus-laden alternatives.
Galaxy S10 and Galaxy S10+ — Samsung's last generation flagship phones are still thin, light, and awesome. Oh, cheaper, too.
Samsung Galaxy A51 5G or Galaxy A71 5G — a good price-to-performance ratio with gorgeous screens and good battery life.
Best Samsung flagships
Samsung Galaxy Note 20 Ultra
No need to panic, but Samsung's best phone is also the largest. Thankfully, it also has the largest battery in the Note line, the S Pen sensitivity is out of this world, and a giant 108MP camera plus a periscope zoom kit adorn the rear.


Samsung Galaxy S20 Ultra
The biggest, the meanest, the best Samsung Galaxy S line phone right now — the S20 Ultra! Yeah, Samsung wasn't modest about the naming, too. The phone is a true monster, with a Qualcomm Snapdragon 865 and a minimum of 12 GB on the inside. But wait, there's more — it comes with 128 GB or 512 GB of storage and both variants can be expanded with a microSD card slot of an extra 512 GB.

Of course, this is the main contender for the title of Samsung's best camera phone. With a huge, 108 MP sensor and a mind-boggling 100x zoom, definitely has one of the most advanced cameras on a handset right now. To top it off, the S20 series is the first time Samsung implemented 120 Hz refresh rate screens.
So, the Galaxy S20 Ultra pulls no punches. This goes for its pricing, too, as the phone starts at $1,399.99. So, yeah, it may be the "best Samsung phone", but you may be looking for something that's not going to break one too many piggybanks. So, let's move further down the list.
Samsung Galaxy S20 and Galaxy S20+
OK, OK, how about the second best Samsung smartphones? This option is rolled into one since these are very, very similar — from camera modules to hardware and performance and even size and fit.
The S20 and S20+ have a different camera setup than the S20 Ultra, and we were kind of concerned that they wouldn't even touch the "best Samsung camera phone". But, in fact, they
perform pretty close
. The main difference is that you can't 100x zoom with the S20 and S20+ but the price discount is definitely worth that... sacrifice. And yes, you still get the smooth 120 Hz screen!
So, the Galaxy S20 and S20+ are pretty close to being the best Samsung phones without costing an arm and a leg too many. In fact, the S20 is your only choice if you prefer a phone that doesn't poke out of your pocket too much.
Samsung Galaxy Note 10 | Note 10+ | Note 10+ 5G
Samsung had a lot riding on the
Note 10
, and we are glad to pronounce that its high-end phablet was a raging success thanks to the top-shelf specs and premium design. The camera setup brought an excellent picture and video quality, with adjustable aperture, true zoom, and an artsy portrait mode. The beastly specs and added convenience of the S Pen only round up the top-notch (no, we aren't talking iPhone here) offering, and the only things that can make you pause before you pull the trigger on a Note 10+ are the size... and the price.
Samsung Galaxy S10 and Galaxy S10+
Samsung still sells its best Galaxy phones for 2019 at a discounted price. The Galaxy S10 is thin, light, and strikes a perfect balance between being kind of compact, yet with a big enough screen for most users. Of course, if you are a poweruser and screen real estate is a top priority, then the S10+ will be better suited to your needs.
These are powered by the Qualcomm Snapdragon 855, which may be a last-gen processor, but it certainly is no slouch. Also, these phones still have yet another major Android update to look forward to, and possibly more security patches beyond that. So they are not quite at the end of their life. And yeah, they may not offer the crazy zoom capabilities of this year's S20 phones, but they are still among the best Samsung camera phones out there.
Starting at $750 from Samsung's store, the Galaxy S10 is probably the best Samsung phone for the money. The S10+ goes up to $850, and that's almost Galaxy S20 price, at which point we'd suggest you just splurge for the latter.
Best midrange Samsung phones
Samsung Galaxy A71 5G
With a Verizon UW version, the A71 is the best midranger Samsung currently has, and with a 5G connectivity on top. The Galaxy A71 offers most of what's great about flagship Samsung phones for a lower price.
Unless top-of-the-line features and specs are absolutely needed, this is arguably the perfect Android smartphone for most people, as it should check the necessary boxes for all but the most hardcore Android users.
It offers solid performance, long battery life, plenty of camera options and even a headphone jack, while possible downsides for some may be its plastic back, mediocre single speaker and its tall screen aspect ratio.
Samsung Galaxy S10 Lite
The
Galaxy S10 Lite
is still a bit of a mystery — initial reports did say that Samsung plans to launch it in the USA, but it has yet to appear. It did make its way to Amazon, but be aware that these are international models, which do not work on CDMA networks (a.k.a. Verizon). We did manage to review the phone and let us assure you — there's nothing lite about it. It doesn't have a curved screen and a telephoto camera, like the other S10 phones, but it's still a great performer with a pretty design. The cameras were surprisingly good and the software experience is "Samsung" through and through. Plus, Sammy promises two years of Android updates for this one, treating it like a full-on flagship.
Best budget Samsung phones
Samsung Galaxy A51 5G
In addition to 5G Ultra Wideband support, which only makes a difference for a small fraction of the carrier's subscribers from time to time, this particular variant of the 6.5-inch Galaxy A51 has a larger battery going for it than the other one, as well as an extra 2 gigs of RAM and a faster Snapdragon 765 processor.
Otherwise, it shares with the LTE version the same centered hole punch, a respectable screen resolution of 2400 x 1080 pixels, the same general design language, all-plastic construction, 128 gigs of internal storage space, quad rear-facing camera system, single 32MP selfie shooter, in-display fingerprint sensor, microSD card slot, and... a headphone jack, woohoo!