The best gaming tablet you can get - take your mobile game to the next level
3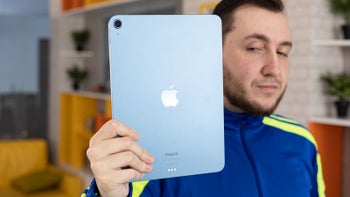 Mobile gaming is something that should be taken very, very seriously. Not only did it kill off handheld consoles but it now generates tremendous amounts of money.
According to the latest statistics
, mobile games accounted for more than 100 billion dollars in revenue in 2022 alone. This goes to show that people love to game on mobile devices.
But why game on a small-screen device when you can get a tablet and elevate your experience? Some tablets can even run PC games (Windows-based tablets), and the gaming experience is vastly superior to any phone out there. Not to mention the huge screen estate - something vital when you game competitively.
Tablets also have bigger batteries and can run for longer, another huge positive when you're out and about and want to spice up your boring trip to your mother-in-law's house with some headshots.
What are the best gaming tablets, then? How's the gaming experience on an iPad versus an iPad Pro? What about Microsoft's Surface line of tablets - they run Windows, so the gaming is more closely related to PC gaming. Here's our comprehensive list of the best gaming tablets you can get!
The best gaming tablets at a glance:
Apple iPad Pro 12.9 (2021)
The Apple iPad Pro 12.9 (2021) is the epitome of mobile gaming. The large, mini-LED display, coupled with the powerful M1 chipset inside, equals a buttery smooth, and eye-pleasing gaming experience.
Yes, the iPadOS is far from perfect for gaming and there are limited third-party peripherals to boost your gaming experience but at the end of the day, the "it just works" Apple philosophy really takes things to new heights.
Unlike the Surface line of tablets, with the iPad Pro, you're getting a true mobile gaming experience, for better or for worse. We know we said the third-party peripherals are limited but the most popular ones are supported, so you can get a
Razer Kishi
controller or a Playstation DualSense and game on.
With the M1 processor and 16GB of RAM, the iPad Pro can rival dedicated desktop gaming PCs, if developers decide to play ball and create such games, that is. But you know, the iPad Pro is such a well-rounded device, and you can do so much more than play games on it that it deserves a lot of credit.
The only downside is the price, obviously. The top model pushes the $1000 mark and you can get a laptop for that kind of money.
Read More:
Apple iPad 12.9 (2021) review
Microsoft Surface Pro 8
Best Windows gaming tablet
Here's a strange one - the Microsoft Surface Pro 8! It's the closest thing to a full-blown laptop you can get, and it packs a punch with its Core i7 processor and lavish storage configurations. This machine also runs the latest Windows 11, and can get a lot of work done with a keyboard and a mouse (sold separately, of course).
There are different configurations and variants, and things can easily past the $1000 mark but if Windows gaming is your thing, and you want to take it with you on the road, there's no better option than this one.

The Microsoft Surface Pro 8 is an amazing machine, a thing of beauty. It features a metal chassis, great screen - bigger than the one in the previous model, and can run your Word and Excel applications, along with practically every Windows app there is.

The downside is that you won't be able to play mobile games. Yeah, the irony. There are ways to play Android games on the Surface but they're complicated and on the border of being legal. Anyhow, it's the odd one on our list, and if you don't like mobile gaming as it is right now, you can get a Surface and PC game while being mobile. Or something like that…
We know what you're thinking - "It's an Amazon tablet!" but hear us out. The Fire HD 10 Plus is actually a great deal if you're looking for something to play casual mobile games on. You're getting the big screen, which is critical for a great gaming experience, and at the other end of the spectrum - you don't have to pay an arm and a leg for this tablet.
The Fire HD 10 Plus comes with a 10-inch FullHD display (1920x1200), MediaTek Helio P60 chipset and 4GB of RAM. And while these specs won't light up the Universe, they're absolutely enough to run 99% of the mobile games out there.
Of course, one of the best features of the Fire 10 HD is its price - the tablet retails for around $179 but you can get if for a lot less if you manage to score a good deal (these are often discounted on Amazon).
Samsung Galaxy Tab S8 Ultra
Best Android gaming tablet
Moving on to Android mobile gaming. The Samsung Galaxy Tab S8 Ultra is the best Android tablet for mobile gaming you can get right now. It has it all: super-sleek and stunning design, 5G connectivity, a gorgeous and super-smooth 120Hz display, top-of-the-line processor, a functional S Pen with lower latency, Samsung DeX support, vibration motor, microSD card slot (up to 1TB), you name it.
It doesn't get much better than that, on the Android front. Let's talk about the display - it's a gorgeous Super AMOLED panel with a 120Hz refresh rate. You won't get a better visual gaming experience anywhere else, including dedicated PC gaming rigs. Unless you cough up thousands of dollars for an OLED monitor. And it's huge - 14.6-inches rivals most laptops out there!

The base RAM and storage configuration is 8GB/128GB but you can go up on both, and the only drawback here is the price, as the Galaxy Tab S8 Ultra can easily cross that psychological $1000 threshold.

Samsung Galaxy Tab A7
Android gaming tablet on a budget
Now, if you don't have $1000 to spend on a gaming tablet, there are more budget-oriented options out there. The Samsung Galaxy Tab A7 is your budget Android tablet that will give you amazing value.
The Samsung Galaxy Tab A7 features a Snapdragon 662 processor, 3GB RAM, and either 32GB or 64GB expandable storage. Also, it comes with a 10.4-inch display, Dolby Atmos surround sound, and a great price tag.
It's true that the Galaxy Tab A7 doesn't come with all the bells and whistles of its bigger and more expensive sibling but it will get the job done. If you want to try out mobile gaming on a tablet but you're not sure about spending a lot of money, the Galaxy Tab A7 is a great choice.
Apple iPad Mini 6 (2021)
Apple gaming tablet on a budget
The same applies to the Apple iPad Mini 6 (2021). Apple's last-generation iPad is a great budget choice for iOS fans. You get all the signature Apple features in this tablet. The design is sleek and stylish, the tablet itself is lightweight and comfortable, and it's pretty powerful as well.

The price is the biggest pro here, as the last-gen iPad can be found at around $400. And for that kind of money, you get Apple's A15 Bionic chip, making the iPad Mini 6 one of the most powerful small tablets out there.
The speakers are also quite good for a tablet of this size, which is integral for a good gaming experience. The tablet also supports 2nd gen Apple pencil, which is an added bonus, even though gaming with a pencil is something close to unheard of.
How much RAM is enough for a gaming tablet?
That's a tricky question because it depends on several things. If you're going with a Windows-based tablet, you probably need at least 8GB of RAM to be able to comfortably play games, with 16GB being the better choice.
Now, if we're talking about Android gaming, things are a little different, as Android games are not that demanding on RAM size as their Windows counterparts. You can get away with 4GB, but the more the better - 6, 8 or 12GB are all fair choices, no need to go extreme here.
If you're gaming on an iPad, there's no RAM constrains, as apps are already fairly optimized to work well on the system. That's one less thing to worry about.
What size tablet do you need for gaming?
Again - the bigger, the better but there are some exceptions. Sometimes bigger tablets come with high-density screens, and all those pixels need to be pushed by the video processor. This might cause lag and other issues. It's not a coincidence that pro gamers would rather opt for a fast 1080p display, than go for a 4K one. Frames per second matter!
That being said, bigger tablet almost always equals bigger battery, so if longevity is the thing your going for, you should aim for the largest one. The exception here being the weight - if you travel a lot and want something portable and light, you need to make some compromises.
How to choose the best gaming tablet?
Well, as we've already touched on the subject in the lines above, it depends on your use case. If you travel a lot, then go for a lightweight tablet, if you want the best gaming performance and experience, a Windows tablet is probably the best choice, or if you want trouble-free mobile gaming without the need to put much though into the process, then get an iPad.
Conclusion

This concludes our best gaming tablets list, at least for now. It's far from set in stone, and we expect many new entries to make their way to the list. Sadly, dedicated gaming tablets like the Acer Predator 8 or the great NVIDIA Shield K1 are too old now, and they don't have any true successors. Nevertheless, watch this space as we'll keep the list up to date. Samsung, for example, unveiled the Galaxy Tab S8 Ultra and we're expecting great things from this huge slate in the gaming department, so stay tuned.