Apple iPad (2018) Review
37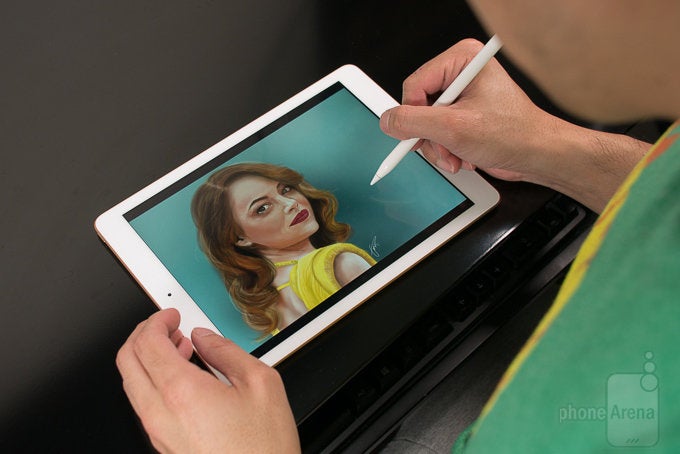 Update

: You can read our Apple iPad Pro (2018) review!

If there's one tablet that still has the staying power, it's none other than the iPad. As we've seen through the years, consumers haven't been all that enthused about the prospect of making a tablet as their daily driver – replacing traditional laptops as their main form of mobile computing. Tablet sales have lagged, showing evidence that consumer interest has been waning, but despite through all the turbulent decline, Apple's iPad continues to be the most popular amongst the crop.
The 6th generation iPad – also known as the 2018-edition or the new
9.7-inch iPad
– follows its predecessor in familiar fashion with an irresistible starting price of $329 for consumers. What's largely different, though, is that Apple is really focusing on how the iPad can be used in education, as schools can purchase it for the discounted price of $299. Pricing is undoubtedly one of the iPad's key assets, making it affordable for just about anyone to pick it up. But given the stagnant nature of the tablet market, can the new iPad somehow spark considerable interest once again?
Design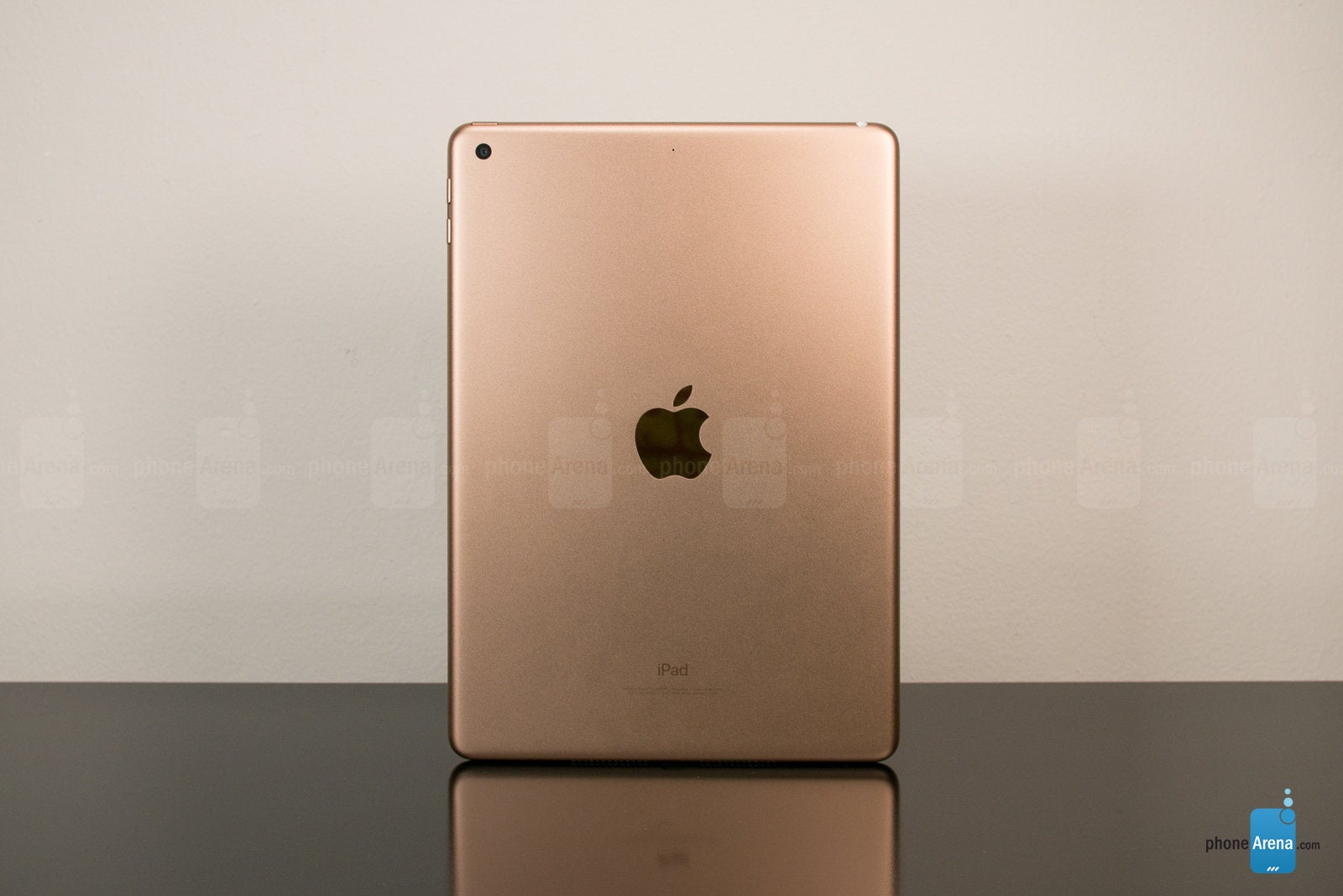 Signature designs are tough to get away from, especially when they're ingrained into the consciousness of consumers. Even though it doesn't surprise us that Apple sticks with the same design format for its 6th generation iPad, you could say that the series could absolutely use some kind of change. In fact, the new iPad looks largely unchanged, sporting nearly the same distinctive design cues since the first couple of iPad generations, including the aluminum body and beveled edges.
Now, as much as we relish in the idea of a dramatic design change to this particular iPad series, there's not a whole lot else we can complain about, especially given the premium construction and the low price point of this new iPad. Our particular review model is the gold-colored version, but the tablet can be also had in silver or space gray. Interestingly enough, depending on the angle and how light hits the aluminum body, the color can appear rose gold in tone.
Looking around the frame, everything from before is in place here – like its volume controls, power buttons, Lighting port, speaker grill, and TouchID home button. Thankfully, the 3.5mm headphone jack is still present here, which is a relief given how it's being phased out in many smartphones. Unlike the 9.7-inch version of the iPad Pro, this one doesn't feature the Smart Connector that would allow it compatibility for docks, keyboards, and other smart covers that are accessible to the iPad Pro line.
The Apple Pencil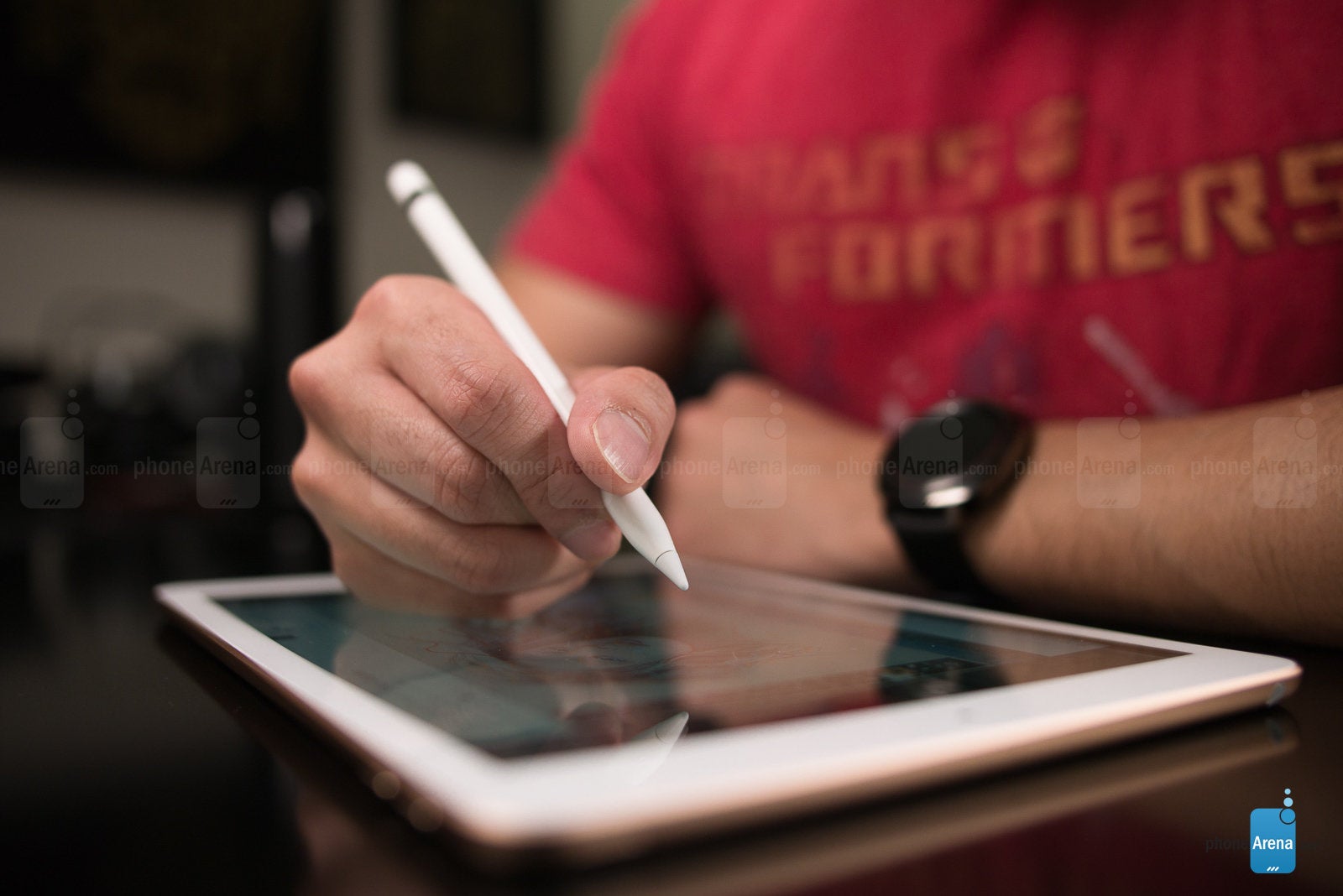 One of the more important news about the new iPad is that it offers support for the Apple Pencil, something that's been exclusive to the iPad Pro line. With its arrival on the new iPad, though, it's being expanded to a whole new range of users with education in mind. However, the Apple Pencil is still a relatively costly investment with its $99 cost to consumers or $89 to schools.
Naturally, there are some practical applications for the Pencil that students would appreciate – like jotting down notes, drawing a sketch, or signing a document. But unless you're a student or in a profession that relies heavily on using it, the Apple Pencil is more of a companion that complements some of the iPad's core functions, not a must-have accessory.
Charging the Apple Pencil can be accomplished in one of two ways. The first involves using the included female-to-female adapter, one that features Lightning ports on both ends, to connect one end to the Apple Pencil and the other to the usual Lightning charging cable connector. Alternatively, the process is simpler by just connecting the Pencil to the Lightning port on the iPad. One gripe we have with the Apple Pencil is that there's no real way to store the Pencil when it's not being used, unless you purchase additional accessories.
Display
The new iPad's display doesn't differ whatsoever in the specs when compared to its direct predecessor. In fact, the size and resolution of this Retina Display remains identical to last year's model, as well as the 9.7-inch iPad Pro – so that's a 9.7-inch LED-backlit IPS display with a resolution of 1536 x 2048 pixels.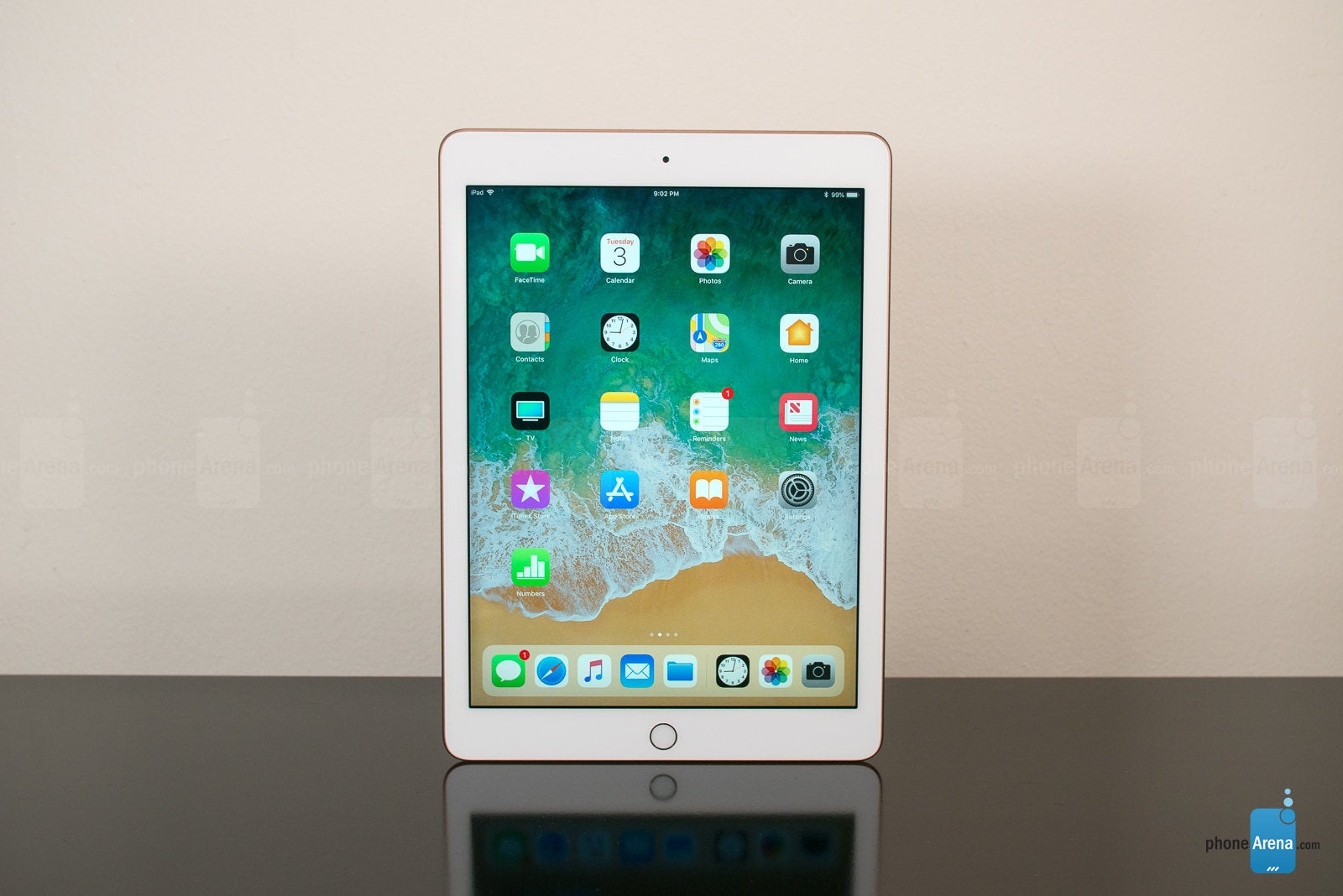 Is it the most magnificent screen we've seen in a tablet? Not really, but we're not expecting it be that either because of its price point. At the very least, details suffice enough for reading, surfing the web, and watching videos. The color reproduction, however, appears to favor a subtle cooler tone, as white tends to exude a little bit of blue. Visibility outdoors is decent, producing sufficient brightness in direct sunlight, but the viewing experience tend to slip at wide angles. It's not a distraction by any means, especially when all that matters to the user is what they see in front of them.
Where this new iPad differs from its predecessor, while also adding to its arsenal, is that the display communicates with the Apple Pencil – to deliver finer controls, precision, and accuracy than, say, your ordinary stylus. Besides this new ability, this particular Retina Display doesn't push the boundaries. Then again, it's not trying to, considering its target audience.
Interface and Functionality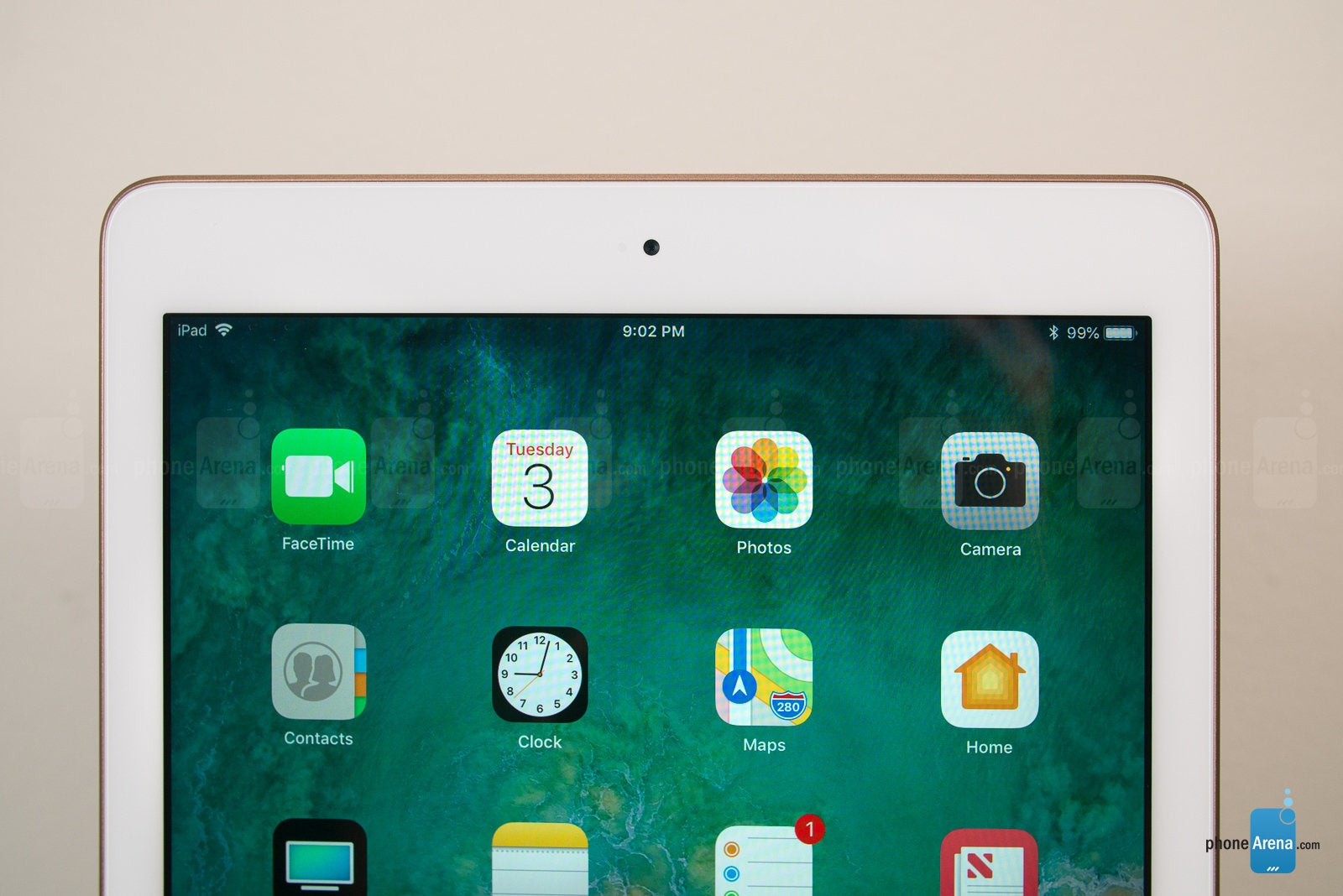 Tablets don't get as much attention as they deserve when it comes to their software. Well, that's unless the tablet is an iPad, of course, just because the iOS tablet experience is the benchmark for all tablets. Apple recently introduced its latest iteration of the platform, iOS 11.3, which is running here with the new iPad.
For anyone that has used an iOS device of some kind, whether that's an older iPad or an iPhone, the interface is a familiar one that's dominated by the platform's signature grid-like layout. Getting around is fairly simple, a common characteristic of Apple's experience, but for newcomers, there's going to be a bit of a learning curve when getting acquainted with the gestures used for navigation. For example, we can access the app dock from within any app by briefly swiping up from the bottom edge of the screen – while a longer swipe will get us access to the control center, as well as the side-by-side view of all the running apps. As before, we can use a 5-finger pinch-in gesture to go back to the home screen, and a 5-finger swipe lets us switch back and forth between recent apps.
What we really appreciate about Apple's tablet platform, in comparison to rival offerings, is that apps have been optimized not only for the larger display size, but also support for landscape. Many Android tablets fail to deliver this fundamental function, so it's especially satisfying that Apple hits the bullseye in this particular area. Moreover, there's now very little distinction between the experience we get here, versus say, the iPad Pro tablets – seeing that this new iPad supports split screen view between two apps, as well as support for the Apple Pencil.
Combining its straightforward navigation, simple presentation, and optimized layouts, there's no denying that the experience here with the new iPad is one of the richest and most satisfying around. Our only complaint is that it doesn't support side-by-side view when using two third-party apps – so you can only use one, and then have one of the tablet's native apps running simultaneously with it. Sadly, no one else comes close to Apple when it relates to tablet-optimized experiences.
Processor and Memory
Aesthetically, it's rocking the same design from before, but under the hood, the new iPad is armed with the upgraded quad-core 2.3GHz A10 Fusion chipset, the same thing that powers the iPhone 7 generation. As expected, it's remarkably fast and responsive, which is what you'd expect from an iPad in general. Then again, the iPad's performance has been consistently smooth – even stemming back since the first iPad. Everyday tasks, such as scrolling through the web browser or checking out posts on Facebook, are accompanied with buttery responses that have been a staple with the iPad's performance.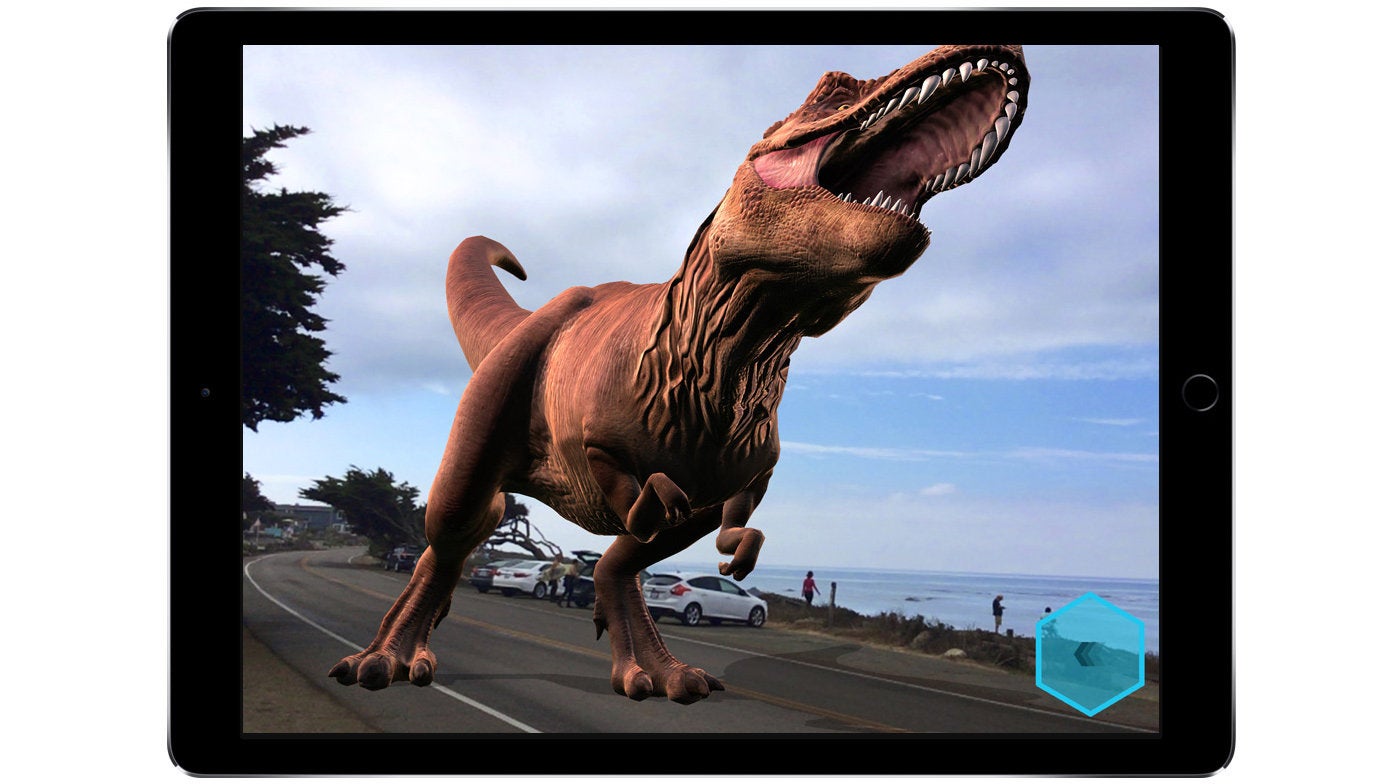 In some rare instances, however, we do notice some stutter with random things. It could be just software-related at this point, but it's still worth pointing out that it's just a smidgen behind the snappiness we get from the iPad Pro line. Benchmark tests indicate that the new iPad is just as formidable with its processing power against the iPad Pro 9.7-inch, which leverages the A10X Fusion chipset. That's particularly impressive for this affordable iPad! Gaming isn't a problem either with this one, evident in how easily it's able to maintain smooth frame rates in various games we tested.
Whether you're just after the simple things in life or planning to push the new iPad to its limits, the processing power at play here is undeniably adept in handling anything you intend on doing with it. Should we be surprised that its performance in at top gear? Not particularly because Apple's iPads have consistently been one of the best-performing out there.
Storage capacities for the new iPad break down to just two options, 32GB or 128GB. With the former, it's especially limiting given how quickly that amount can be filled up in this day and age. We would've preferred seeing that starting capacity at 64GB, but dishing out an extra $100 will secure you with a more generous 128GB of storage capacity.
Connectivity
Again, the new iPad breaks down to two options for connectivity; Wi-Fi and a combo Wi-Fi + Cellular. Both are equipped with a dual-band (2.4GHz & 5GHz) 802.11 a/b/g/n radio with MIMO, as well as Bluetooth 4.2, but only the latter has a GPS radio. Naturally, the cellular-connected option is there for those wishing to obtain more coverage when outside of a Wi-Fi hotspot. Choosing the cellular-connected model will tack on an additional $130 cost to you bottom line, which is a bit steep, in our opinion.
Camera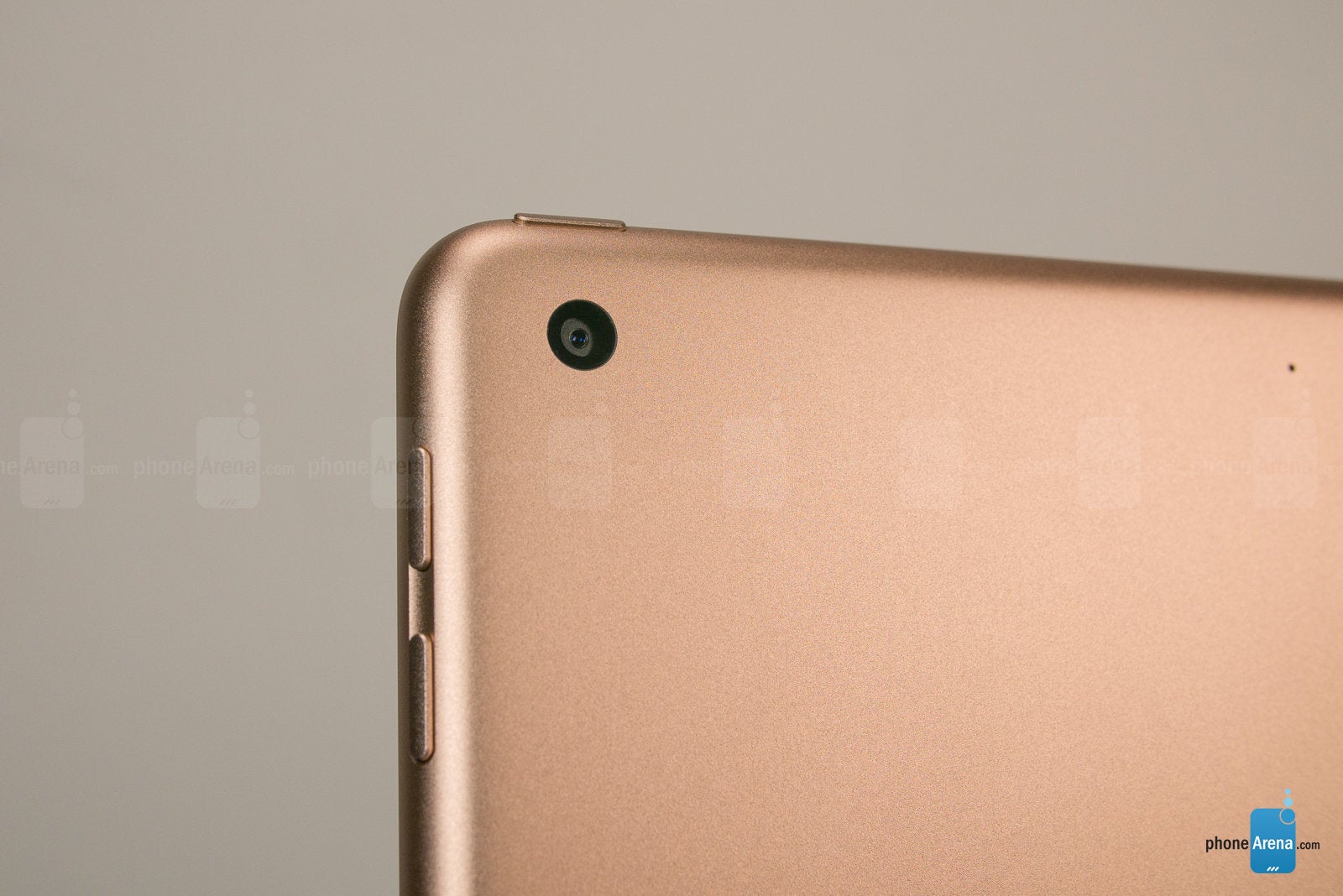 The iPads have never been praised for their photo- or video-taking abilities, especially when the act of using a tablet to capture something is frequently frowned down upon. We suppose that if there's nothing else within close proximity, the iPad can be a last resort. Taking a peek at what the new iPad is rocking, its specs are very similar to last year's model: an 8-megapixel BSI sensor with an f/2.4 lens, indicating to us that we're dealing with the same exact camera. Meanwhile, the front-facing camera sizes up at 1.2 megapixels.
Moving onto the camera app, Apple has done very little in the way of updating the experience from previous iterations. By default, it's one of the simplest camera interfaces around – offering access to the bare essentials such as taking photos, videos, square shots, slow motion, panoramas, and time lapse. We're not shocked by this revelation, mainly because it follows iOS' fundamental traits of offering simplicity. If there are a couple annoyance about the camera app, it's that changing the resolution of the video capture still requires us to exit the interface and go into the settings – and that there's no continuous focus when shooting video.
Image Quality
Predictably so, the camera's performance is mediocre at best when combining its quality under all sorts of conditions. When there's ample lighting in the composition, such as outdoors on a sunny day, or indoors with plenty of artificial light around, the camera is able to snap up decent-looking shots that can rival most smartphones. No, the quality won't match that of Apple's iPhones, but for a tablet, it suffices. Details are plentiful for social media sharing, while colors exhibit a smidgen of added saturation.
As with most devices, the quality dips when lighting in the scene becomes scarce – often resulting in grainy looking images that appear more like they're water paintings than anything else. You'll want to refrain from using the iPad under these harsh conditions, especially when there's no flash. Colors, too, become muted to the point that it can be difficult to make out shades of the same color. The new iPad also struggles with dynamic range, as brightly lit areas in certain scenes are over-exposed to the point that details can't be recovered.
Video Recording
Topping out at 1080p resolution at 30 FPS, the new iPad's video recording quality compares to that of its still shots. It's effective enough for when there's decent lighting around, while failing to produce anything tangible when there's not a lot. In particular, there's just too much noise with its quality under low light, making the overall look of the video somewhat softer toned. And it doesn't help that the audio recording quality makes it sound as though we're distant.
Multimedia
Media consumption is arguably one of the reasons why people would purchase tablets in the first place. And to no one's surprise, the new iPad delivers in this area, making it a versatile tool on the road if you're looking to quell the kids in the back seat – or if you're just looking to catch up on a show during the commute. Videos play with no problems at all, but the only distracting thing about the experience is the 3:2 aspect ratio of the display. When watching video in full screen mode, the screen aspect ratio results in the addition of those black bars on top and below the video. It might be an oversight for some users, but if you're used to watching videos that take up the entirety of the screen, this might prove to be a little distracting.
We're pleasantly impressed by the rich audio quality the new iPad is able to produce with its spekers – and that's despite not being graced with the quad speaker layout of the iPad Pro line. The audio performance out of the new iPad is accompanied with solid tones that reverberate at louder volumes. We can feel this sense of substance whenever music is played, ensuring that its speakers are just as compelling. And lastly, we're still grateful that a headphone jack is present here for private listening.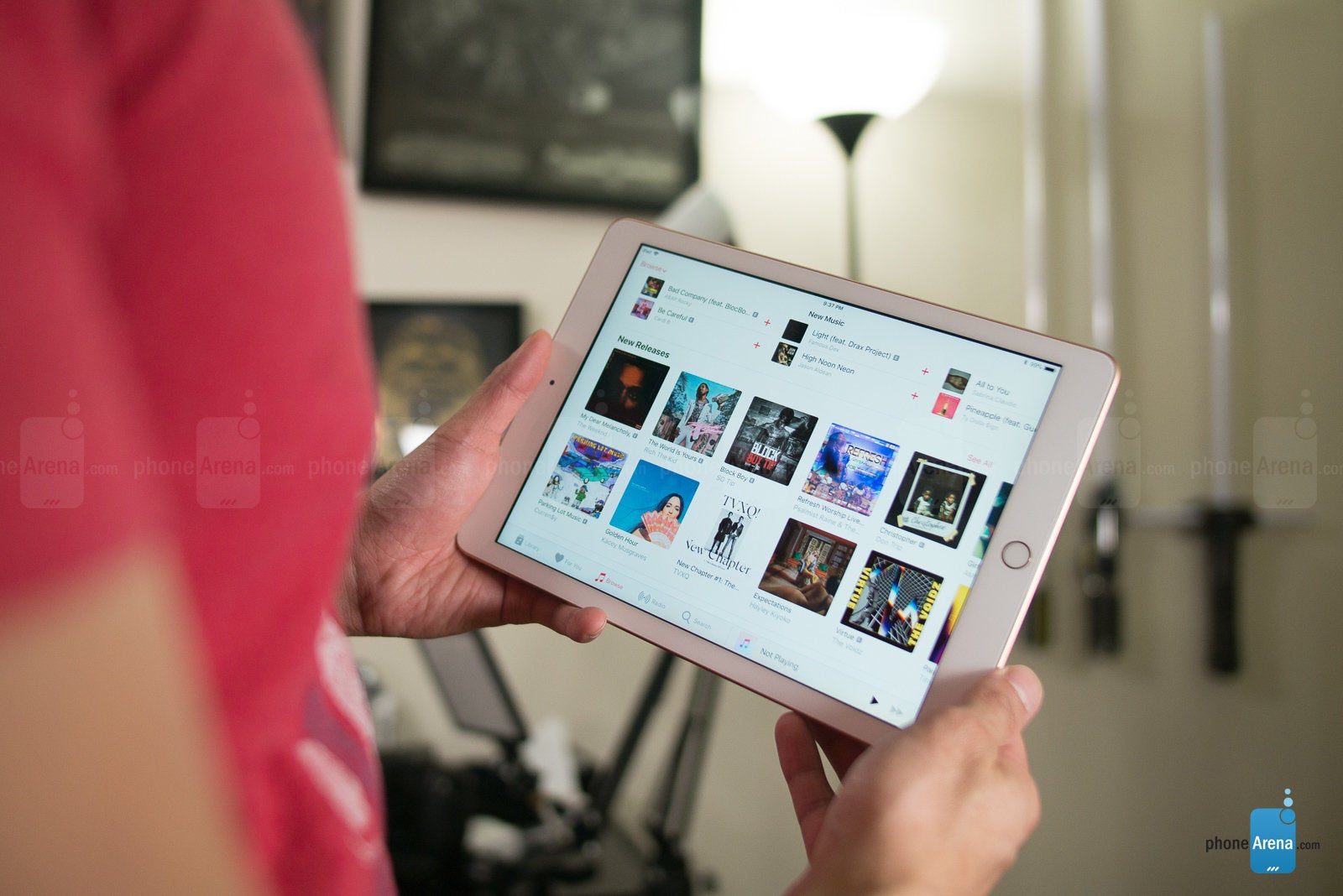 Obviously, there are a host of multimedia apps at the iPad's disposal. On one hand, it's not terrible if you opt to stick with Apple's ecosystem, since Apple Music offers a variety of artists, songs, and albums to choose from. Even better, the app not only aggregates songs, but music video as well – so it's a one-stop shop for all your music needs. If that's not enough for you, there are plenty of other streaming apps that are available to download, which too are optimized for the tablet layout.
Battery Life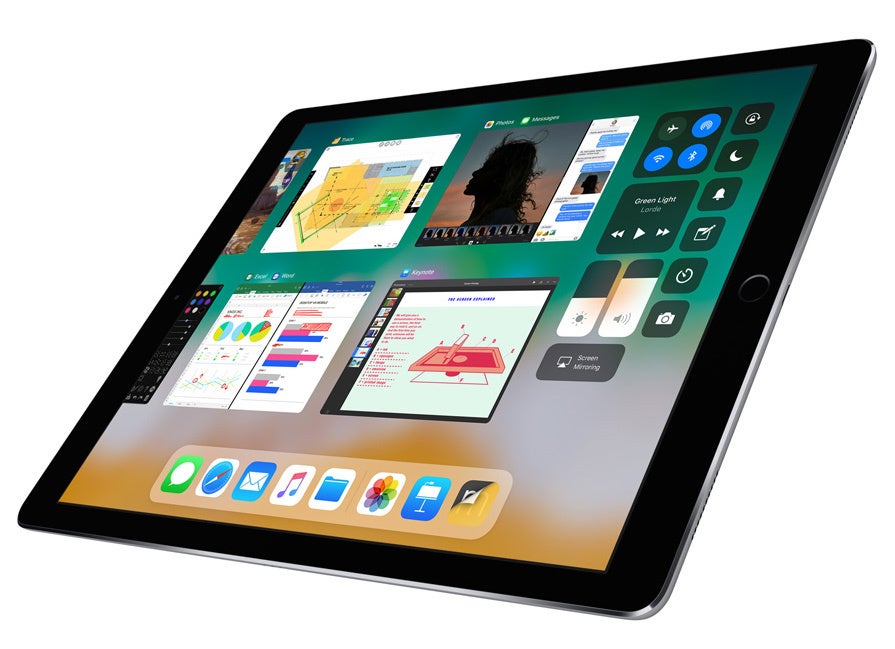 Apple hasn't officially stated the battery capacity in its new iPad, but chances are it's going to be the same as before. Don't worry about that, just because it delivers outstanding battery life from a full charge. Using it more as a complementary device in our real-world testing, wherein it sits in between our daily drivers, a laptop and a smartphone, we're impressed by nearly the three days of usage we're able to get out of the new iPad.
This is the kind of performance that tablets need to reach, so it's satisfying that the new iPad delivers great longevity. Better yet, you can sparingly use the new iPad throughout the course of the day, without the need or worry to recharge it on a daily basis – much like our laptops and smartphones.
However, if there's one gripe we have with the new iPad, it has to be the obnoxiously long recharge time. Using the included charger, it took nearly 5 hours for it to reach 100% capacity from 1%. That's downright terrible, given how if you're in a pinch for time, you won't see any meaningful levels attempting to charge it for a short period of time. In an age of fast-charging, it's shocking that the new iPad crawls at a snail's pace!
Conclusion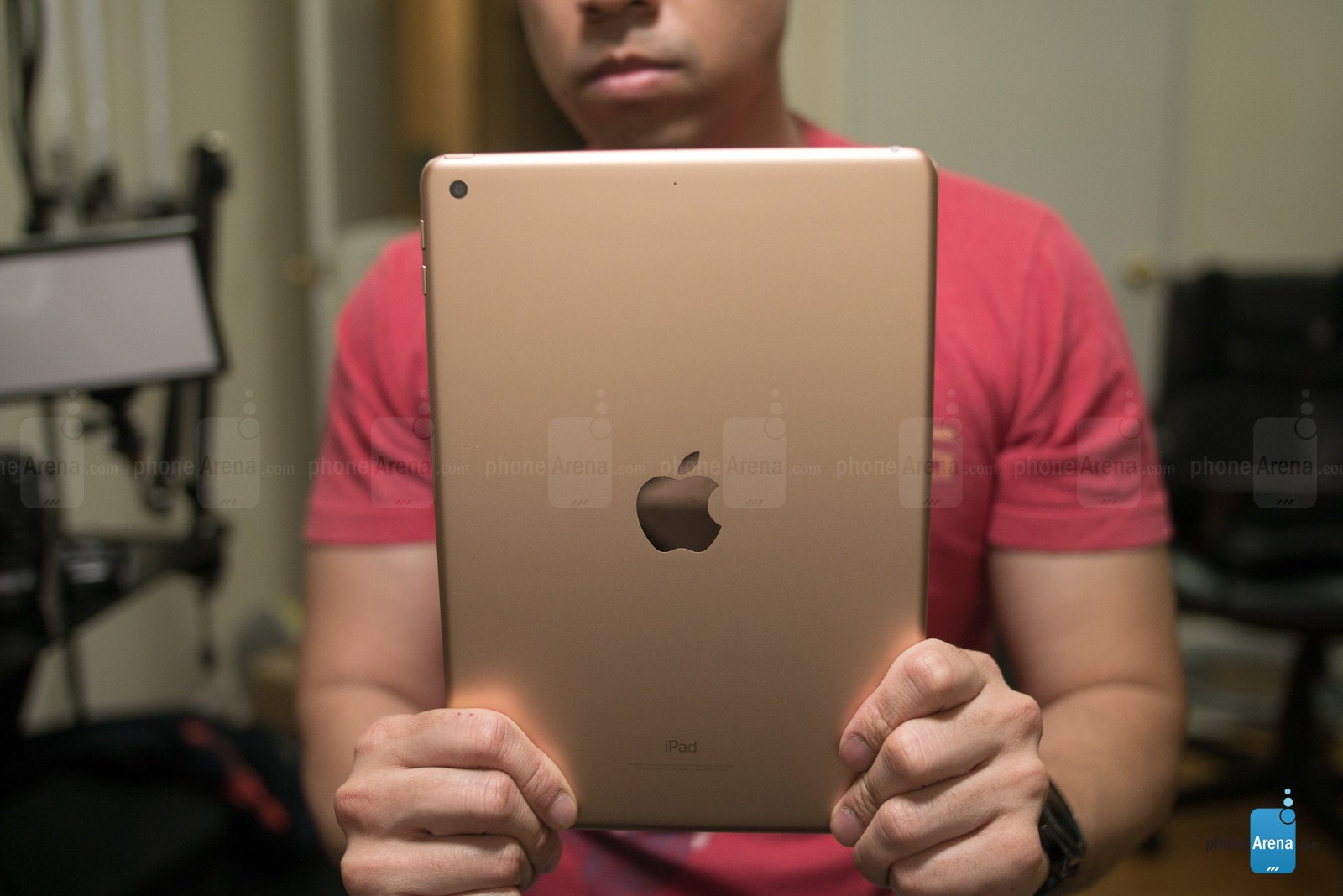 The new iPad, it's arguably one of Apple's least upgraded successive products in recent memory. Unlike the iPhone line that generally sees several additions while retaining the same design as its predecessor, Apple recycles the design to the teeth while offering only two major changes – support for the Apple Pencil and adding in the new A10 Fusion processor! Despite the minuscule upgrade, this is still the best all-around tablet you can get for your money.
That's seriously saying a lot, especially given how this particular model isn't the highest offering in Apple's stable. Part of that reasoning is because of its price, and at only $329 for consumers and $299 for schools, there's nothing close to matching its performance, value, and healthy ecosystem. The latter is especially noteworthy because when you look at what else is around, Windows tablets, Chromebooks, and Android tablets, none of them comes close to delivering the rich tablet experience we get from Apple's iPad – and it helps, too, that the new iPad is priced affordably.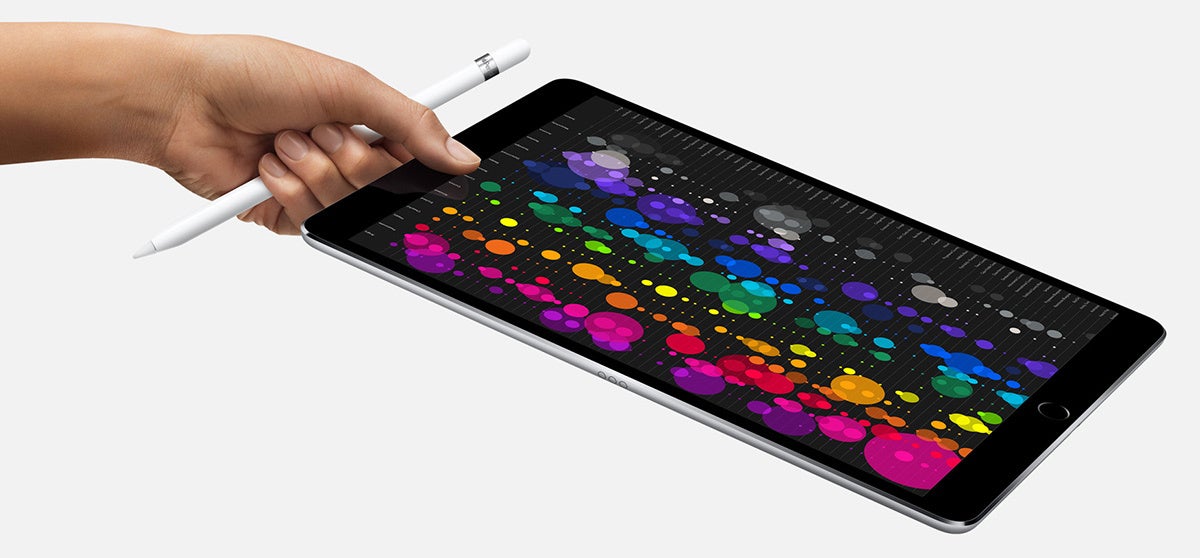 And that, folks, is what makes this new iPad so attractive! Yes, you'll need to fork over an additional $99 for the Apple Pencil, but even without that, the new iPad is uncontested in its price range. There are few premium, better spec'd tablets than the new iPad, like last year's Samsung Galaxy Tab S3 or even Microsoft's Surface Pro tablets, but they can't still come close to the rich experience we get from Apple's champion. Plus, you'll end up spending a lot more money in the process over this!
On the other end of the spectrum, there are a handful of budget tablets in circulation, like those from Amazon, but they generally aren't ideal for media consumption. We can't stress enough about the new iPad's valuable package, and despite its minuscule upgrade, it's still by far the best bang for the buck you'll get out of a tablet.