Best gaming phones (2021)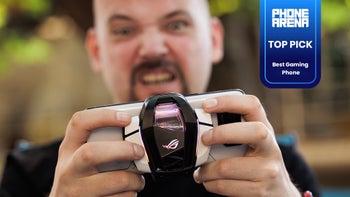 Gaming phones used to be a niche thing, with crazy designs and bloated software, but that has gradually changed in recent years. Even if you aren't necessarily a hardcore mobile gamer, you'll likely appreciate gaming-capable smartphones for their powerful specs, high refresh rate displays and often superior speakers than the average mainstream flagship phone.
And speaking of mainstream, high-end mainstream phones are also so powerful nowadays, that we can't overlook them as viable gaming options either.

So, are you a gamer who's looking for the best gaming phone, that will help ensure your winning streaks in your favorite multiplayer shooter? Well, you've come to the right place!
Best phones for gaming in 2021, summarized:
Asus ROG Phone 5
The Asus ROG Phone 5 is
the
gaming smartphone to get right now. It delivers outstanding all-around performance, thanks to its Qualcomm Snapdragon 888 5G processor and 16GB of RAM.
The ROG Phone 5 also sports arguably the greatest, fullest-sounding dual stereo speakers on any Android smartphone to date, which is key for a fantastic multiplayer gaming experience. In addition, the ROG 5 has a huge battery, a super-smooth OLED display (144 Hz refresh rate) and two AirTriggers, which are touch-sensitive areas on its top frame that you can use as mappable buttons for your games.
But you don't have to use touch controls if you don't want to – the ROG 5 is compatible with first-party accessories like the awesome ROG Kunai 3 Gamepad.
And if you love customizing your smartphone, you'll be happy to know that the ROG 5 and its limited edition
ROG Phone 5 Ultimate
variant offer all the customization options you may want for making your gaming experience perfect.
Read more:
Asus ROG Phone 5 review
Lenovo Legion Phone Duel 2
Although it's not out yet, expected to be released in Europe this May for a price starting at €799, the
Lenovo Legion Phone Duel 2 already impresses
. Likely to challenge the ROG Phone 5 and even replace it as our favorite gaming phone of 2021, the Legion Phone Duel 2 sports a large 6.92-inch 144Hz AMOLED display, the Snapdragon 888 processor and up to 18GB of RAM.
Like the ROG 5, the Legion Phone Dual 2 too has AirTrigger-like touch sensitive, mappable sensors that can be used as shoulder buttons, but it also has some extra party tricks. For example, its two 2,750 mAh batteries can be "Turbo" charged not just via a single USB Type-C port, but via its two ports at the same time. This way the phone can fully charge at 90W for just 30 minutes.
The Lenovo Legion Phone Duel 2 also has a pop-up "facecam" to be used while streaming gameplay, two built-in cooling fans and dual front-facing speakers.
Samsung Galaxy S21 Ultra
The Galaxy S21 Ultra is
Samsung
's newest flagship smartphone and as such, it sports some of the best specs you can get on an Android phone right now.
It has a game mode that will set its gorgeous, large display to refresh at 120 Hz and with its powerful processor (Snapdragon 888 or Exynos 2100) and 12GB of RAM, it's a fantastic phone for hardcore gaming. It also has a huge battery and beautiful design, making it a great all-around smartphone to rock out and game on for years to come.
Read more:
Samsung Galaxy S21 Ultra review
Apple iPhone 12 Pro Max
If you're leaning towards iOS gaming and the Apple Arcade subscription service, the most powerful phone for gaming from
Apple
you can get right now is the iPhone 12 Pro Max.
Its high performance will crush any games at their highest settings without breaking a sweat, while its solid battery life will ensure that you'll be comfortable playing for hours on end without needing to recharge. In our 3D gaming battery test, the iPhone 12 Pro Max lasted a solid 8 hours. It also sports the largest display ever put on an iPhone.
Note to Fortnite gamers: Fortnite is currently unavailable on iOS, so you may be better off buying an Android phone.
Read more:
Apple iPhone 12 Pro Max review
Samsung Galaxy Z Fold 2
If you're ready to go to the next level with your smartphone gaming, there is nothing like playing mobile games on the Galaxy Z Fold 2. It's a candy bar-shaped phone when you need it to fit in your pocket, but it can unfold into an extremely powerful tablet when it's time for play.
Games like Pub G play fantastic on it, plus its stereo speakers are superb in volume and richness. The phone feels great in the hands and is easy to game on, not too large or unwieldy as a tablet might be. Any game looks gorgeous on the Z Fold 2's large, foldable, smooth 120 Hz AMOLED display.
Read more:
Samsung Galaxy Z Fold 2 review
Samsung Galaxy Note 20 Ultra
The Note 20 Ultra is not just a huge, powerful smartphone that will deliver amazing 3D gaming experiences, but thanks to its included S Pen stylus, it's arguably the best phone to pick for casual gaming also.
For example, playing card games or chess with the S Pen can be a joy, much more convenient than using your finger. So for all-around versatility and a huge, almost 7-inch display, you can't go wrong with the Galaxy Note 20 Ultra, for any kinds of games.
Read more:
Samsung Galaxy Note 20 Ultra review
You may also find interesting: