Best thin and light Galaxy S9/S9+ cases and covers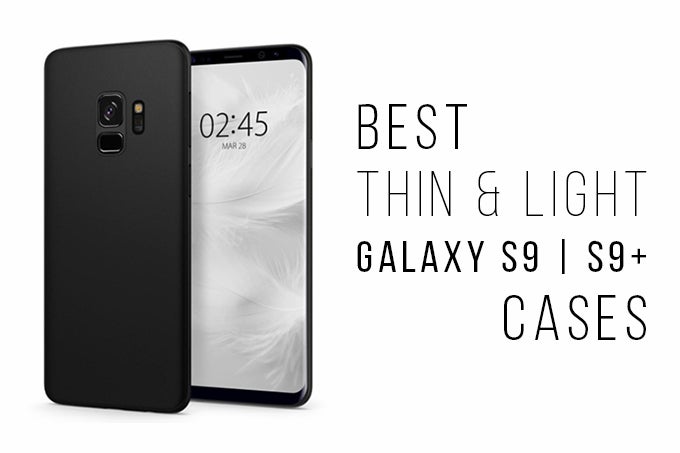 If you are looking for a case to protect your shiny, new Samsung Galaxy S9 or S9+, without making the phone look like some sort of utilitarian Swiss army brick with card slots and kickstands, then you're at the right place. We have selected the best thin and light Galaxy S9/S9+ cases available right now, that provide adequate protection for the phones, without adding much bulk or interfering with the sleek design.
It is true that beautifully crafted devices, such as the new Galaxies, are best experienced without a case, but there's a good case to be made for slipping one on. Although the glass backs of the phones are somewhat resistant to scratches, a couple of months of sliding on random surfaces and jumbling around your pocket with who knows what else inside, will definitely result in unpleasant abrasions. And you don't want that. A compromise has to be made, and this compromise comes in the form of a thin, unobtrusive case.
Olixar FlexiShield Gel Case
The Olixar FlexiShield is a nice mould that fits the Galaxy S9/S9+ like a glove. It's thin enough not to be obtrusive, but sturdy enough to protect the back of your phone from waist-high falls. The FlexiShield gel cases are available in three colors—black, blue, and purple—but best of all, they are just $7.99! If you're looking for some light protection on the cheap, it doesn't get better than this.
Spigen Case AirSkin
Spigen's AirSkin lineup of cases for the Galaxy S9 and S9+ offers ultra-thin protection. And we do mean
ultra
thin. If you want to feel like you don't have a case on, that's the one for you. It's made out of polypropylene and is scratch resistant, which is enough to protect your phone in normal use, just don't expect it to save your hide if you drop the phone from the 2nd floor. Since the case is so thin, the volume rocker, power and Bixby buttons all have their own precisely made cuts and are easy to press. Another upside of it being so thin is that fingerprint gestures are also effortless to perform, since there's not much in the way of a lip around the scanner to obstruct swiping.
CaseMate Barely There
The CaseMate Barely There feels, as the name suggests, like it's barely there. It's made out of polycarbonate and is a good choice if you want to retain that glossy look that the Galaxy S9 and S9+ have. Although it's see-through, the CaseMate Barely There still has a subtle grid texture that goes well with the overall design. There are larger cutouts for the side buttons, which makes access to them effortless.
Samsung Alcantara case
Okay, so this isn't the thinnest case on this list, but it manages to walk a fine line between lightweight and bulky. It is sturdy enough to offer moderate protection for your Galaxy S9 or S9+, with an obvious lip when viewed up front, but at the same time, it is far,
far
away from what we like to refer as "brick" cases. It also looks cool and unique in it's fabric-like appearance. Alcantara is a brand of synthetic fabric, similar to suede in texture and appearance, but more durable and resistant to stains or water than its natural counterpart. Because of these properties, it is not uncommon to see Alcantara covering the interior of premium sports cars. Or the backs of Samsung Galaxy devices. Unfortunately, the official Samsung Alcantara case is not available yet, as of writing this article, but should hit Samsung's online accessories shop and affiliates soon enough. We will make sure to update this list when that happens.
Since the Galaxy S9 and S9+ were only recently unveiled by Samsung, and are yet to hit the market, the number of quality, thin cases for the pair is still limited. However, as more case manufacturers release products for the new Galaxies, we will be updating our list with more information on thin and lightweight solutions to protect the phones.