Weekly deals roundup: All-time low Pixel 7 prices, huge Apple Watch discounts, and much more
2
We may earn a commission if you make a purchase from the links on this page.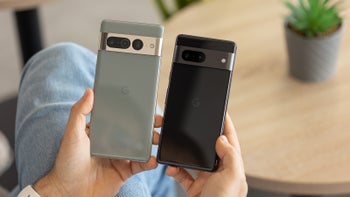 The best day to show your better half just how much you care about them is upon us all, but there's no need to race against the clock and scour the internet for the
top Valentine's Day 2023 deals
on devices as diverse as smartphones, tablets, smartwatches, and true wireless earbuds yourself.
That's where we come in, doing said scouring day in and day out all year round and putting together weekly lists comprised of the absolute greatest mobile tech bargains available as the weekend kicks off. If you thought our
previous two such lists
were
long and spectacular
, wait until you see what we've been able to harvest this week.
Top three deals you can grab this Valentine's Day
Google's best phones at their best-ever prices
If you don't mind picking the carrier you plan to use your brand-new Pixel 7 or 7 Pro high-ender on straight off the bat, said stock Android-running powerhouse can be yours right now at a lower-than-ever price... with no other strings attached or special requirements.
That applies to both 128 and 256GB storage configurations of both Google's compact and jumbo-sized mobile beasts released just a few months ago, and despite the occasional bug and software imperfection, the
Pixel 7
and
Pixel 7 Pro
are undeniably some of the
best Android phones
you can buy for Valentine's Day... at these deeply discounted prices.
An affordable OnePlus 11 with a deal sweetener on top
How low can a Snapdragon 8 Gen 2 flagship go? How about $700... with a $100 Amazon or Best Buy gift card included at no extra cost? Or how about $275 (!!!)... with the right trade-in over at the official OnePlus US e-store?
That's a lot less than what a number of
OnePlus 11
rivals for the title of overall
best phone
in the world in 2023 currently command, and this bad boy packs a large battery with blazing fast charging, as well as a lot of memory (in both 128 and 256GB storage variants), great cameras, and an awesome screen in addition to the aforementioned state-of-the-art Qualcomm SoC. What's not to like?
An absolutely MASSIVE Apple Watch Series 7 discount
No, this is not the world's
best smartwatch
(and presumably, not the world's
best-selling smartwatch
either) anymore. But a $340 discount on a super-premium stainless steel model with built-in cellular connectivity is likely to make a lot of you ask yourselves "Apple Watch Series 8 who?" all of a sudden.
And no, the
Apple Watch Series 7
is not quite as feature-packed as its successor to the top-selling global smartwatch crown, but
the differences between the two
Apple-made wearable powerhouses are marginal at best and extremely easy to ignore in the right circumstances. Like this crazy new Walmart deal...
Other outstanding smartphone deals available this week
Can't afford the hot new OnePlus 11 even at its undeniably great launch price and with an undeniably cool pre-order freebie included? The slightly humbler
OnePlus 10T
is right there at Best Buy and Amazon, fetching its lowest ever price (with no upfront carrier activation) in a 128GB storage variant that also comes with a large battery on deck, a silky smooth 120Hz screen, a... decent rear camera unit, and most impressively, insanely fast charging capabilities.
Can't even afford the OnePlus 10T at its sweet new discount? Don't worry, Amazon and Best Buy have you covered as well with excellent deals on the mid-range
Pixel 6a
and
Motorola Edge (2022)
. Both handsets come with unlocked 5G support for all major US carriers, duking it out for the title of
best budget phone
available today with great cameras and stellar software support (as far as the Pixel is concerned) and a stunning screen and a lot of storage (when talking about the Motorola). Tough choice, eh?
The greatest tablet bargains out there
There are many reasons why Apple continues to
lead the global tablet market
so very comfortably these days, but you probably wouldn't think affordability is one of them. With great product diversity, however, great discounts will often come from retailers like Amazon and Best Buy.
That's currently the case for not one and not two but three of the
best iPads
out there, all of which are on sale at
some
of their lowest prices ever in every single storage configuration, connectivity variant, and color option. By no means unprecedented, these
iPad (2021)
,
iPad (2022)
, and
iPad mini (2021)
deals are likely to remain unbeaten for the foreseeable future.
More smartwatch offers for your buying pleasure
Do you feel unwilling to compromise with the "outdated" Apple Watch Series 7 or simply don't necessarily like that swanky stainless steel/Milanese Loop style on sale at a huge discount right now? The latest and greatest
Apple Watch Series 8
is marked down (by a lot less) in way more versions and styles, and even though they may not seem like much at first glance, those $70 price cuts are historic achievements for this bad boy.
If you're a hardcore Google fan or just an everyday Android user curious to check out the search giant's first-ever in-house smartwatch effort, now's the time to pull the trigger. The decidedly imperfect but arguably full-of-promise
Pixel Watch
is discounted by a rare and decent $50 in both Wi-Fi-only and cellular-enabled variants, looking like the ideal Valentine's Day gift for someone who digs circular timepieces with a very unique personality (and plenty of health tools in tow).
True wireless earbuds deals for the ages
Look, we know that all of your friends are probably AirPods owners and many of them may not be able to shut up about how great Apple's hugely popular earbuds are, but that's exactly why you should consider an alternative from Samsung, Google, or even Apple itself.
It's often nice to go your own way and be independent and original, especially when said "original" products just so happen to be on sale at their lowest ever prices with active noise cancellation and many other super-premium features in tow. It's definitely hard to choose between the Pixel Buds Pro and Beats Fit Pro right now, but whatever road you'll end up taking, you'll almost certainly be delighted with your choice.