Apple Watch Series 7 Review
4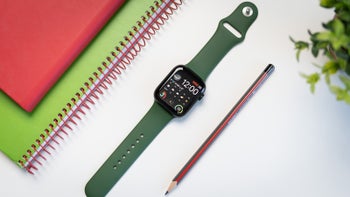 The Apple Watch Series 7 is finally here, bringing a couple of notable improvements over its predecessor, the
Apple Watch Series 6
: a bigger display and faster charging. Apart from that, though, the Series 7 stays largely the same, so if you're already rocking a Series 6 smartwatch, you may not need to upgrade.
However, if the Series 7 is going to be your first Apple Watch, or you're upgrading from an older model, you will definitely like this one. The Apple Watch Series 7's bigger screen and comfortable size, as well as a multitude of useful health and fitness features and seamless integration with iOS, make it the
best smartwatch for iPhone
users.
The Apple Watch Series 7 offers reliable, hiccup-free performance, a variety of watch faces and complications for customization, and motivating reminders, which makes it overall a useful and fun addition to your Apple ecosystem.
In the box:
Apple Watch Series 7
Magnetic charging dock (NO power adapter)
Wrist band - 2 sizes (S/M and M/L)
Warranty information and quick start guide
Design & Style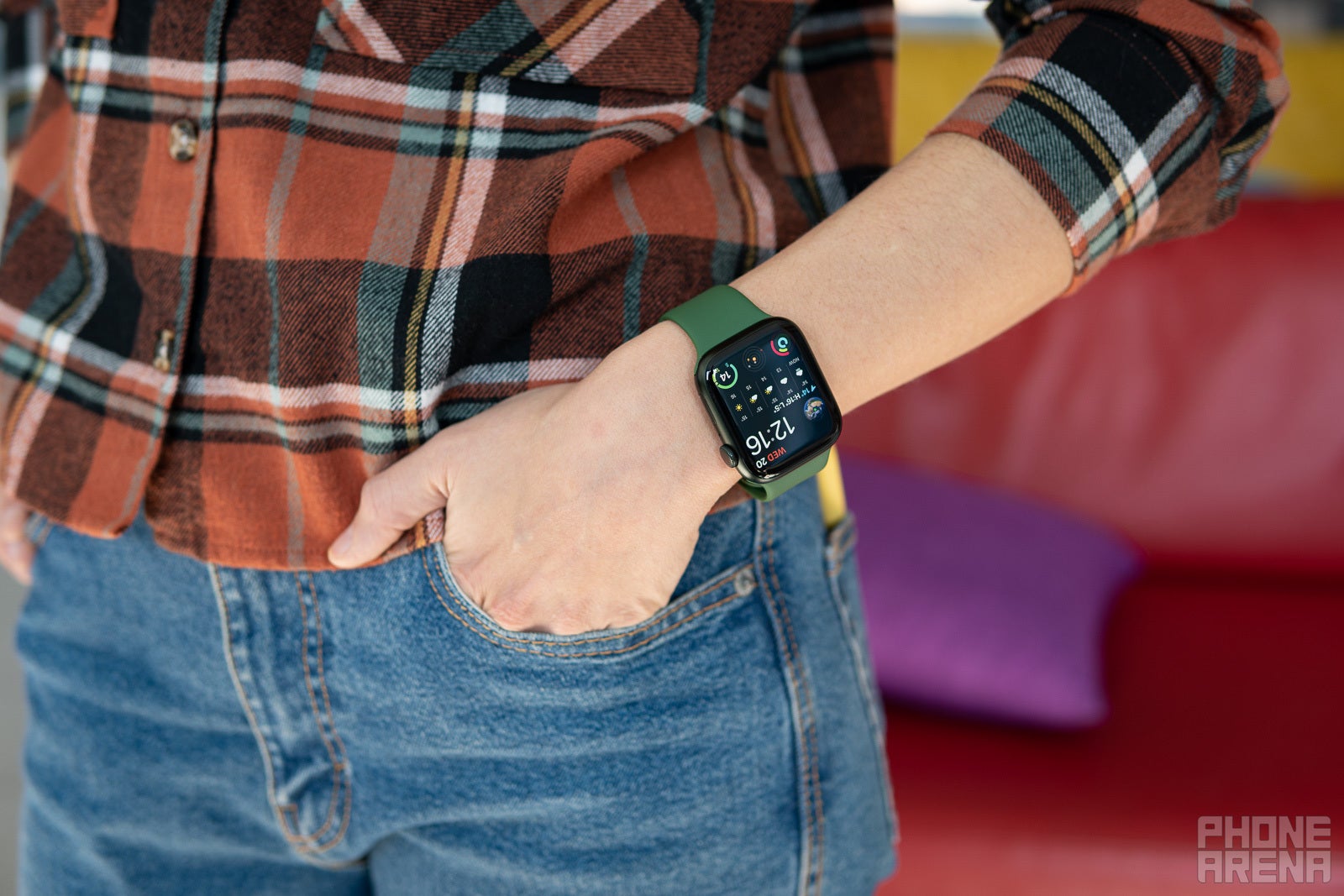 The Apple Watch Series 7 keeps the recognizable rectangular form that many are used to, but it improves on the size of the display itself (more on the display later). The aluminum case of the watch is available in five colors: Blue, Green, Midnight, Starlight, and Product RED, while the stainless steel option comes in Silver, Gold, or Graphite. We have used the green option for our review – it is a dark green color that in some lighting conditions looks almost dark gray, with the green standing out in certain angles and light.
The Series 7 is bigger than its predecessor and now comes in 41mm or 45mm case sizes (the Apple Watch Series 6 comes in 40 and 44mm). We have tested the 45mm version. It does not feel too big or too heavy for my wrist, even though my wrist is quite thin and the watch itself is quite big. I often found myself forgetting I was wearing it, and I am not generally a watch wearer in particular.
On the right-hand side of the watch case, we have the digital crown which provides good haptic feedback and is quite comfortable to use. Below it, we find the power key, which is also easily accessible and responsive. The speaker is situated on the left-hand side, and the sound it produces for calls or Siri is audible in calm to moderately noisy environments. For example, when I was walking in the park or around a quieter side of my neighborhood, I could hear Siri read out my workout achievements quite clearly. However, you may need earbuds to hear them if you're working out in a more noisy environment.
Apple has equipped the Series 7 with its strongest and most crack-resistant crystal on the front, so it is the most durable Apple Watch to date. It also has dust protection (IP6X certification) for the first time, while maintaining the WR50 swim-proof rating of its predecessor.
In terms of bands, Apple did not introduce any new watch bands with the Series 7, and the current ones are going to fit it despite the small difference in display sizes and case. Our review unit came with the standard Sport Band in Clover, which is a dark green color that looks great with the dark green Aluminum case. It is comfortable to take on and off, once you get used to it.
Display & Watch Faces
In the display category, we have the biggest improvement in the Apple Watch this year: the display has nearly 20% more screen area than the Apple Watch 6. The bigger screen makes interacting with the Apple Watch a more pleasant experience as text is easier to read. It's easier to type on the miniature keyboard, or to quickly glance at your metrics. Additionally, the display gets brighter indoors than its predecessor. The overall max brightness has not changed, but the Always-On display gets a bit less dim when you're indoors.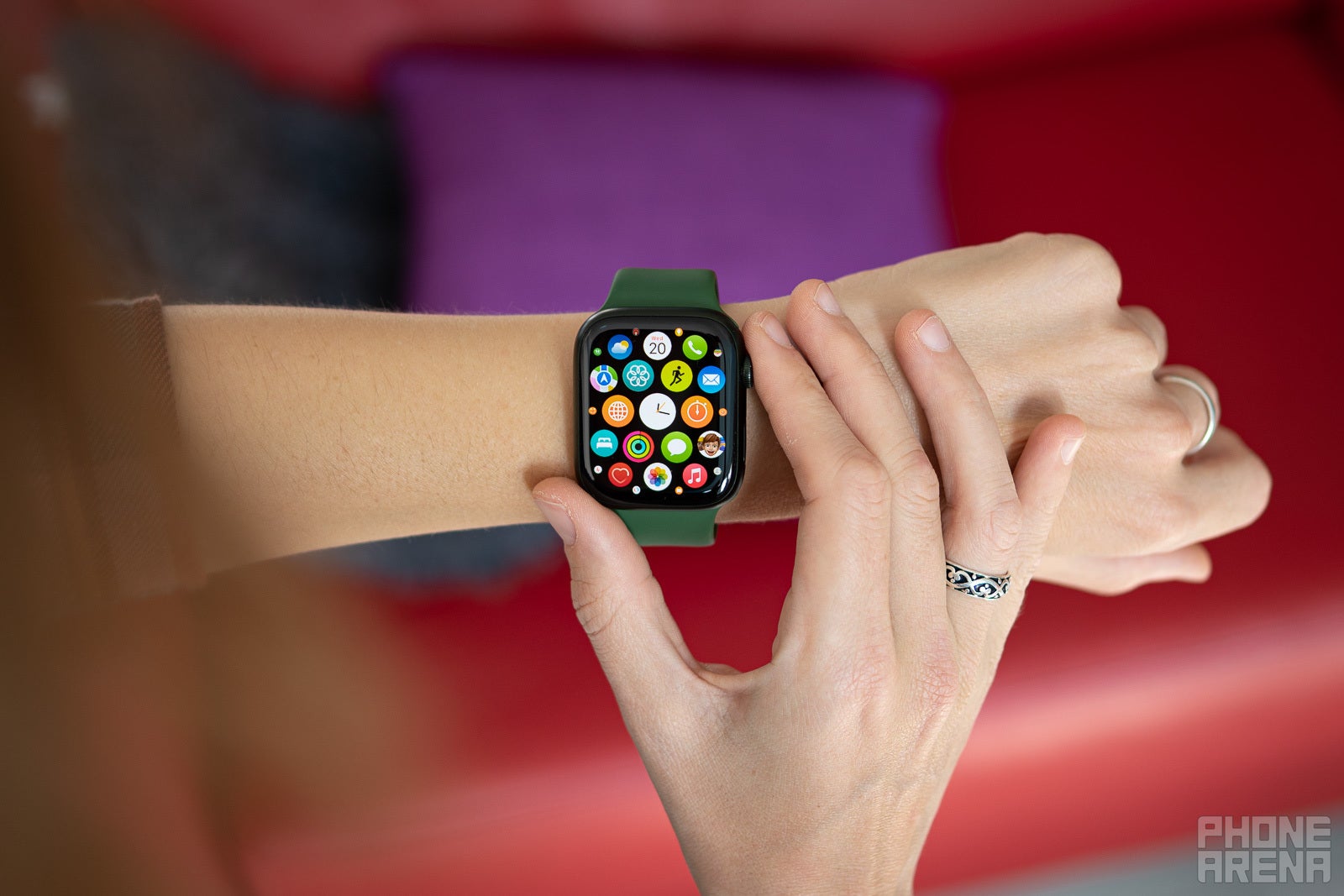 Apple has added four new watch face designs to the Apple Watch Series 7: Contour, Modular Duo, Portraits, and World Time. The Contour one makes use of the bigger display to align the hours on the outer edges, while the Modular Duo allows you to have two full-width complications instead of just one.
The Portraits watch face is also new, and it will take your favorite portrait shots to use as a watch face. This watch face has to be added and customized from your iPhone, instead of directly from your Series 7 as the other ones.
Of course, watch faces are customizable with a wide variety of complications. The one that I enjoy the most is the Infograph Modular that shows a lot of useful data on the Always-On display, such as an hourly weather forecast, time, calendar, my Activity rings, and even the planets (well, that is if you're a geek, pretty much), but you can put almost anything you like in there for a personalized experience.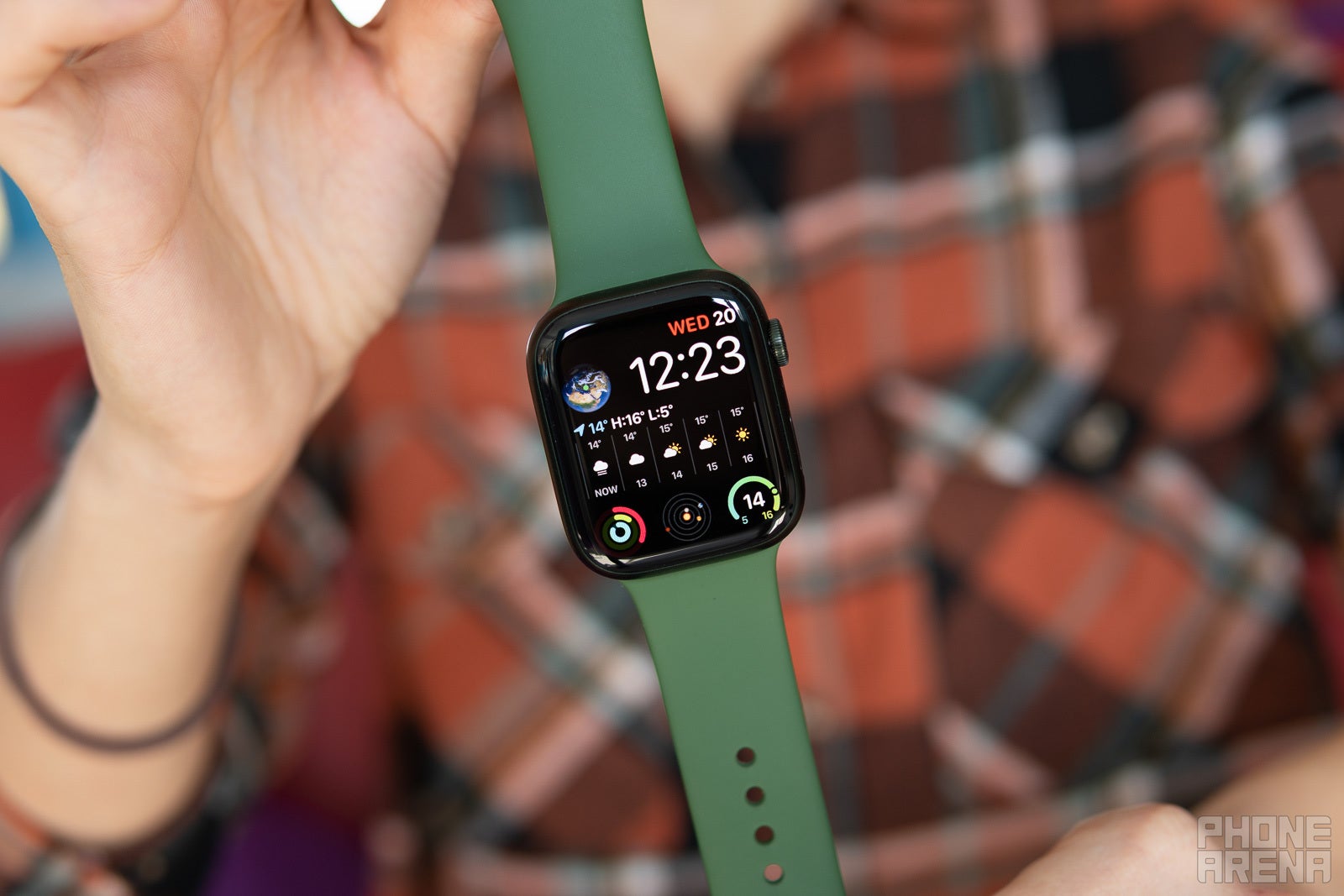 The Infograph Modular watch face looks even better on the bigger display
Software, Health and Performance
The Apple Watch Series 7 runs WatchOS 8 out of the box, and some of the operating system's features are specific for the Series 7 because of its larger screen. One such feature is the small keyboard that you can type or swipe-to-write on, and it generally recognizes swiped words with few to no errors. Of course, you can also use Siri to dictate your message.
Additionally, apps like the Timer and Calculator now have bigger buttons to take advantage of the larger screen and are very comfortable to use.
In terms of health sensors, the Apple Watch Series 7 does not have any new ones, so it tracks your Blood Oxygen (SpO2), your heart rate, elevation, sleep, and ECG, as the Series 6 does. However, there are some improvements in the Sleep app with WatchOS 8, and it can now track your respiratory rate while asleep on top of monitoring your average sleep time. This feature is not exclusive to this model only and comes to the Apple Watch models that support WatchOS 8.

All the information it stores is conveniently placed in your iPhone's Health app, where you can monitor your health stats and identify areas that need improvement.
The Blood Oxygen measuring works perfectly once you've nailed the correct position of the watch on your wrist, and it takes background measurements throughout the day to keep on top of how well your body is absorbing oxygen and the amount of oxygen delivered to your body. I was constantly getting 95% and up readings, which is great. The Watch also keeps monitoring this metric while you sleep as well, so it's a great way to keep an eye on your general health and wellness.
The ECG and heart rate monitor are also present here. The ECG app uses your finger and the sensors in the Apple Watch to take a reading similar to a single-lead electrocardiogram. It also has heart rate notifications which you need to enable from your iPhone > Health. Of course, the Apple Watch is not a medical device, so you need to take this into account, and if you have health issues, better not to count only on it to alert you.
Now, let's talk exercise. The Apple Watch has a wide variety of different workout types you can select (adding Tai Chi and Pilates as well), and it monitors your heart rate and other stats during your workout. The ones I primarily use are the Yoga workout and the Outdoor Walk, with Siri conveniently alerting me when I've passed every 1-kilometer mark and what my pace is, while at the same time monitoring my heart rate. Of course, it tracks burned calories and heart rate during all workouts.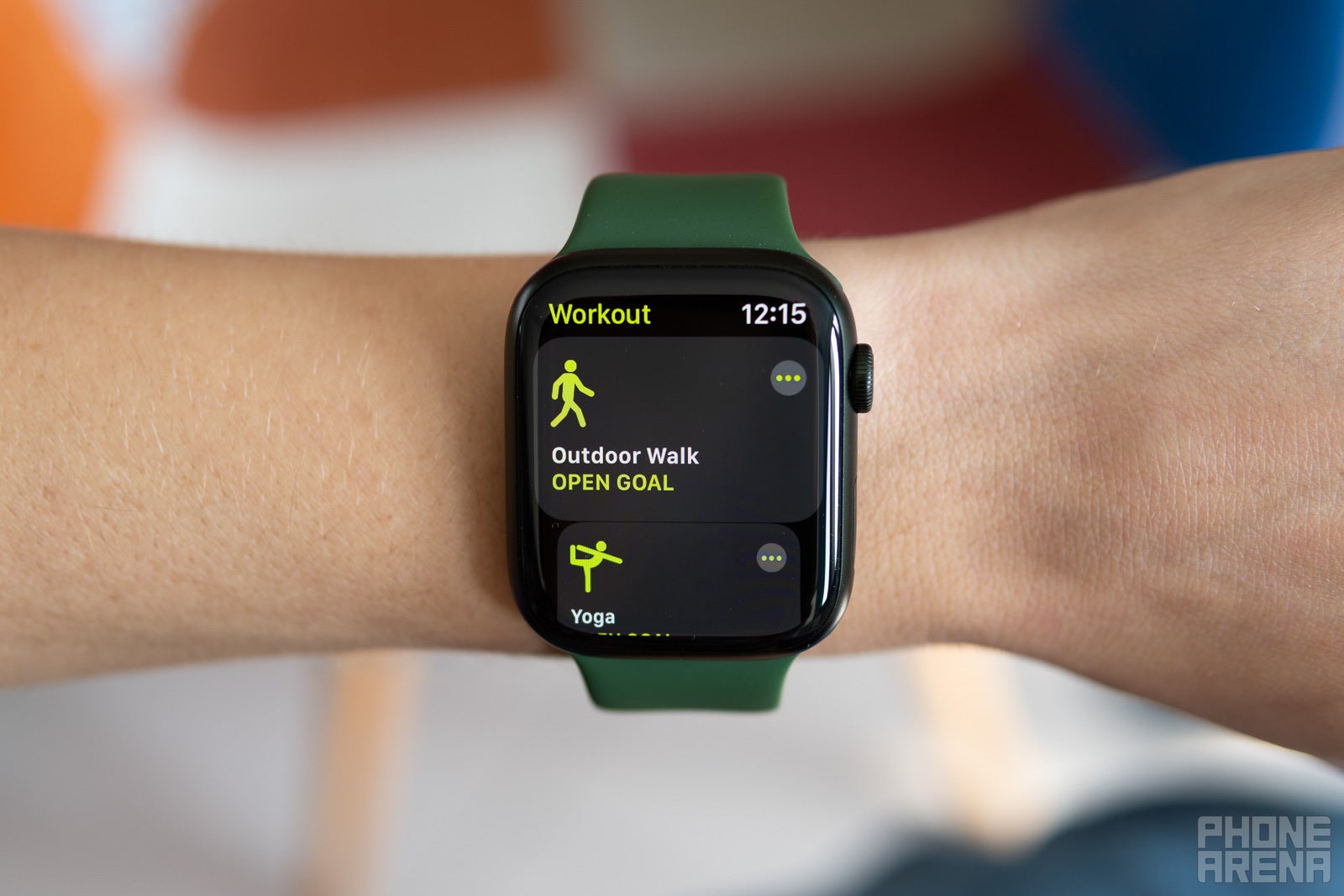 Apple Watch Series 7 workouts
There's a notable improvement here with the Cycling workout, and the Apple Watch Series 7 detects you have started cycling to remind you to start a workout.
Closing Activity rings is the same experience as on older Apple Watches. Closing a ring feels rewarding and fun. The reminders to move or stand to meet your goals can actually nudge you to be more active than you would be without them.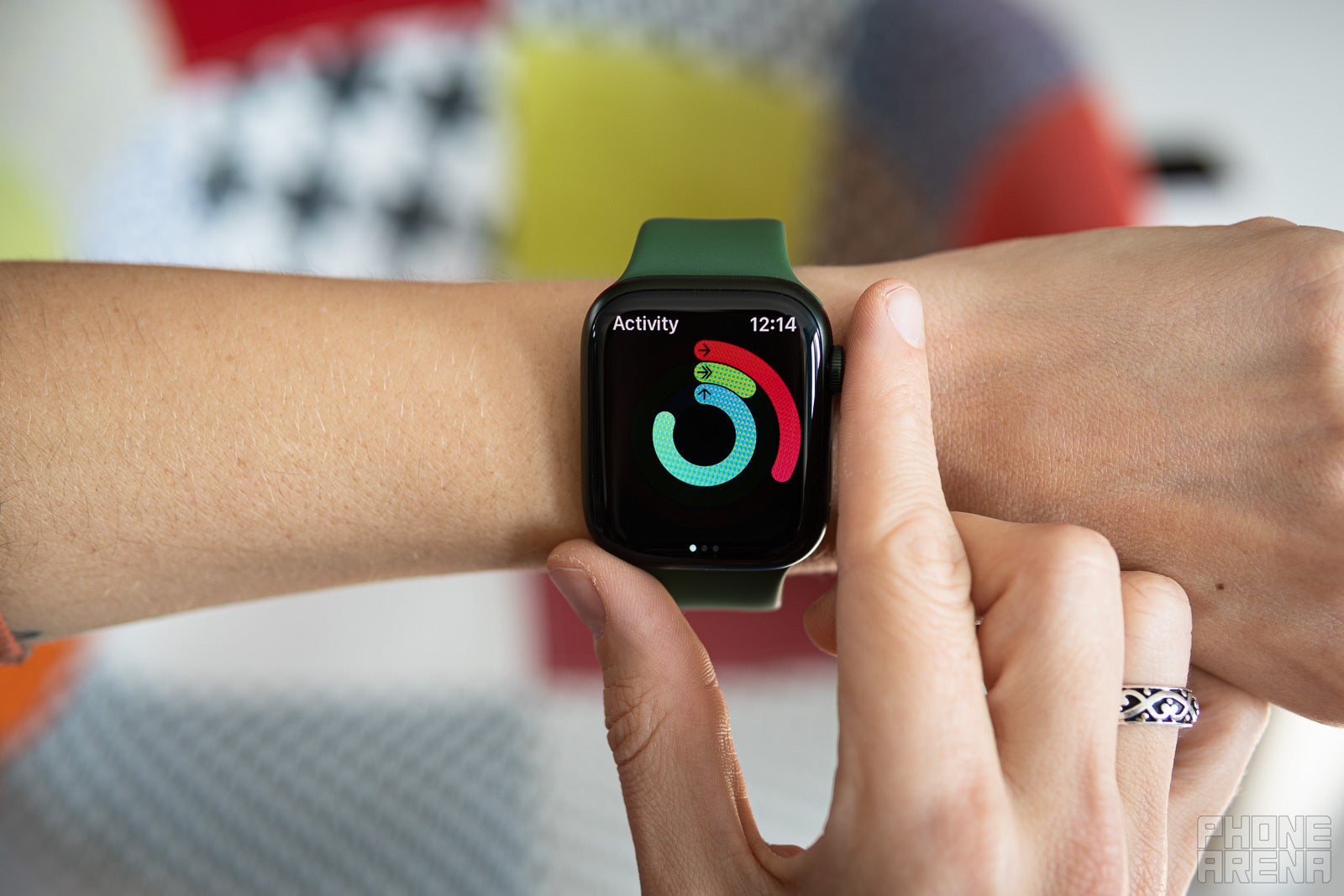 Apple Watch Series 7 activity rings
In terms of wellness, the Mindfulness app has a new feature called Reflect, alongside the Breathe feature. The app is designed to help improve your wellbeing by focusing your mind on an experience, happy memory, something to be grateful for, or on the surroundings around you. And for me, it actually works as my heart rate gets even calmer than it is during the rest of the day. With its reminders, it is a helpful thing if you are used to generally running around all day without taking a minute to relax and take some deep breaths.
And one last important thing to mention here: the Apple Watch Series 7 now has the ability to set up multiple timers, instead of just one. This feature has been missing previously, but it is indeed a helpful one if, for example, you are cooking, or you just want to have more than one timer running simultaneously.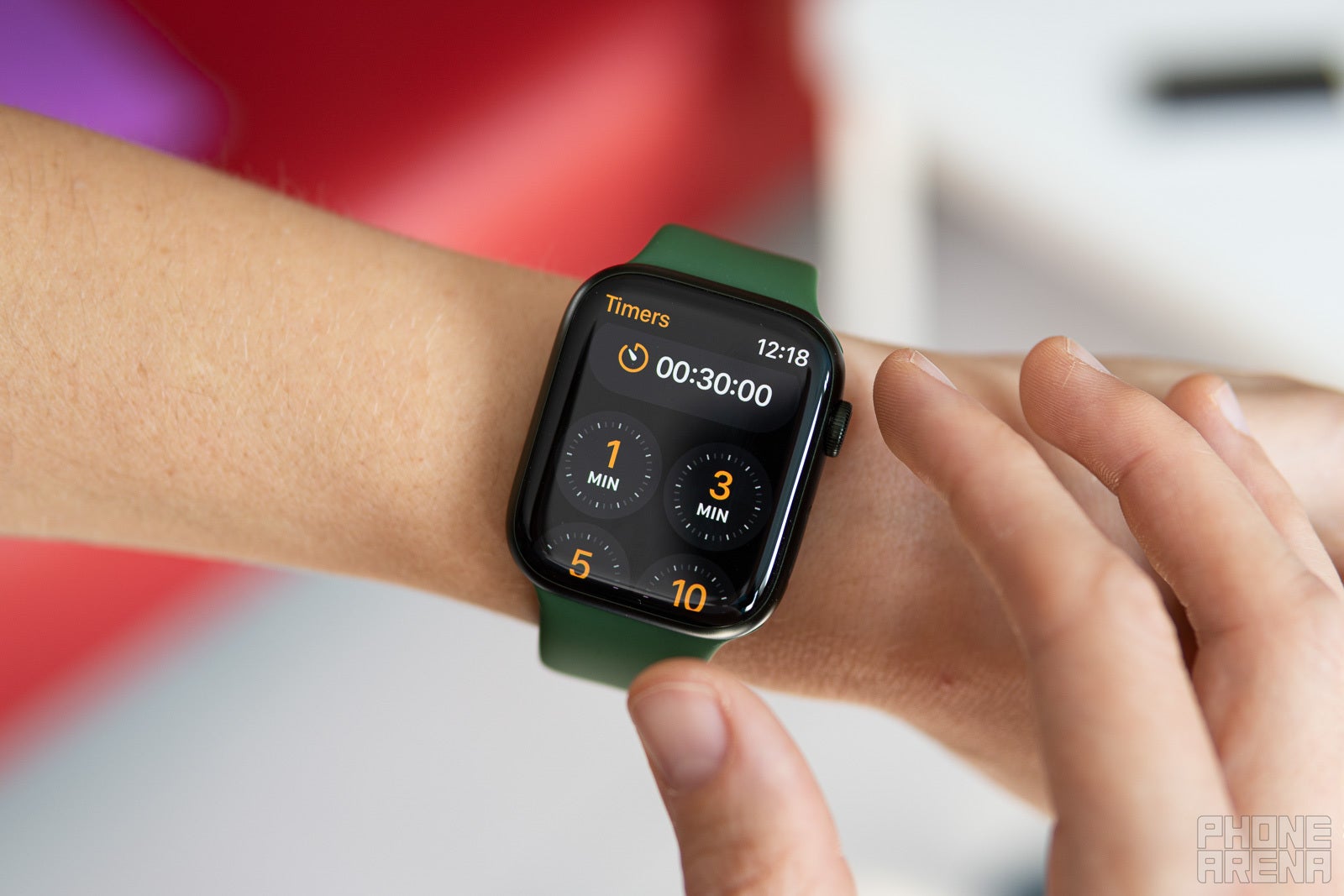 Apple Watch Series 7 can now have multiple timers
Overall, the performance of the Watch is reliable and fast, as you would expect from a premium Apple Watch: there are no hiccups, it's fast, responsive, and with its faster charging that almost eliminates battery anxiety, even more of a pleasure to use. But more on charging in the next section.
Battery life
In terms of battery, Apple hasn't made any improvements in the battery size of the Watch and still claims it should go for up to 18 hours. I was constantly getting a day and a half, with workouts and moderate usage. And now, with the Series 7's faster charging (Apple claims that it is up to 33% faster charging than its predecessor) you can actually get a good amount of battery charge with a quick top-up. And chagrin is, indeed, improved compared to the Series 6.
After 30 minutes on the charger, an empty battery charges to 50%, and an 80% charge takes around 45 minutes. That's faster than its predecessor which needed an hour to charge up to 80%. A full charge takes around an hour and 20 minutes, which is not the fastest out there, but still good. The smartwatch doesn't come with a power adapter in the box though, so you will need to buy a USB-C power brick.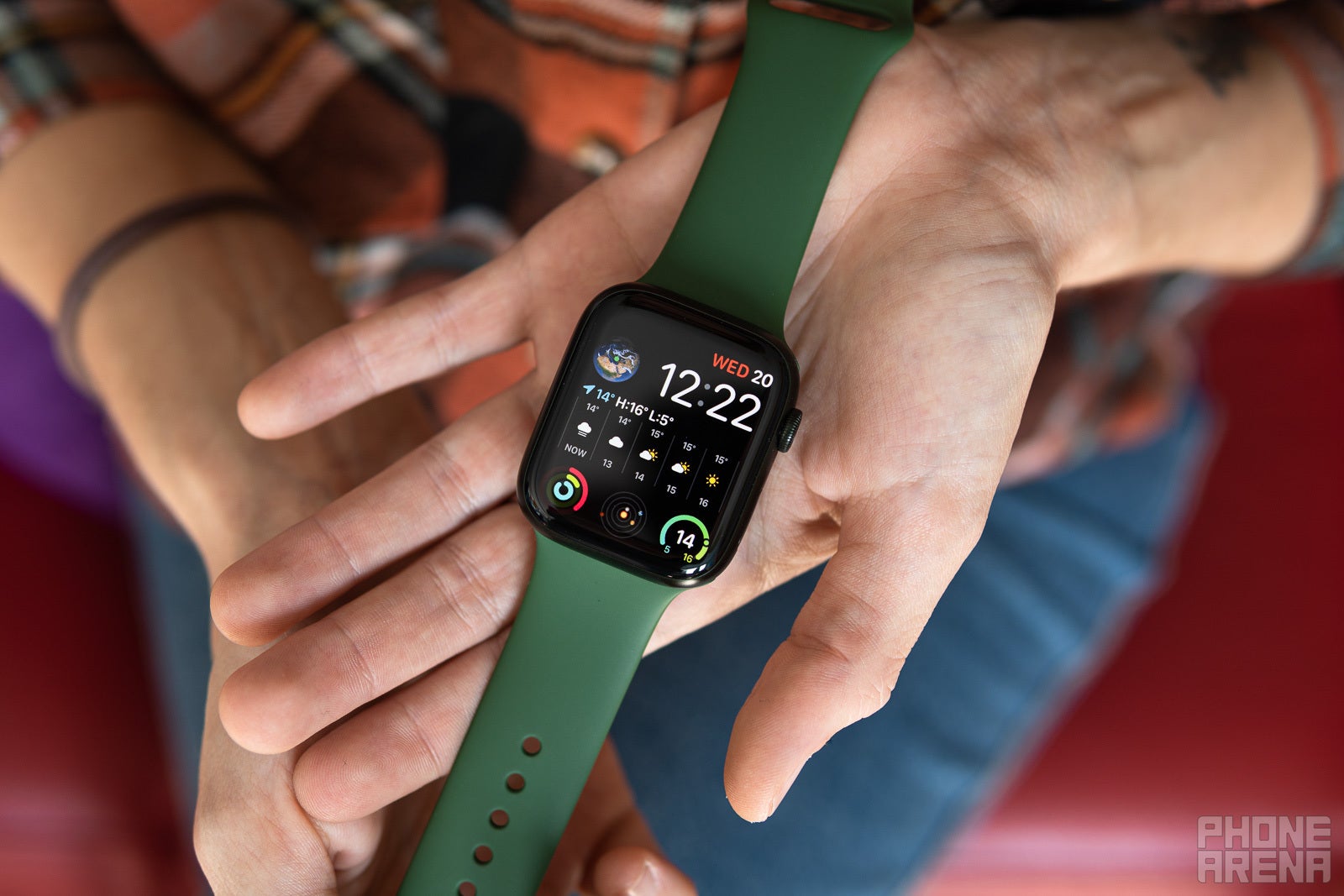 However, faster charging means it's now easier than ever to have your Apple Watch monitor your sleep and not to worry as much about battery life.
Generally, the battery performance with the Series 7 has been satisfactory, and I have not had any difficulties with getting enough battery to last me the day or not getting enough for a successful sleep monitoring session.
Recommended Stories