Apple iPad 10th Gen review: A long-overdue design refresh!
7
We may earn a commission if you make a purchase from the links on this page.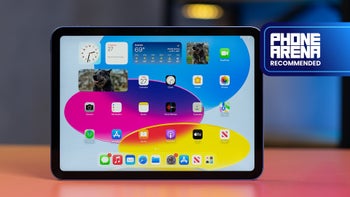 After years and years of getting left behind from all the fun and seemingly always getting the short stick, Apple's regular iPad finally received some much-needed love in late 2022. Without much fanfare, Apple gave its most basic slate a pretty big design makeover and erased years and years of reusing the same general design language that is, frankly said, quite outdated these days.
What's new about the iPad 10th Gen (2022)

Apple iPad 10th Gen Unboxing
Apple iPad 10th Gen Specs
Fair improvements in all hardware areas
Still, the A14 Bionic remains a beast to this day, and will plow through all the school or work-related tasks you may need to accomplish on your new base-model iPad. Gamers need nоt worry – this iPad isn't a slouch when it comes to intensive 3D mobile gaming either.
Yet, despite the excellent performance, some cool new features are missing on this here tablet, namely Apple's new Stage Manager interface experience, which is limited to M1-powered slates only. Bummer. Storage-wise, the tablet starts with 64GB of native storage, which is hardly enough these days, so picking the more expensive 256GB version makes more sense in the long run.
As mentioned, however, the two most intriguing new features—Stage Manager and lock screen customization—are missing on this iPad.
Apple iPad 10th Gen Battery
Apple iPad 10th Gen Magic Keyboard Folio accessory
There's also a super-convenient trackpad that supports multi-touch, and for the first time on an iPad keyboard, a function row that allows you to quickly and easily access the essential features of your tablet. Take adjusting the brightness, for example: normally, you'd have to swipe down your control center and adjust the brightness manually, which isn't terribly convoluted, but with the keyboard attached, you can simply tap the dedicated "brightness down" button and fine-tune the brightness quicker. The same applies to adjusting the volume, enabling Do Not Disturb mode, skipping or starting the current song, and even locking the tablet. Great utility.
The trackpad is also super useful and greatly helps the "iPad as a computer" case. It functions much like any regular trackpad you might have interacted with: tap or click for a left mouse button, double click or tap for a right mouse button, and various gestures to go with it. Oh, and there's a wildly useful 'Escape' key now, which comes as super convenient as you wish to quickly cancel an ongoing activity or a dialog.
So, the iPad 10th Gen is fresh and new, finally ditching the old-school design that has graced the lineup for years, and has scored some cool new tricks to boot, elevating it on a mostly equal playing field with the rest of the iPad lineup. However, it has also migrated from its usual super-affordable position, which remains the residence of last year's iPad 9th Gen, for a slightly more premium price point. It's still a great bang for the buck, don't get us wrong, but the value-for-money factor is not as good this time around.
There's nothing inherently wrong with the iPad 10th Gen: it still gets the basics right and elevates the base iPad experience to new dimensions. For school or for not-so-professional use cases, the 10th-generation iPad is hard to beat, but so is the iPad 9th Gen, and for slightly more money, the iPad Air is really hard to pass up.
Recommended Stories