The best Chinese Android smartphones in 2023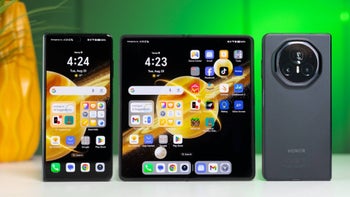 Things made in China often carry a bad rep: after all, being affordable is almost always given as their first and foremost virtue. You can't deny that being competitive in terms of price is what Chinese companies are great at, but recently they have picked up the pace with their innovation and design. Just look at the chart of the world's biggest phone makers and you will see the rise of
Xiaomi
, Oppo, and many other makers of Chinese phones. That's not a coincidence: the Chinese market has grown hugely, but it is also international buyers that appreciate the work done by its Android phone makers. So here are the best Chinese phones right now!
These are the best Chinese phones right now:
There are quite a lot of exciting new Chinese phones that you should know of. They offer a ton of bang for your buck, often undercutting the competition while having the same class of hardware inside. On the software side, some Chinese manufacturers like to go crazy with re-skinning the stock version of Android, making their phones look and feel, well, unique. Be warned that some of the phones on this list do not ship with Google Play Store or any Google services for the device (ahem,
Huawei
).
OnePlus 11
This can't be a list of the best Chinese smartphones without including their king, the OnePlus 11. This phone was announced recently in its home country and it reportedly delivers great performance in almost every area. A global release is expected shortly. It has a Snapdragon 8 Gen 2 processor coupled with 12 or 16GB of RAM and 256GB or 512GB of storage, which is plenty. OnePlus smartphones are famous for being speedy, and this one should be as snappy as it can get. The 11 offers a gorgeous, 6.7-inch 120Hz LTPO3 AMOLED display with a QuadHD resolution. The premium OnePlus device has a nice triple-camera system too, with a 50MP main shooter and a 48MP ultra-wide camera. In terms of battery life, you won't be disappointed either, as its 5,000mAh battery with blazing-fast 100W fast wired charging (80W in the US) lasts at least a day.

Of course, all of this comes at a price, which might seem a bit hefty for some considering this company used to brag about making phones with flagship specs at affordable prices, but you can always go for the cheaper OnePlus 10 Pro, OnePlus 9 or OnePlus 9 Pro, which are great phones as well.
Xiaomi Mix 4
Xiaomi's most premium 2021 smartphone is only available in select markets, but it is still one of the best Chinese smartphones out there. The high-end phone has an impressive under-display 20MP selfie camera, which might be the best iteration of the new technology we've seen so far. Other than that the Mix 4 comes packing the greatest of specs. It is powered by the fast Snapdragon 888+ processor, which is coupled with 8 or 12GB of RAM. The Mix 4 also has an impressive 6.7-inch 120Hz AMOLED display with an FHD+ resolution. In terms of battery it packs a 4,500mAh one.
A key selling point of this device is its blazing fast 120W wired charging, which is one of the best in the business. The phone also supports 50W fast wireless charging, which is very cool. This phone also has a very good 108MP quad-camera system which is capable of shooting 8K 24fps video.
Realme GT 2 Pro
Realme, an offshoot of Chinese smartphone superpower Oppo, has had great success lately. The Realme GT is an excellent phone undercutting other similarly specced devices. For around $700 you get plenty of flagship features, such as a 6.7" beautiful 120Hz LTPO2 AMOLED screen with a QuadHD+ resolution, and the powerful Snapdragon 8 Gen 1 chip with at least 8GB of RAM. The battery is big, 5,000mAh in size, providing enough juice for more than a day of use. Camera-wise you get a 50MP main camera plus an 50MP ultra-wide, and a 3MP macro sensor.
The Realme GT 2 Pro just launched globally, so finding the device isn't be as hard as it used to when its predecessor was first released. This phone will is easy to find in Europe at an early bid starting price of just €649.
Xiaomi 12S Ultra
If you want a phone that is gonna turn heads, you can't go wrong with the Xiaomi 12S Ultra. It's chock-full with bleeding edge, top-tier hardware on the inside, and a good value for money. As for the specs, it has a Snapdragon 8+ Gen 1 processor coupled with 8 or 12GB of RAM, a big 50.3MP main camera sensor with two more 48MP cameras for ultra-wide and telephoto shots, and a large 4,860mAh battery with blazing-fast 67W wired charging and 50W fast wireless charging.

You can buy a global version (with Google services) Xiaomi 12S Ultra from some international resellers for a price between $900 or $1,100, depending on the store, memory option, and choice of finish.
Xiaomi 12S
OK, this is the actual Xiaomi flagship right now — not the super-charged Ultra and not a money-saver like the 12X. The Xiaomi 12 has top-tier hardware and performance, a fantastic screen, and good looks. Spec-wise you once again have the Snapdragon 8+ Gen 1 processor with 8 or 12GB of RAM. The main camera is a 50MP sensor. A 4,500mAh battery keeps the lights on. The screen is a 6.28-inch 120Hz AMOLED panel, which means the phone is relatively small. Xiaomi 12's global version has all the Google services every Android user needs, so no worries there. Price is about $600.
If the 12S is too small for you, you can go for its bigger sibling, the Xiaomi 12S Pro, which is almost identical, but has a bigger screen.
Huawei's camera-centric smartphones are popular in Asia. The P50 Pro's design is...not everyon
e's cup of tea, but one can not argue that it is unique, especially with its two camera modules on the back.

The phone itself should be a fantastic performer. The camera itself should also be fantastic — certainly capable of rivaling the iPhones and Galaxies of the world. The P50 Pro has an impressive-sounding 6.6-inch 120Hz OLED display too. It's just a bummer that it runs HarmonyOS 2.0, which doesn't come with Google services. This phone is a bit hard to obtain in Western markets too. The battery is 4,360mAh, which isn't an impressive size.
ZTE Axon 40 Ultra
ZTE launched its latest flagship in May. The Axon 40 Ultra pulls no stops, with a massive camera module, all the top-shelf hardware, and an eye-catching, matte finish on its back. It aims to be a contender for the Android crown, with its Snapdragon 8 Gen 1 processor, 120Hz screen refresh rate, 8 to 16GB of RAM, and big 5,000mAh battery with 65W fast wired charging.
The ZTE Axon 40 Ultra has a cutting camera setup, consisting of three 64MP cameras, one of which is a periscope sensor with 3.5x optical zoom. Its price tag is desirable too, starting at about $780. This phone also has a 16MP under-display selfie camera, which is arguably the best of its kind in current days. Overall this is an impressive phone which checks all the boxes to be a true flagship, so don't underestimate it for a second.
Xiaomi 12T Pro
Another Xiaomi device brings an even better value for money than the ones above. The 12T Pro is sort of an upper-mid-range device with a giant 200MP main camera and flagship-grade Snapdragon 8+ Gen 1 processor. It is offered with either 8GB or 12GB of RAM and 128GB or 256GB of storage. The camera system of the 12T Pro also includes a pretty basic 8MP ultra-wide shooter and an ever more useless 2MP macro sensor.
Still, considering this device costs about $500, these compromises are understandable. The Xiaomi 12T Pro packs a big 5,000mAh battery, and the best part is that it features blazing-fast 120W wired charging. How cool is that?
Oppo's Find X series always presents a flagship with an "experimental twist". In the case of the Find X5 Pro, it's a ceramic or eco leather back, showing all these other flagships with glass backs how it's done. But that's in no way the only thing that the Find X5 Pro has going for it. This is a pretty-looking, super-performing smartphone with a very decent camera system, a beautiful LTPO2 120Hz OLED screen, and a bunch of software features.
ColorOS, on top of Android 12, is chock-full of little enhancements that make the user experience quite fun with this phone. It also has an international version that comes with Google services, so it's most surely worth a look, though, it's not super-easy to obtain.
Xiaomi Redmi Note 11 Pro
The Redmi series consists of Xiaomi's mid-range and budget-friendly phones. A step below their flagship Mi phones, the Redmis still have powerful hardware and good cameras at super easy-to-swallow prices. The Redmi Note 11 Pro has pretty decent specs and a 120Hz AMOLED screen.
While we haven't gotten ahold of it yet, you can check out our review of the Redmi Note 9 and Redmi Note 9 Pro phones to get a general feel for what you will get with this here jewel. This phone still isn't available in most western markets, but you can always go for the very similar Redmi Note 10 Pro which is.
Huawei Mate Xs2
Foldable phones are pretty much the pinnacle of technological achievement in the smartphone space right now. That is not to say that they are good enough to warrant their sky-high pricing, no. But they are certainly a marvel to admire from afar.

Such is the case of the Huawei Mate Xs2, which costs an arm and a leg, while it is crippled by the lack of Google services on the phone. Well, at least to westerners — Huawei is still doing well in China.

The Huawei Mate Xs2, just like the OG Mate X, ditches the inward fold idea of the Galaxy Z Fold and goes with an outward fold instead. That way when the foldable display is closed, the device looks much more like a regular smartphone, rather than a weird tall phone with big bezels.
Xiaomi Poco X3 Pro
Poco is Xiaomi's off-shoot brand that focuses on budget phones. Of their current portfolio, the Poco X3 NFC sits squarely in the middle — it offers an upper midrange processor and a 6.67-inch 120Hz LCD screen. The X3 Pro is the global variant of the device and is easily obtained for a very good price. The software onboard is Xiaomi's MIUI, slightly modified to fit the Poco brand.
Xiaomi Poco F3
One of the newest Poco phones, the F3, strives to be a true flagship killer. The Poco F3 is the best phone the company currently offers - it has a flagship caliber Snapdragon 870 processor and a gorgeous, 6.68-inch 120Hz AMOLED display with an FHD+ resolution. As for memory, it has either 6 or 8GB of RAM and 128 or 256GB of UFS 3.1 storage. This phone is sold globally by Poco, and its price makes it a lot more appealing than some of its competition. In Europe, the Poco F3 can be found for as low as €300, depending on the storage version you choose.
Conclusion
So there you have it, the best Chinese smartphones you can currently get. Even smaller brands like Realme and Poco have caught up to the competition, and large manufacturers in the face of Xiaomi and Oppo are breathing down Samsung's neck. There are plenty of excellent Android phones on this list, and most of them truly emphasise what a flagship smartphone should be.