You may soon be able to tweet money to other users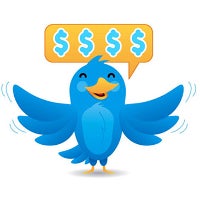 So, it seems that we are on the verge of mobile money transfers becoming widely adopted. On one end, we have
Apple Pay
, which is about to
launch soon
, and, even though other companies had mobile wallet services before it, it seems it will hit a much larger user base from the get-go. On the other end, we've got messaging services, like Facebook's Messenger, making plans to offer
money transfers between users
, in attempts to increase the app's revenue.
Twitter will also be joining the pioneers, it seems. The company's push towards revenue expansion started with the
"Buy now" button
, which allows users to buy an advertised item right from the Twitter feed. Now, the company has partnered with France's second largest bank (by customers) – Groupe BPCE – with the purpose of offering French users simple person-to-person money transfers. To make it work, Twitter will be integrated with the bank's existing S-Money service – a system, which allows customers to send money via text messages, no matter which bank their accounts are in.
Twitter and Groupe BPCE will be providing full details about the new service in a press conference tomorrow. It is yet unknown, whether Twitter is merely testing a new service, or if it has already negotiated such contracts with banks across other countries as well.
source:
Reuters