Twitter adding "buy now" button on tweets to grab impulse shoppers
3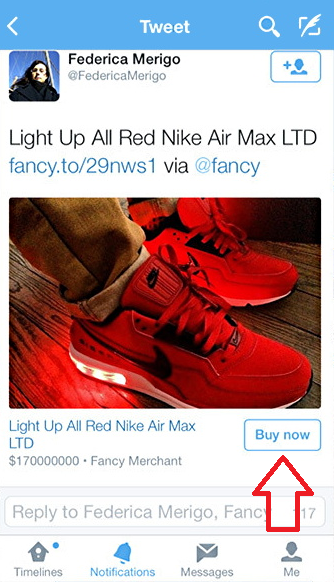 Twitter's buy now button could lead to impulse purchases
Here's a great idea for companies that want to use Twitter as a tool for promoting and selling a product. By putting a "buy now" button on a tweet, impulsive shoppers might not be able to resist making a quick purchase. After pressing this button, consumers would fill in payment and shipping information. For companies selling low-priced products, this could be a cheap way to bring in some online business and at the same time, help to promote a product via a "bulk" tweet.
According to those familiar with Twitter's plans, start-up company Stripe will be involved in the payment processing end of things. Companies interested in this plan are being told to first sign up with Stripe to process orders. For now, the company is Twitter's lone partner in the project.
While there had been some rumblings of a plan that would enable Twitter to collect on the growing trend to use social media as a sales tool, it wasn't until former Ticketmaster CEO Nathan Hubbard took over at Twitter, that the popular service was seen accommodating e-commerce. The "buy now" buttons first started appearing in June, with word that an official launch would take place before this year's holiday shopping season is to begin.
source:
Recode
via
Gizmodo