Verizon's HTC Trophy was briefly spotted up on Best Buy's web site
3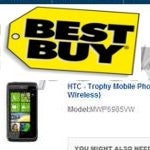 Three of the major four wireless carriers in the US have some sort of Windows Phone 7 device available for purchase to their customers; however, Verizon has yet to embrace Microsoft's new platform seeing that their lineup continues to be bare of any WP7 devices.
Well, those days might soon be over as the
HTC Troph
y was briefly spotted on
Best Buy's web site
showing off its ties to Big Red. Although it's not available or in-stock, the underlying notions hint to an inevitable launch. Aside from seeing a small image of the handset, we're greeted with a
$600 no-contract pricing
and its model number of
MWP6985
. In any event, things regarding the handset have been low key for the most part, but we're still waiting for an official word from Big Red on the situation.
Regardless, its brief appearance on Best Buy's web site provides some hope that Verizon customers will soon be able to experience Windows Phone 7's unique approach.
source:
Pocketnow
via
WP Central