Stories you shouldn't have missed this week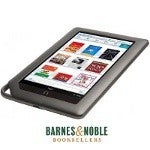 Hey people, it's once again time to check out all the interesting stories which occurred during the week. And of course, we aren't really short on stories, as usual. And what a start of the week it was! Barnes & Noble, maker of the Nook eReader, held a special event to unveil its new tablet, ingeniously dubbed... the Nook Tablet. The new device will be a true rival to the also recently-announced Amazon Kindle Fire. Both tablets are actually pretty similar in terms of capabilities, however, the Kindle Fire does have the edge in the pricing department. Anyways, here's all the info one could need about the Nook Tablet, right here:
This week will also stay in history because of the appearance of the first leaks about a quad-core handset, more specifically - the HTC Edge. As usual with such first leaks, pretty much everything is uncertain at the moment, and everything is subject to change... but boy are we dying to check out that 4.7" beast with that sweet new Tegra 3 processor! Speaking of Tegra 3, it was also this week when NVIDIA finally came out and introduced the next generation of its mobile platform. The quad-core Tegra 3 processor seems pretty interesting, especially because of its characteristic structure, involving the use of a 5th, companion core, which should improve battery life on our mobile devices.
By the way, the moment seems very appropriate to remind you, guys and gals, that we have a Giveaway promotion running right now, and it gives you the chance to win a brand new Motorola DROID X2! The best thing, however, is that you only have to add us to your circles on Google Plus - and that's it, you get the chance to win this spectacular device. If you're interested, be sure to check out the link below:
Unfortunately, the end of the week brought us a somewhat sad news - Adobe announced that it won't be developing its Flash Player for mobile any more. We know... it seems like it was yesterday when they started launching it on modern platforms, such as Android. However, here's for hoping that this HTML5 goodness will get wider adoption sooner rather than later. Finally, we decided to present you with an interesting read about the state of the industry in Q3, from financial point of view. Enjoy it, and have a great weekend, everyone!