Sprint web site shows no Wi-Fi on the LG G2 (It's an error!)
4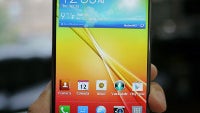 Here is a strange story. One of our loyal readers brought to our attention the pre-order page on Sprint's website for the
LG G2
. Looking at the page, everything seems in order until you get to the Key features and it shows that the phone is bereft of Wi-Fi connectivity. The Wi-Fi icon is grayed out with an "X" going through it. Right next to that, we see the PTT logo also greyed out with an "X", but that we can understand.
As far as we can recall, the last major smartphone that was launched without a Wi-Fi connection was the
BlackBerry Storm 9530
in 2008. That blunder was eliminated when the
BlackBerry Storm 2
hit the market with Wi-Fi.
Considering that both AT&T and Verizon's pre-order pages listed Wi-Fi connectivity as one of the features on the LG G2, our hunch is that this was a mistake by Sprint. And just as we were about to publish this story, we heard back from the carrier, confirming our hunch that it was an error and we were informed that Sprint's web team is working on fixing the mistake immediately.
"Thanks for reaching out. This is an error and I have contacted our web team to get this fixed right away. This device is both WiFi and Hotspot compatible."
-Nichole Pichardo, Sprint
So Sprint customers, have no fear. Your version of the beastly, drool producing LG G2 will have Wi-Fi connectivity just as every major smartphone has since 2008.

LG's website shows no Wi-Fi connectivity for the LG G2
Thanks, Anonymous Tipster!