Samsung gives a glimpse into the future of U.S. wireless products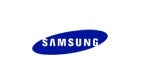 Samsung Telecommunications America used this year's annual Consumer Electronics Show (CES) in Las Vegas to previev new handsets which will give consumers a glimpse into the future of U.S. wireless products. They will introduce approximately 25-30 new phones with advanced video, music, speech recognition and data capabilities, including phones with "world's first" technologies. Among the new phones which Samsung will introduce to U.S. consumers in 2005 are:
the world's first speech-to-text dictation phone, allowing consumers to speak their message and have the phone convert the words to text;

the U.S.'s first multi-mega pixel camera phone line up, including a two mega pixel and a five mega pixel camera with 3X optical zoom capabilities;

the U.S.'s first two mega pixel camera phone with QVGA screen resolution and TF-R external memory card, which allows for extensive video clip recording space and crisp, vibrant viewing of pictures and video taken with the phone;

the U.S.'s first line up of phones to operate on the next-generation high-speed wireless networks known as EVDO, allowing consumers to send and receive pictures, video and data at speeds comparable to cable modem or DSL connectivity;

video-on-demand (VOD) devices that allow consumers to wirelessly stream videos onto the handset from the network or download and store the videos on the handset for convenient playback;

music-on-demand (MOD) devices that give consumers instant access to digital music, allowing them to download or stream popular tunes directly to their handset;

phones with Bluetooth wireless connectivity capabilities that will make transferring pictures, music and data files from computers to wireless devices quick and seamless;

phones with integrated Wi-Fi technology allowing users to roam onto corporate networks from their wireless device while away from the office, at the airport, café or hotel;

phones with integrated BlackBerry push-email capabilities that allow consumers and business users to send and receive emails from anywhere.