Powerful new 8-inch Lenovo tablet outed with full specs and images galore
5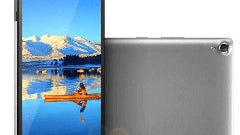 Back in February, Lenovo rolled out
the Tab3 trio
of tablets. The Tab3 7, Tab3 8 and Tab3 10 Business are all named in alignment with their display sizes while the latter includes a slightly stronger MediaTek chip and general feature set for enterprise users. Now, a new Tab3 8 Plus has been spotted in the wild with much better specs than its would-be predecessor, including a new Qualcomm-made chipset.

The current Lenovo Tab3 8 is not exactly much to shout about on the specs front. It gets an 8-inch 720p display, a 1.0GHz quad-core MediaTek SoC with a solitary gigabyte of RAM, 16 GB of on-board storage and a 5-megapixel main camera. Its rather bare-bones internal hardware is reflected in the price, however, with the Wi-Fi model starting at $99.
This shiny new version lives up to its 'Plus' moniker throughout, with crisp, premium redesign to go with the drastically improved underbelly. According to a leak by
WinFuture
, the dual-SIM Lenovo Tab3 8 Plus (TB-8703X) includes an a better-than-full-HD display (1200 x 1920) and Qualcomm's Snapdragon 625 with 3 GB of RAM. There's said to be a choice of 16, 32 or 64 GB of expandable storage, with 5 and 8-megapixel cameras set to adorn the front and back respectively.
Connectivity-wise, there's 4G LTE, Wi-Fi, GPS and Bluetooth 4.0 while the purported 4250 mAh battery -- coupled with an SoC known to be power efficient -- could see the Tab3 8 Plus offer a great battery life.
Despite an impressive collection of internals, the device is expected to be relatively lightweight at 330 grams, and could be rather svelte at a mere 7.97 millimeters thick.
Of course, where the Tab3 8 entered the market at $149 for the LTE model, this new variant will surely cost more. It's unclear whether the Tab3 7 or Tab3 10 will also be given the Plus treatment, but we'll hopefully find out soon enough with an official announcement.