Plantronics M55 Bluetooth headset hands-on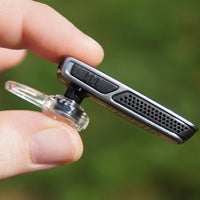 If you're in the market for a new Bluetooth headset, but aren't looking to break the bank, the Plantronics M55 headset might be worth a look. This new headset is Plantronics entry into the budget category. At just $49 it's affordable, but still has a bunch of features.
Physically it is small and compact. The plastic device is black with silver accent. The sides consist of a power button that slides on, a volume toggle, a micro USB charging port, and the front face of the device is another button that can be used for answering, hanging up, and pairing the device.
Unfortunately, the outside is glossy and we found that it scratches very easily. After just using the device for a few days it was very scratched after light use and tossing it on the table at the end of the day like most people do.
It uses an in-ear system to attach to your ear. While at first glance it can make those who are anti-ear bud a bit hesitant, we were very impressed with the comfort of the headset while still feeling that it was held securely in place. For those that just can't stand to have anything in their ear, the M55 also comes with a loop that can be snapped on that allows the device to be attached to the outside of the ear.
Under the hood, the Plantronics M55 features noise cancellation, utilizes Bluetooth 3.0, supports A2DP for audio streaming, and also utilizes DeepSleep technology to conserve battery life when the headset is left on, but is away from your device. It is rated for 11 hours talk time, up to 16 days standby, and 150 days in DeepSleep mode.
The M55 integrates with the iPhone's built-in Bluetooth battery meter and Android users can download an app from the Google Play store to monitor the M55's battery life from your smartphone or tablet. It also comes with a free year of Vocalyst. The service, which is usually $2.49 a month or $24.99 for a year, enables you to use email, Twitter, Facebook, create audio notes, set reminders, get weather, and listen to sports, news, and finance information all hands-free.
All and all, the Plantronics M55 Bluetooth headset is an impressive little gadget for under $50. It should be available at most retailers in a few weeks and according to Plantronics' FAQ, it is available right now in select Sprint stores.