Officially licensed Lord of the Rings game is coming to iOS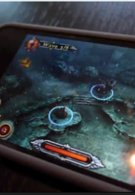 Seeing that the trilogy has been complete for quite some time and can most likely be seen running on some cable channel on the weekend, you'll soon be able to get your fix of Lord of the Rings on your iOS powered device.
Glu Games is in the process of completing its forthcoming game, Lord of the Rings: Middle Earth Defense, that's officially licensed so you can relive all of the action from the blockbuster movies. At its core, it's essentially just your typical tower defense game that allows you to use some of the popular characters from the movies. As with other similar titles, you're probably going to invest quite an extensive amount of time playing this one – especially when you consider the fact that it's a LOTR game.
Although it's still currently in the processed of being developed, we can all expect to see this one arrive some time in December.
via
Gizmodo