Nokia announced their first Symbian UIQ phone for China - the 6708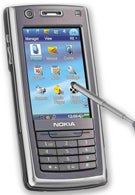 Earlier this week, Nokia announced a new smartphone operating on Symbian for the Chinese market. The curious thing is that the 6708 operates on UIQ interface over Symbian OS, which is the only interface, which Nokia haven't used in its phones and that is widely popular in Sony-Ericsson smartphones. Probably Nokia is trying the UIQ because of the hand-writing input method as the company has already canceled future research on the Series 90 devices, which were touch-display capable.
Nokia 6708 is a tri-band 900/1800/1900 GSM phone in bar form-factor. It features large 2.6" 208x320 pixels touch-sensitive display with 65k colors. It also has integrated 1-megapixel camera capable of video recording in QCIF resolution. Operating on UIQ 2.1 interface over Symbian 7.0 OS, it features USB, Bluetooth, email client, and MSN instant messenger. Internet browser is also present.
Source: ThreeGMobile