Nokia 3220 - the Light Messanger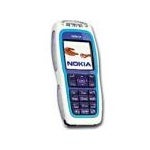 Unveiled today at Nokia Totally Board in Thessaloniki, Greece, the Nokia 3220 is highlighted by transparent Nokia Xpress-On(TM) grips, which pulsate with light effects to indicate calls, messages, and in sync with the beat of ringtones. Self-styled cut-out covers and mobile themes, including ringtones, wallpapers, color schemes and light sequences, make personalization fun. The phone will have unsubsidized retail price of around 250 EUR (305 USD) and is expected to ship summer 2004.


The new Nokia innovation is light messaging - by waving the Nokia 3220 from side to side, the LED lights of the Nokia Xpress-on(TM) Fun Shell light up to "write" a message that appears to float in mid-air.
For a different twist, use your Nokia 3220 as a joystick in the
motion
games that complement the Nokia Xpress-on(TM)Fun Shell. Literally jump into the action by tilting the phone to move characters through a series of challenges and tests. Two motion games are included: SwampRacer, a high-octane airboat racing game, and AirExpress
,
where you fly freely around an exotic archipelago world.
Full specifications and features are available @ PhoneArena.com