New Treo 670, running on Windows Mobile 5.0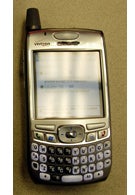 This week there was some information about new Treo device, numbered the 670. Today, there are live pictures of the device. From the pictures and the information we have, we know that it will run the Windows Mobile 5.0 (Magneto) operating system, which is pretty strange, having in mind that earlier Treo devices were running Palm OS.
The Treo 670 keeps with the well known design, with some minor changes. It is still with external antenna, but on its back it has a built-in camera that is supposed to be a 1.3-megapixel one. The Verizon logo is clearly visible, so we would expect it from them. The full QWERTY keyboard has minor changes, and a "Windows" key.
Source: Engadget