Motorola introduces the EQ3 and H690
0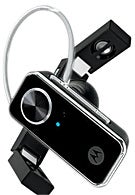 Today in Las Vegas, Motorola revealed two additions to its mobile accessories line, the EQ3 mobile speaker set and Bluetooth headset H690. Both devices are intended to enhance the sound quality mobile phone users get.
MOTOROKR EQ3
is a foldable portable speaker that weighs only 140g. Unfortunately, there is no Bluetooth support, but a standard 3.5mm jack. The EQ3 is compatible with any portable music player, including cell phones. Besides the RF shielding, which provides shielding from phone interference, the extension cable is optimized for FM reception in radio-equipped music players so it can act as an antenna. Motorola claims that the 4 AAA batteries powering the device, can provide up to 12 hours of play-time. At present, there is no information about pricing, but the MOTOROKR EQ3 is scheduled to be available Q2 2008.
H690 Bluetooth headset
is intended to provide a clearer sound quality during talks as opposed to louder music. It will feature dual-microphones and Digital Signal Processing. The EasyPair technology is accompanied by a special ear hook cushion, which as the manufacturer claims will provide the ultimate comfort for the user. Weighing at 12g, the headset can provide a talk time up to 5.5 hours and is expected to be available in Q2 of this year.
source:
Motorola